Welcome to SMW Central!
Welcome! SMW Central aims to be the Super Mario World hacking site, hosting everything you will ever need in order to create your own hack. We have sections with tons of content including graphics, music, sprites and more - ready to use in your own projects! We also host a big selection of completed hacks, so if you need some inspiration or simply just came here to find something to play, you will surely be satisfied, as well. Over the years, we have built up quite a large community, so if you need help with anything or feel the need to chat with other Super Mario World enthusiasts, be sure to check out our forums where you can join hundreds of friendly users in the discussion of a big variety of topics. Enjoy your stay!


Help getting started
The Getting Started section of our F.A.Q. contains general information about SMW hacking, ROMs and emulation. In order to play a hack from our hacks section, you will need to know how to use IPS patches. If you ever want to create your own hack, be sure to read all the F.A.Q. sections. They contain lots of helpful information! You should also check out our tutorials section where you will find tutorials to help you with many different aspects of SMW hacking.
Latest News: nice
Henceforth, replying to any post with nothing more than the word "nice" or a loopholed you-think-you're-being-witty-but-you're-not variation of it will result in an immediate three day ban. Yes, this has seriously become this large of a problem and it's going to stop.

Have a great day.
Posted by:

S.N.N.

- 2015-04-17 04:12:50 PM - 47 comments
Latest News: Staff Spotlight - April 2015
You want to know who Staff Spotlight is, no? Yes? You do? Good. We have Sinc-X this time.

You want to read the interview, no? Yes? You do? If you do, click here. If you don't, click here.
Posted by:

Tahixham

- 2015-04-16 05:39:44 PM - 1 comment
Latest News: Monthly Project Feature: Lightvayne - Adventure on Volcanus Island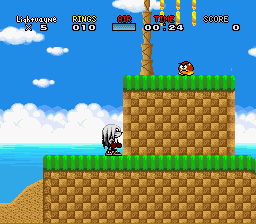 THREAD LINK




This month we have Lightvayne's hack, Lightvayne - Adventure on Volcanus Island! With both the gameplay and graphics based on the Sonic series. The visuals are great, and the overall design seems interesting. One of the most unique projects around.
Posted by:

Eternity

- 2015-04-10 04:40:13 PM - 6 comments