Posts by 1235
Wow nice work Smkdan with the YI bullet bill.

Btw, you know your YI ptoolie? Is there a way to make it rotate it's head 360? like it looks down at mario as well, because what i've seen in yoshi island the actual game it rotates all around If you did that it would be a perfect match i think.
Last edited on 2008-02-22 08:49:54 AM by

1235

.
(restricted)
(restricted)
Originally posted by MetaKnight

How can I change the palette of the solid thingy that holds the launcher?

The launcher makes a sound, when it launches a bullet bill.
How can I change the egg plant's head's palette?

EDIT: Solved the second question.



Just look closely in the ASM file for the Tilemap for which part and check the properties, and change what ever...
When Mario recieves a power-up or if he gets hurt, the game pauses for a bit.. is there anyway to stop it from pausing and just play on? Like some other games of Mario he gets hurt or gets a power-up it just plays on without pausing for a bit.
Originally posted by Buu-Huu

You already spammed but now it's too late. <_<Anyways, smwedit, does this "X" go in front of you when he charges you with it? And when you hit it with a throw block, does the animation plays where he gets "unattackable" and stays in that place for some seconds?



I just finished "instaling the blowhard" and what i've seen it doesn't have the "X" and it does play the animation when you throw a block or shell at it which is great.

For some reason it took me quite a while to insert the graphics correctly for it and I had to redo it around 10 times to get the graphics working or without glitched graphics in the game ><" I reckon someone should make a patch for this as it can be quite hard for some people to insert the graphics for the blowhard.

Btw. good work Smwedit with the blowhard, it's awsome!
Can someone point me out in the classic piranha that Magus submitted in custom spirtes section, which code makes the piranha plant head open and close repeatly? because I want to make it bite slower.

I think this had somethink to do with it.

LDA $14 <-|-- these codes.
AND #$08 <-|
BEQ STEPTWO <-|

INX
INX

STEPTWO LDA TILEMAP,x ; \ store tile
STA $0302,y

Located in the graphics routine.
So all im trying to do is find out how to adjust it to make it bite "slower" or "faster"
OMG finally!! thanks smkdan.
Wow. because you released a Megamole with dynamic GFX Smwedit, could you make a few more? like the blarg, bat? would be better since we could use them with the dynamic sprites you and Smkdan made.
This happen to me a few times to, try inserting them in a another place in the rom dude, i tried like 10 times, i know its a hassle but its worth it. And yes make sure you put the header to 0E or it will not show up properly as it uses more than 5 frames.
Last edited on 2008-02-29 07:07:35 AM by

1235

.
Anyone here ever played "Super Mario XP" ? the songs are good in that game and i reckon it would suit SMW. If you havnt heard of it here: http://www.acid-play.com/download/super-mario-xp/
I dunno if this has been asked yet but, has anyone tried making a Hammer Mario power-up? like he throws thoes sprite hammers but programed them to hurt enemies.. its like a hammer bro routine attached to Mario when touched a custom sprite power-up like the fireflower for example... is it possible?
Originally posted by DaKing

Originally posted by iQue

Anyone here ever played "Super Mario XP" ? the songs are good in that game and i reckon it would suit SMW. If you havnt heard of it here: http://www.acid-play.com/download/super-mario-xp/

Yes most of the music in it is from Castlevania. Try Bloody Tears in Custom Music section, it is awesome!



Wow it is Awsome! thx, exact same as "SMXP world 3"
Next song should be Castlevania-Vampire Killer since it sounds so good as well.
Last edited on 2008-02-29 09:18:56 PM by

1235

.
(restricted)
I want to request a song from Castlevania i think its NES though, Poisen Mind (Boss Music), Vampire killer (stage 1) or Out Of Time (stage 6)

(Poisen Mind) here: http://www.vgmusic.com/music/console/nintendo/nes/Poison_Mind.mid

(Vampire Killer) here: http://www.vgmusic.com/music/console/nintendo/nes/Vampire_Killer.mid

(Out Of Time) here: http://youtube.com/watch?v=qoRj_VAh2QM
Last edited on 2008-03-02 07:13:04 AM by

1235

.
Originally posted by Lucas

Read the rules in the first post. Plus I'm thinking that you probably don't know how to insert music anyway...



*cough* Obviously you havn't played my hack "unknown islandz" now havn't you, fkn stooge.

Btw, I havn't read the rules yet which was my bad.. and yeah I didn't start from "thread pg. 1" so yeah -_-"
Last edited on 2008-03-03 12:00:50 AM by

1235

.
(restricted)
The hack is soon to be released, my problem for the delay of submiting this hack reason is because of my lost interest of Smw hacking before.

Just like before, it features Custom ExGFX, Sprites, Blocks, ASM hacks, Music and some major level changes which are stages:
Stage 1 of world 1.
Stage 7 of world 2.
Stage 8 (Castle) of world 2.
and some others i forgot..

----HealthBar.Info----
Every world has 1 stage with a Heart Upgrade for Mario's Life, if you are planning on saving Peach, you might need more then 3 hearts.

Here are some pics.

Same old title I guess.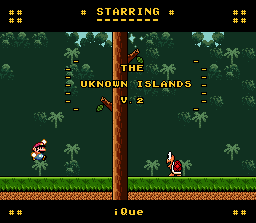 Mario and his problems?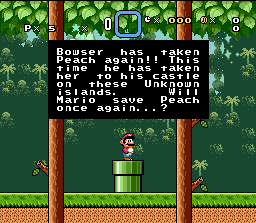 The first world.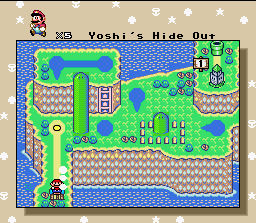 The first stage, if you had played the old demo im sure it will be familiar, btw the stage has been nerfed and remade better.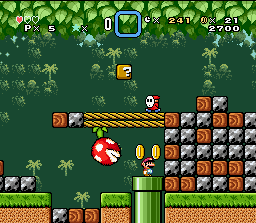 The first stage of world 2, same old stuff except a few changes.



The 6th stage of world 2, it has been changed a bit and a few things are quite stable now.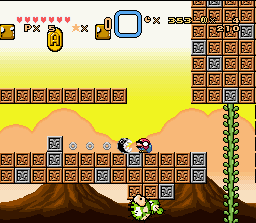 YES, the world 2 castle, has been remade in a better and more challenging design. Say goodbye to the stupid pipe pathway of piranha's >.>
What was i thinking?? lolz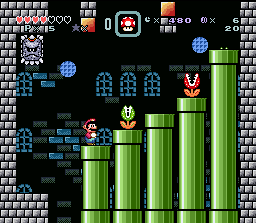 NEW! Stage 1 of world 3, it uses the Yoshi Island grass GFX as seen here, and it shows a more wild theme with the tropical water surrounding. (watch out for jumping fish!)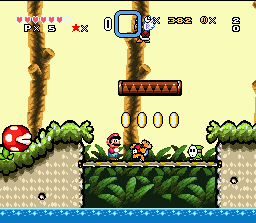 NEW! The world 3 Swampy Grass area.



NEW! Stage 2 of world 3 The Deep Deep Cave of On/Off Switch blocks.
hrmm, Wonder where the exit is?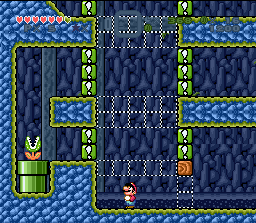 NEW! Stage 4 of world 3 The Melten Ice Swamp of the blue Boss Bass.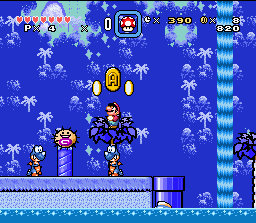 NEW! Stage 7 of world 3 Grounds of the Buster Beetles. "WATCH OUT FOR THROWING BLOCKS!"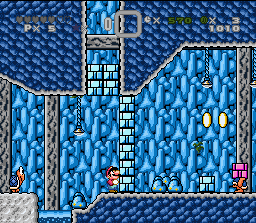 NEW! Stage 1 of world 5 (Bowsers World) The forest of the Magikoopa.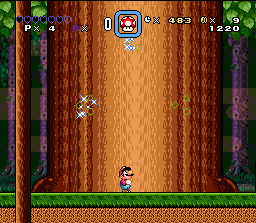 Thats all?

Originally posted by Gusty Boo

Originally posted by Broozer

I really enjoyed the first demo of your hack and I'm pretty usre that I'll like playing the second demo too. I was wondering, where did you get these "new" YI piranha plant graphics?

Those piranha GFX are from the game "Yoshi's Island DS" for the Nintendo DS.

It doesn't look bad, trusting from the screenshots, however, you shouldn't use the redrawn Overworld GFX in conjunction with standart SMW/SMB graphics because they doesn't match.

A better idea would be using the SMB3 OW tiles along with the standart SMW level dots/icons and redraw them to fit more with your style.



Hrmm... I was thinking of doing that to before I had posted this, but the way I found about going around the map I reckon looks good the way it is. I will try doing what you said and see how it turns out.

Btw. Does custom piranha plant GFX I actually made myself because at that time I was very bored and started playing many Yoshi games including YI DS which actually made me want to to draw a plant similar to the ones from that game.
I'd like to request a Knocka from DKC3 that bumps you around in a green barrel lol, and when you jump on it it stops and can be picked up.
Last edited on 2008-06-14 01:13:40 AM by

1235

.