Posts by Yakibomb
(restricted)
Weird, I swear I remember a tool that puts the music files into SMW, but now I can't find the tool...

In this screen shot, the Koopas sort of resemble the Mario All-Stars SMB3 battle game Koopas: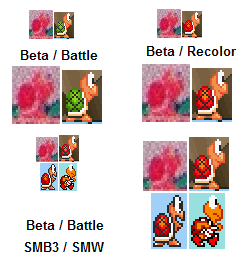 I added the SMW and SMB3 ones to show time differences...
Saw this on Acmlm's Board.
Last edited on 2008-06-14 07:03:22 PM by

Yakibomb

.
It looked like Mario had less of a stache and more of a smile in the beta... Maybe that was just light coming off the TV. His cap also looks like it was bigger than the final, by about one line of pixels...



Also remember to change Mario's boots when he's fire Mario to white! And yet another thing I do see, is that Mario's arms are longer in the beta, especially when he's swimming and when he's standing.
Last edited on 2008-06-17 01:28:30 AM by

Yakibomb

.
(restricted)
I would like to see a hack entitled: Super Mario World: Evaluation Board. The most noble people that hack/monitor SMW hacking have levels and stuff. Someone talked about making the hack, but they were most likely lying.

It was an idea I thought was interesting, I just made up the name on the spot.
Last edited on 2008-06-17 08:33:44 PM by

Yakibomb

.
If you don't mind, I'd like to post my impression of the Banzai Bill:


This is my redoing of the original photo of the game, and I'd like to share some discoveries:


(Just match up the circle number with the info below)
1. The Mountains have an added rock in the background,
2. The bonus star is yellow (white in other screen shots), it's red in the final,
3. The Star Bonus and 'X' are 1 tile to the right farther than the one in the final,
4. This background with this palette + solo clouds don't appear together in the game that I know of, especially in Yoshi's Isle 1,
5. Banzai Bill is different, and
6. Is it me, or do the clouds have larger eyes in the beta?


Here is part of the article where it has the white bonus stars... Nothing much else to show from this.



Forgot which site I got this article from... Also, enjoy!
Last edited on 2008-06-18 11:03:51 PM by

Yakibomb

.
Woah! I think it is different! It looks to me like it's not facing toward the camera...




Maybe it's more like their official art?


You can see the similarities...



I couldn't really say there is any difference with the Dino-Torch, though.
Last edited on 2008-06-18 11:15:29 PM by

Yakibomb

.
I realized that Super Mario World is a fusion of Super Mario Land 2 and Super Mario Bros. 3... But that's just a thought. I'm making the running sprites for Mario, because it'll be fun making it. Did I already mention that Mario has longer arms in the pictures? It shows the most when Mario is standing in the castle.
I heard there was some beta music too. It was supposedly at a site called 'something Hotel', don't really remember the name... But I don't really know, I looked there once but didn't find anything about the beta music, so I wouldn't know anything!
Last edited on 2008-06-29 09:45:09 PM by

Yakibomb

.
Originally posted by DaKing

It looks nice. And YakiBomb, you mean Galbadia Hotel? Right?


Yes sir. Looked there, didn't find squat about it.

That SMW beta cart, it's most likely a hoax like that one 'beta' Zelda3 cart that was found at a yardsale.
I'm going to work on those sprites Yoshi Master... Because I've been working on them -- diligently, yeah that's right, diligently...
Originally posted by Nekomusume

secret exit to 4th & 5th castles



For the 4th castle exit (Acoustic Castle), play through the level until you get to this point in the level:


/


This is the point right before you get to the midway point. Keep on going, will you get to two blocks on the right of a yellow pipe that say "4/4" and "3/4."

Take a leap of faith and jump onto the wall to reveal a hidden passage to your secret exit!





Secret exit 5th Castle video: http://www.youtube.com/watch?v=oq4eORbMbDA



Originally posted by Nekomusume

secret exit to ice bomb bridge


For this level, you must have a cape! Or else you will not be able to go past a particular obstacle. First, go through up until you get to the midway point. Keep going right till you get to this pipe:




Go inside, keep going until you get to this wall. Watch out with the diagonal Bills!




It's pretty simple on what to do here. When you get out of the pipe, go left to the "?" block and grab the key inside. Go toward the top right till you get to the keyhole, it should be right above a Bullet Bill launcher.




I cannot help on Lost Pipeline because I don't know where the level is...
I really like the new level revisions! They make the game play a whole lot more pleasureful. I see you've added the graphical enhancement stuff, too; it looks great! You have added wall jump? Sweet! That makes this game so much more fun in my opinion. It can make some really interesting puzzles and climbing towers or something. I enjoy the transition between the level to overworld on the Old Bridge.

I've come across some more things that could be fixed, but don't really have to be. But the cape is a must, here's the list:
On the overworld, Luigi looks plump, and it looks like he's shaking his beehind when he's facing away from you...
I found a few cape glitches, they're all graphical, nothing effects the game play in any way:
- When you get on Yoshi, Luigi has raccoon ears on him...
- If you are Super Mario or Fire Mario and you end up turning while on Yoshi, the tilemap for the climbing gets mixed up with the turning. This does not happen when small Mario or Feather.
- While you're swimming, your cape floats below you, and last and the somewhat obvious,
- The capes position on Luigi is wrong.

This hack is really good, I can't wait for the next demo to arrive!
Last edited on 2008-07-05 11:08:00 PM by

Yakibomb

.
How many exits are there? It's strange, because I've gotten B5, which translates into 181 exits, so that doesn't really sound right. Oh well, I am still in love with this hack, I'm curious what acoustic castle was like before this.
It makes you wonder how Big Rigs got into the market.

The worst game I've played was Pac-man 2: The New Adventures. My brother thought since the first one was good (Pac-man In Time, I think), might as well buy the sequel. Definitely made a mistake, it was rubbish.

Shaq Fu must also be destroyed. Shaqfu.com (Warning, takes very long to load) A site dedicated to destroying every copy of this game.
(There is also a Digg article)
Last edited on 2008-08-03 04:35:08 AM by

Yakibomb

.
IF YOU FIND ANY BUGS, REPORT THEM HERE: http://acmlm.kafuka.org/board/thread.php?id=6461.

Remember to read the readme to get up to date with what's new in the previous versions!

You can get Lazy Shell v3.2b here.

v3.2.0b
--------------------------------------
General changes:
*Can now use all editors in 64-bit OS w/o need of corflags

Editor-specific changes:
*Audio: NEW audio sample player, importer and exporter
*Formations: pack set removed because not necessary
*Levels: NEW tile and solidity modifications editors

Fixes:
*Effects editor now closes when closing all editors at once
*Editor windows and search windows now close when closing an editor
*Palette editor: fixed problems with RGB controls
*Allies: DUMMY spells now save
*Attacks: set maximum index to correct value for attacks and spells
*Dialogues: set maximum index to correct value for battle messages
*Items: set maximum index to correct value
*Levels: tilesets weren't saving
*Tilesets: switching layers before deselecting a dragged selection crashed the editor

_________________________________________________________________

INTRODUCTION
Lazy Shell is a third party .NET application written in the C#
programming language which is capable of editing a wide range of
elements within the Super Mario RPG (US) ROM image file.

PROGRAM REQUIREMENTS
*Microsoft .NET Framework 3.5 or higher must be installed on the
system for the application to run at all.
*Minimal system requirements: 1GB of RAM, 10MB of hard drive space.
*The user must be running under a 32-bit OS to use Lazy Shell. If
running under a 64-bit OS, use CorFlags.bat.
_________________________________________________________________

Screens:


You're lucky, I caught you within a week's time frame, I don't usually come here very often.

Anyway, to help solve your problem, this can only be done if there are enough bytes to be able to call the attack's name. I think this only takes two bytes to display(63 00/01/02 for attack/spell/item). But the problem here is that you need to find two bytes to put in the animation script...
Which attack are you trying to display a name for? The DUMMY attacks you'll 100% (I think 100%) will get a name to display, however, only a few of them work in a fight.
I doubt you're doing anything wrong, it must just be a bug with the editor itself. Are you using 3.0 or above? The tiles don't save in those versions, even though the updated versions claim to have it fixed. Try using an earlier version of the program.
Super Mario Odyssey is an pretty good hack, in my opinion. Lots of people say it's the best hack ever, or at least they said that a long time ago.
Super Demo World: The Legend Continues is also pretty good. Though, I wouldn't be surprised if you've played it already. If you have, did you find the secret world?