Posts by S.N.N.
| | |
| --- | --- |
| Posted on 2007-08-20 11:55:34 AM in Eh... | Link |
Posting in a legendary thread postcount+

Hopefully this will weed out some of the idiots that registered on the pervious version of this board.
Last edited on 2007-08-20 11:56:08 AM by

Snotty Nose Narcotics

.
| | |
| --- | --- |
| Posted on 2007-08-20 12:01:40 PM in Eh... | Link |
Seems like it Giga. I've noticed over half the hacks are missing, and another 10-20 featured hacks bit the dust.
Stickification requested.

I'll start us off with an old and new screen of Keytastrophe: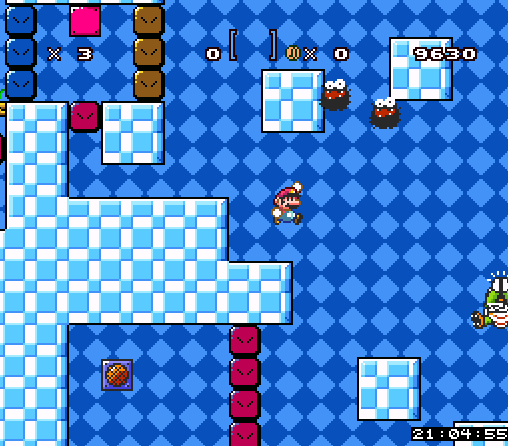 Blue Melody Palace. Most of you have seen this already.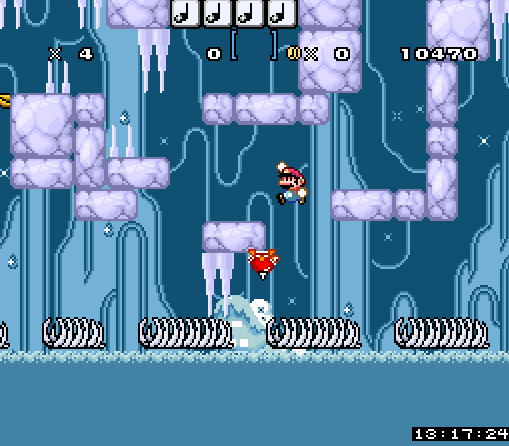 Andante Freezecave, never before seen. Two new things in this level - Ice Blarggs, and Quest Blocks. I plan on coding these, and making you have to meet certain requirements to pass them. It'll all fit in with the storyline though, don't worry.
I'll get around to remaking the Music Request thread soon, once people get settled in. To clear up stickies, we could have the list on the first post of that thread so people can find them easily.
| | |
| --- | --- |
| Posted on 2007-08-20 12:24:51 PM in Eh... | Link |
Looks like all of the hacks were semi-fixed, and had their ratings removed. That's a semi-plus <_<
Hm. I'll start on Featured Hacks:

Brutal Mario - Carol
Demo World 3 - Bouche (?)
Demo World TLC: FuSoYa/ZeroG
The three Luigi's Adventures were Anikiti
Mario's Keytastrophe - S.N.N.
Mario's Lost World - icegoom
Mario's Return - Kyouji Craw
Panic in the Mushroom Kingdom 1/2 - ghettoyouth I believe
RamzaNeko - RamzaNeko
Sendy's World - Sendy
SMW 3+ and SMW 3 - KT
SMW Minus - Golden Yoshi
SMW Newlands - Bloodstar
SMW Plus 1-5 - Golden Yoshi
SMW Redrawn - icegoom
Stranded demo 1 - ghettoyouth
Super Mario Bros. DX - Pac
Super Mario Bros. The Castle - Lightvayne
Super Mario Infinity - Reading
Super Mario Odyssey - BMF
Super Mario World: Bowser's Return - Ice Man
The Forever Mystery... - FirePhoenix0
The Second Reality Project 1/2 - FPI

| | |
| --- | --- |
| Posted on 2007-08-20 12:34:58 PM in Eh... | Link |
It was kind of obvious he was going to wipe it though. No one feels like cleaning up a mess after chaos.
Yeah, you all know that hack. The one with keys, a dark storyline, home-brewed music, and a mad composer? That's the one.




First overworld




Level in first world <_<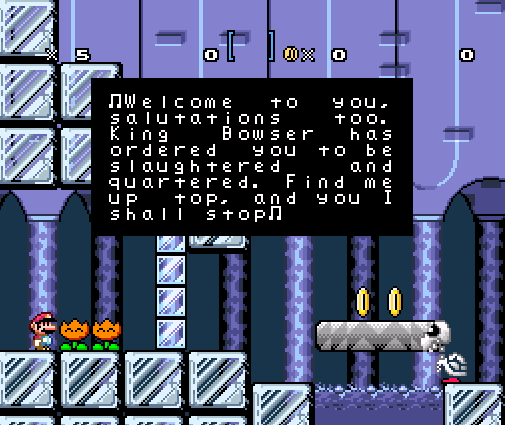 Boothoven's Speech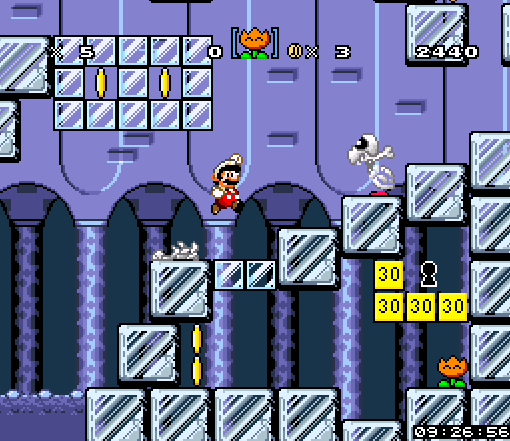 Andante Fortress




Second overworld (actually named Andante, not Allegro)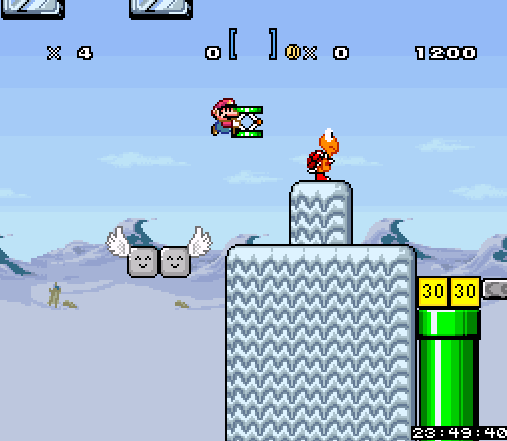 Andante Causeway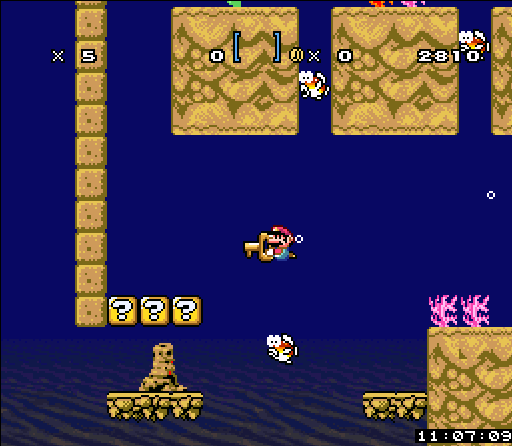 The Lamentable Sea




Staccato Forest. The cut-off mist in the top right has already been fixed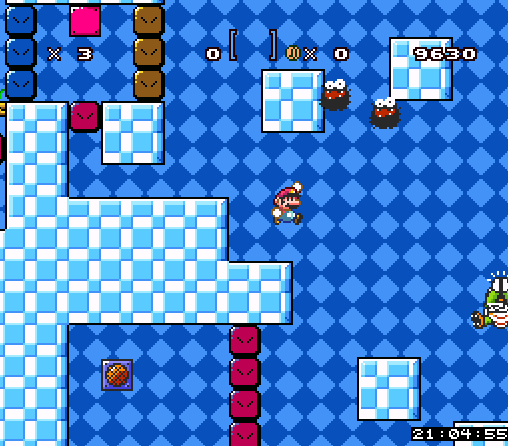 Blue Melody Palace

And a video of the Boo-thoven fight. The song you hear was created by me, and it took a hell of a long time to get it right.

<object width="425" height="350"> <param name="movie" value="http://www.youtube.com/v/MtoYtb3k3P4"> </param> <embed src="http://www.youtube.com/v/MtoYtb3k3P4" type="application/x-shockwave-flash" width="425" height="350"> </embed> </object>

I know about the blue blocks, thanks <_<

Finally, here are five songs I have created for this hack so far. They are in SPC format, so google AudioOverload or SNESAmp or something, load them in, and let me know what you think.

Staccato Forest (upbeat)
The Unknown
Castle of Keytastrophe

As you all know, I am really taking the storyline into consideration for this, so expect a decent plot, intertwining stories, and ASM, because I finally broke down and decided to use it.

(ignore the random code)
Last edited on 2007-08-20 02:23:57 PM by

Snotty Nose Narcotics

.
Heh, I use the rope before every boss. It acts as a lobby type room.

I guess I'd better get some new screens up soon <_<
Originally posted by Joshua

Heh, the non-castle screens of Super Tetris World give me a very strong Super Paper Mario vibe.



Yeah, they look strangely like the Bitlands >_>
Done and stuff.

For those who haven't checked the SS thread, here is my newest screen: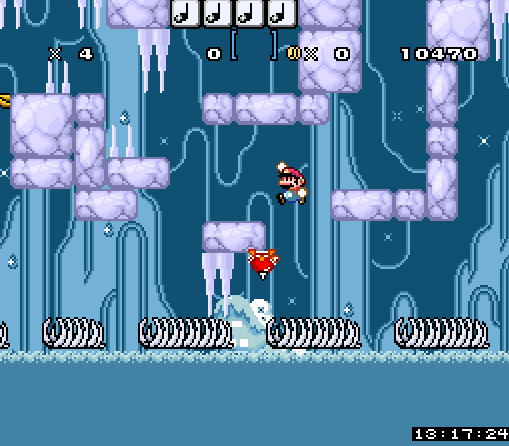 Andante Freezecave. This level contains Ice Blarggs and Quest Blocks (coded them to make them require a certain amount of items to pass) And yes, it will fit with the story.
Yes, but it shares Mario's fireballs palette, and since I used a fire flower in this level, I had to use my imagination and come up with crap to make it all work together >_>
Originally posted by Sparx

Ok. Allegro/ Andante is on a submap, right? I recommend changing the color of the revealed paths to something snowier, it makes it look weird
being non-snow colored on the floor.



Good plan. I don't want to make it too bright though, but I'll see what works.



Originally posted by boingboingsplat

Heh, oops. What do the quest blocks look like? And by items do you mean powerup items like mushrooms and fire flowers?



No, it will be different items depending on this quest. I used Frost Gems in this level as a test (need four of them to power up a teleporter) Other levels it will be different. (tileset specific stuff)
Last edited on 2007-08-20 02:39:26 PM by

Snotty Nose Narcotics

.
The T block. It's probably the most flexible one, and can go nearly everywhere.

T block + I = <3.
Originally posted by Sparx


But is the level with the frost gems a normal level, or an exploration type level?




A mix of both. The one before it is an exploration level, so this is more back to the get the key to the keyhole theme. However, yes, that one part will be exploration-oriented.
So, you got new screens of 1-8, eh? Very nice. I don't think I've seen a pure vertical level, so this will be a very nice change of pace. The top of the castle is nice, though I think the darker palette would look much more eerie for the top. If you still have a copy of my hack I lent you for beta, I used it in the second room of 6-8 with the interchanging blocks, so you could steal the palette from there.

Other then that, two thumbs up, as always.
(restricted)
Originally posted by Onthenet

I guess this means no wolf link transform for link, but there is still the chance of a seperate char version. I'm thinking "CHALLENGER!" Wolf Link & Midna! That sounds cool



If Midna were in this game, I would buy it just because of her >_>

I'm really looking forward to this game - it's one of the reasons I bought a Wii. The graphics, gameplay, and everything about it look incredible - not to mention that the first two were also very well done.

Last edited on 2007-08-20 08:04:35 PM by

Snotty Nose Narcotics

.
(restricted)