Posts by Zach737
Yeah, I just had one of these problems today. I lost a lot of my hack and it turns out the problem was that the reloc offset was supposed to be -1 and i set it to 0. Maybe that's what the problem was because that was exactly what happened to me.
It's a good idea but like everyone else said, some things need to be fixed.

Like in the "arena" screenshot. you need to fix the color of the green castle wall and at least use the four-sided castle bricks if you aren't going to use ExGfx.

The Yoshi background isn't too eye pleasing either.
That looks like it's pretty cool. It's kind of weird seeing that Yoshi is an enemy considering they were "partners" in MKDD.

Also, the backfround and foreground seem like they don't fit in the first couple screens. Are you going to use an ExGFX background?
(restricted)
This hack looks pretty good. The only things I noticed was that in the first video the status bar had some palette problems and the mushroom (also in the status bar, top left corner) doesn't have transparency. Apart from that it was good. I like the new light blue color of the koopas.
I think the status bar uses one of the bg palettes, but I'm not sure about that. You might have to mess around with it in the status bar editor.

About the OW:
Are the white spots supposed to be clouds? they look strange.
There shouldn't really be a bridge to a sunken ship.
And also, I don't know if you're trying to make a sort of fade effect, but the green to gray mix where the video began doesn't look right either. You should edit the tiles to make a smoother transition.
I can see a little lava at the bottom of the bowser castle.

EDIT: also, the mixmatched castle tops and bottoms are ugly. Didn't notice them before/
Last edited on 2008-08-20 08:12:11 PM by

Zach737

.
Just a couple of screens from my Stiksy hack I started a couple weeks ago. These are very beta, I haven't worked on the overworld, bg, powerups, or status bar yet, so I disabled the status bar. In each level, you have to find a certain number of coins, 10, 30, or 50.



Screen from the practice level


Do you have 10 coins?


Ooh, a bad guy!


He died.

Again, these are beta, so things are going to change a lot.
Last edited on 2008-09-01 04:58:34 PM by

Zach737

.
Originally posted by scratch799

@Zach737- I'm in awe at how different you made it look. It looks like a Game Maker Game now (particularly Wally: Land of the Wallows). I like the experimental feel to it.




Yeah, I just opened everything in yy-chr, pressed delete, and started freehanding everything.

I'm also hoping to mess around with other stuff like ASM that I didn't have much of a chance to work on in my old hacks.
Last edited on 2008-08-20 10:19:26 PM by

Zach737

.
KoopaTroopa: Those are some nice ExGFX, and the level looks pretty interesting, too.

MetaKnight: Wow, those are great ExGFX, too.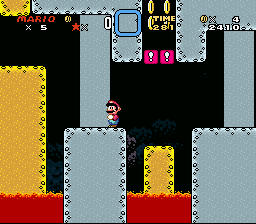 In this screenshot, and in a couple others, you need to fix the gray columns. There are no edges to them.
Originally posted by uNkNowN5642



Yeah, you can't see them so it looks like floating walk-through dirt most of the time.

lol

I think I win

I always send myself a pm on every board I join.
click

Cardboard Pineapple
You get an infinite loop

*Inserts a Youtube Poop*
You get a Stove

Inserts an iPod
you get the result of the resulting result

*inserts AllGFX.bin*
If you mean you're trying to make a different kind of level, such as a cave level with cave sprites replacing a land level, you're going to have to press the purple mushroom and change the graphics list. Also, you'll probably have to change the palette with the star. Unless that's not what you're trying to do?
The onion is a cool idea, but you'll need to change it. It's pretty hard to tell it's an onion at first glance. I thought it was a bomb or something.