Posts by DPhoenix29
Can someone make me a layout that looks like my example below (preferably with the black borders around post/sig, and so you can see the bg behind the post/sig):

Layout Example

Background:
Bg Pic Goes behind everything of course (repeated so it fits the whole post)

Picture:
Picture I don't have a pic for here so just use this example one that I quickly made

I hope that my request makes sense
I made a request about 2 weeks ago and no made my layout (if i missed it please let me know), it'd be great if someone could do this for me, please and thank you. Quoting my earlier post:

edit: thanks buu for the layout

Last edited on 2009-09-15 07:49:10 PM by

FrostyPhoenix

.
The only problem is the open with selection thing* doesn't work

*meaning this: Click to view pic

Now the one that says 'Super Mario World Level Editor' is version 1.63, I'm trying to get the stupid files to always open in LM1.65. Unforunately when i click browse and find 1.65 then hit open/enter/whatever, then close out the darn thing by hitting ok it still opens in 1.63 (even after hitting the check box). The only programs I can open it with are the ones on the recommended/other list (i can add other programs to the list just not LM1.65), I also have the same problem when changing it for other files as well.

Anyone have any idea why it doesn't work or how I can manually change it without going into the stupid pop-up thing

hopefully I explained this well enough so it make sense

(tl;dr/simple version: Want SMW rom to open in 1.65 instead of 1.63, but I can't change the program it opens with [without dragging it on to lm1.65 or opening 1.65 and loading it up that way])

let me know if this is in the wrong spot (this has to do with my actual computer and not smw rom hacking/lunar magic in general so I assumed it goes here)
Last edited on 2009-10-02 08:05:00 AM by

FrostyPhoenix

.
I'll pick number 1 (since it equals the number of hacks i have on the site/music files i have made/contests I've entered/years i've had an account on SWMC, etc. etc.)

I say one box has a ban and the other has the soul of SNN (or Arbe) =P

edit: darn 17 seconds too slow
Last edited on 2009-10-01 10:59:38 PM by

FrostyPhoenix

.
Tried that. After its deleted when I double click to open the file the open with popup shows up and i have the same problem all over again.

Actually nevermind, I got it to work (somehow). There's no need to keep this open anymore
happy halloween to everyone at smwc, enjoy your candy, parties, etc.
I don't have that much, here's what I have in the order I got them (i'm not sure if I got the PS1/GBC in the right order though):

SNES
PS1
Gameboy Color
PS2
Nintendo DS (Lite, black/red)

All of them still function, the SNES doesn't run that great anymore and all my SNES controllers barely work.
Last edited on 2009-10-31 07:15:54 PM by

FrostyPhoenix

.
Originally posted by Superderek

It is a bit late but...

November 10: dragonphoenix29

Happy late birthday, dragonphoenix29. Sorry, I forgot to post this yesterday.

Also, my birthday is soon! Just have to wait until the 13th.



Thanks, and happy birthday to you as well.

And a happy late birthday to CharMixa64, alancole64 and everyone else whos had a birthday this past few weeks. Happy earily birthday to ZMann, TheMonkeybob, Alcaro and Merio (since it will probably be another week or two before I look here again)

With not much time to spare I've managed to get a demo of sorts ready for C3. Unfortunately its not the complete demo 2 that I was hoping to have done for this C3. So I present to you Chaos Chronicles Demo (C3 Edition).

Download Link

This is no where near a completed demo, it may contain some errors but hopefully nothing too major (such as half the first cutscene getting cut out (no pun intended). Contains 16 Levels, 1 Bonus level and 2 Previews of levels from world 4/5

Screenshots Below



Default graphics will be changed eventually (add the level that still has Redrawn FG graphics)
-----------------------------------------
As for my other hack Flame's Adventure, that is currently on pause until I feel like working on it.

Screenshots


My one and only tileset so far (incomplete), ignore cutoff/ugly tiles


Heart restores Hp, Potion restores Mp (and the Green Heart which is not shown also restores Mp), Mario GFX will not be in the game
Last edited on 2009-11-15 11:07:25 PM by

FrostyPhoenix

.
Originally posted by WhiteYoshiEgg

Kinda offtopic, I guess:

I've been hearing this song in my head all day, and I just can't figure out what it's called or where it's from. I've heard it in a few hacks, but I just can't find it in the Music section. I even made

a simple MIDI

out of it by ear. (It's probably the wrong key, but who cares.) So... can anyone tell me what this song's called? >_>

(Doesn't this happen to you often too? We should make a thread for questions like this or something...)



Happens to me occasionally mostly while playing through a lot of the hacks on this site. And that tune sounds very familiar, first thing I thought of when I heard it I immediately thought of this song: Wild ARMs 2 - Town to the Western Winds. I'm not sure if this is the one you were thinking of, but they sound very similar.
| | |
| --- | --- |
| Posted on 2009-12-08 08:41:19 PM in PIZZA | Link |
Definitely Meat Lovers (second place would be pepperoni)
Awesome overworld logup. My favorite being the submap for the final world, it just looks fantastic (the rest of it looks just as good of course)

@Cheeseofdoom: Looks nice, the only thing wrong with it is there is a tiny bit of cutoff (corner tile missing) a few squares above the shipwreak. Other then that no problems to report.

@Treesr4treepeople1: Nice 1st world submap. Not a problem in site. Its Simple, the colours are great,it looks well designed and perfect for the first world (assuming that it is for the 1st world of course)

@Jingle's Calculator: Looks ok, palettes are ok, level design is fine, linear but thats not a big issue.

@Broozer: WOW. I think that sums those pictures up nicely. Those vanilla levels are just jaw dropping. Its amazing what someone can do with only original graphics and some creativity. Goes to show that you don't need ExGFX, custom sprites, blocks etc. just to make a good level. Any problems (if any) in those screenshots are over written but just how well designed those levels are.

@DragonIce6780: Last comment for now. Very nice overworld. While I can't say I love the graphics, it doesn't look half bad, although the area with castle #3 on it leaves a bit to be desired (its a little empty), besides that everything looks good (I'd try to find cutoff but that'd take too long
Last edited on 2009-12-08 09:07:10 PM by

FrostyPhoenix

.
I like the palette, don't see anything bad about it. Level design looks a bit bland though (not all that important since the focus is on the palettes)
Seriously what the hell. What is this world coming to. Some people are just way out there. I don't know what more to say, if someone even suggested that they want to marry a video game (character) around here, they'd look like a fool (not saying this guy doesn't of course)
I got around 40wpm. I thought I was a faster typer then that but I guess not. Of course if I was to do it without spelling mistakes it would probably be about half that.
I really should post more then I do on these forums and stop lurking so much.

I'm a little late on the snow topic but it recently snowed on Saturday and I really dislike snow and the cold (shoveling being the worst part, especially when its wet/heavy snow).

And since the subject of sleep was brought up: I usually only sleep for about 4 to 6 hours (usually 1am to 6am), luckily I've never had any issues with getting to sleep once I get into bed. I really should go to bed earlier but then that means I have to get up again at 6-ish and I like to make night time last as long as I can.

In other news I'm moving to a new house soon, well sort of. As of right now my family (my mom and the three of us) own two houses. The house were moving into we are going to share with our grandmother (she's very nice and very helpful, shes also not that old either, only 65ish) and most of our stuff will be moved over this weekend. The catch is that I have to stay at the old house a few times a week because we can't leave the house with no one in it (has to do with insurance 'stuff'). So I get the house to myself without having to be bugged by anyone (going to be awesome).
Two pictures of our cat Casey. We've had her for over a year now. She was thrown out of a car in a cardboard box onto the side of the road. One of our babysitter's kids found it and we were asked if we wanted to keep it, my mom wanted to say no but how can you not refuse this face:

Picture #1

Picture #2
A few islands maybe or some rocks could work, can't think of much else at the moment. Just recolor the rocks that float in the water. They don't have to be icebergs (and icebergs can be near beaches, they can travel pretty far from where they are originally located [don't quote me on this, I don't know too much about icebergs)
"When the sun sets, it will never be bright again"

Welcome to this topic, enjoy your stay. So now I'll get to the details, Darkness Falls is a team hack that me and my brother EvilDonuts are working on (he'll be showing his levels later today), the star of the hack is none other then Yoshi, once again off on an adventure to stop evil.

The game uses mostly all custom ExGFX (most of which is from this site). Credit goes to A Yoshi for his SFOG Yoshi, and Jimmy52905 for the full Yoshi's Island Soundtrack which will be used in most of the levels (haven't decided if I'm going to go with just the YI Soundtrack). The story hasn't really been decided but the hack title may hold some clues to what it may possibly be about (as well as the ingame quote).

Here is your first severing of screenshots.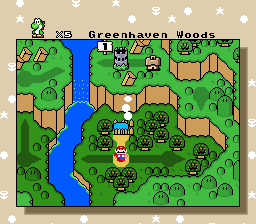 Welcome to World 1, filled with forests, a river, and peaceful scenery. Mario's Cabin is also here (Ignore the Mario GFX)


Yoshi is falling from the tree tops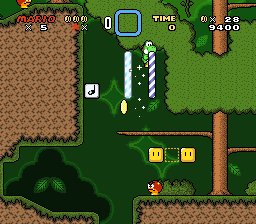 Halfway point. Only half the level to go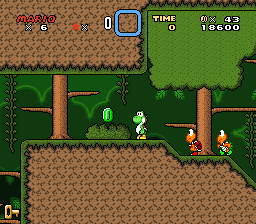 I wonder what this odd color coin is for (it is not a Yoshi coin replacement)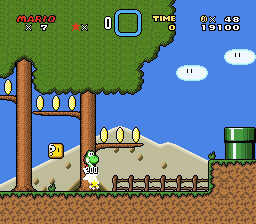 Out of the woods and into the fields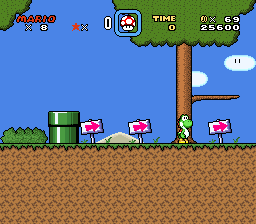 I wonder what gave me this idea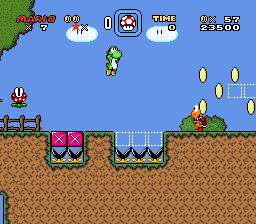 On/Off block MADNESS!!!!!!! (This is Sparta!!! *shot*)

Thats all for now, stay tuned for more. First Demo should be done by Christmas (hopefully, although certain events/limited computer access could cause some delays)
Last edited on 2009-12-10 09:34:31 PM by

FrostyPhoenix

.
Thanks for all comments, I'm glad people like what they see. Screenshots from my bro will be up some time today. And I'm trying to go for a Yoshi's Island feel with this hack, so I guess I'm achieving that so far.

Broozer I'll see what I can do about getting a video up. I haven't had much luck in the past but I'll try.

Edit: Video should be up shortly (once it's done uploading). Not the best quality (music craps out near the end for a few seconds) but at least it's a video, hopefully the upload works
Last edited on 2009-12-09 08:19:47 AM by

FrostyPhoenix

.