Posts by DiscoMan
Your OW design is very good, apart for some blocky sections, overall it's very good.
You don't need to kill tiles just to recreate a effect that appeared in Brutal Mario, you can use Layer 3 ExGFX v2.2 and change the ExGFX the way you want.

(I recommend you to replace the Super Mario World thing)
Last edited on 2012-03-04 01:19:11 PM by

DiscoMan

.
You must know what place you're want to save the tilemap in this RAM, to make the "damage" thing, you may want to DEC (or LDA $xx : SEC : SBC #$xx : STA $xx).

If you want to "recover" health, you may want to use INC (or LDA $xx : CLC : ADC #$xx : STA $xx).

You can do this by loading a FreeRAM address and then making codes to compare if the damage bar is #$00 (= death).

You can use SpriteASM if you want but it's more easier using LevelASM.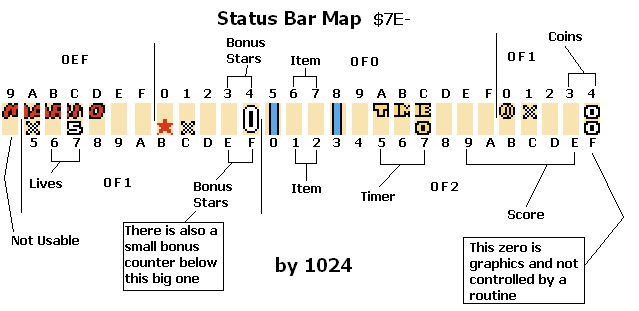 Last edited on 2012-03-04 01:35:43 PM by

DiscoMan

.
Well, the colored names are nice but the ponies thing are very boring and annoying now...
You can use this music, it's the CUSTOM - SMW & SMB Underground Remix.
Last edited on 2012-03-04 03:16:44 PM by

DiscoMan

.
Originally posted by Giant Shy Guy

Uhh...that's just a statement pulled out of the air.

~

Anywho, in all actuality, the sequel to SMW in the actual timeline is Super Mario Sunshine...

But anywho, what kind of sequel are you looking for; something that takes again in DI after many years, or a sequel that happens right after DI?



Actually neither Super Mario World 2 or Super Mario Sunshine is the true sequel to SMW, as stated in Super Mario Wikia:



Originally posted by Super Mario Wikia

Wacky Worlds emerged in a time in which its developing company, NovaLogic, was hoping to be hired by Nintendo.[1] Then helping Nintendo with the "SNES-CD", a disc drive for the Super Nintendo Entertainment System, Philips had a right to make games with Nintendo characters for their CD-i. It was suggested to NovaLogic by a Nintendo sales executive that they port simpler Super Nintendo games to the CD-i, sparking the idea of "putting Super Mario World onto a CD-i disk": making a quasi-sequel to the SNES launch game for the CD-i.
[...]
To fill the need of a Mario game for the CD-i, Hotel Mario was made.[3] With this failed sequel to Super Mario World gone unreleased.



This game was never released, so the "true" sequel was Super Mario Sunshine (if you count the timeline).
Last edited on 2012-03-04 04:47:33 PM by

DiscoMan

.
You can disable color animations (I can't recall it very right, it's the address "x02629" "x02714" and "x0271D") or you can try to edit it.
Isso é muito estranho essa coisa de pôneis, que é isso? Toda hora algum poser (ou algum user simpatizante com essa coisa) defende com unhas e dentes do jeito que teve naquele tópico.

Os caras só falaram que essa coisa de pôneis tá irritante e o cara posta "I don't give a fuck" (nesse tópico: http://www.smwcentral.net/?p=viewthread&t=54878) oras, é por isso que flames e essas coisas acontecem, só porque eu digo que é irritante o cara já manda palavrão, infelizmente o que acontece é que a maioria do staff é bronie então infelizmente não dá pra ficar lutando contra a maré infelizmente, é o fascismo que enfrentamos.

Quando o SMW cair por causa de coisas inúteis como essas, todos dirão: "Eu avisei..."

(Eu coloquei outros e segunda geração também, olha que interessante...)
Last edited on 2012-03-05 11:50:31 AM by

DiscoMan

.
Nah eu sei como é DSC, todo mundo defenderá o que gosta mas quando o outro nem ao menos ofende, só diz "É chato" porque então xingar?

Creio que é a segunda opção cara, primeiro, pra que defender uma "causa" tão boba e estúpida como essa, não quero ofender, mas enquanto há coisas muito piores, há gente defendendo desenhos animados, que óbviamente não existem por medo de serem rejeitados pela sociedade, ou pelo menos serem puxa sacos de outras pessoas.

Entendo muito bem o que você quis dizer, só meu ponto de vista sobre isso, que foi bom foi mas tá na hora de parar quando isso se torna excessivamente, compulsivamente e doentia demasiada.

(Hey, coloque alguns dos pokémons mais conhecidos do que só os 4, acho que incrementaria muito mais.)
Na minha opinião acho melhor incluir o Chefe da Equipe Galática, o Cyrus, ele tem pokémons fracos mas o tema dele é épico e ele comandou temporáriamente Dialga/Pálkia.
Last edited on 2012-03-05 12:08:23 PM by

DiscoMan

.
Nem é só isso Austin, eles NOS FORÇAM em aceitar pôneis, sejam com tudo o que você falou, e ficar ainda quietinho, eu digo, o empoleom foi é certo de se expressar, daqui a pouco vai ter regra pra quem falar mal de pônei, se for o caso, o SMW Central morre.

(Cara, Pokémon é o melhor jogo/desenho/anime que já vi, é essas pessoas de hoje que só curte Ben 10 e etc
)
Eu sei como é mas eu disse "que já vi" então minha opinião não necessáriamente reflete a sua, mas convenhamos a primeira temporada é boa sim depois vai ficando um pouco estranho/repetitivo.

E DSC, realmente, seria muito estranho alguém sair com uma coisa dos Pôneis mas convenhamos também, Ben 10 é para crianças mas MLP é para crianças (possívelmente meninas?) mas é assistido por pessoas adultas (???), por isso é estranho.
Last edited on 2012-03-05 12:34:42 PM by

DiscoMan

.
You must extract and then insert because LM will insert a ASM hack that this patch uses, so if you don't do this process, the jump code will jump into a garbage data, crashing the hack.
You can try to edit the "FreeRAM" thing in AddMusic.ini, the FreeRAM pointed by it it's actually used, bad things can happen.



Code
[SETTINGS]
Create.msc=1
FreeRAM=7E1DFB
TitleMusic=11
Amazing OW design, although there's some linear parts, there's no graphical problem (IMO the palette thing is okay.)
You can use this RAM ($7E:13FB) or this one ($7E:009D).
You can use the value you want, I recommend #$2F for timer.

Also, I recommend you to use 13FB one.
You can use this custom sprite (www.smwcentral.net/download.php?id=426&type=sprites), this one (www.smwcentral.net/download.php?id=837&type=sprites) or you could use generator F4, note that you must use a hex edit to use this generator without using a certain sprite.
Hello and Welcome to SMW Central!

If you've trouble with something, you can check it up at the Tutorial section.

Enjoy your stay!
Pode não ter nada a ver com o problema, mas para evitar que algumas músicas se repitam, troque a FreeRAM, essa dai já é usada assim músicas iguais não se repetiriam quando você fosse da fase para uma sub-fase ou vice-versa.