Posts by Hailstorm
(restricted)
(restricted)
Um...did you use a clean ROM? That might help.
I tried applying the no more sprite tile limits patch to my ROM. I set the sprite header setting to 10, but all it did was make things worse. What am I doing wrong? Do I need a clean ROM for xkas patches?
Thanks for the help, but the problem just went away by itself somehow when I tried it again. I guess this thread can be closed now.
How do you change the music that plays during a boss battle? Doing it in Lunar Magic did't seem to work. (wow, I've posted a lot of questions here).
Well, I already posted this in my own thread, but I might as well show it here, too.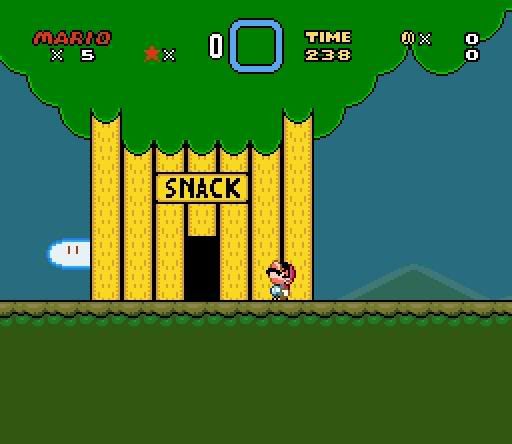 The graphics for a snack bar. Not much, I know, but decent hand-drawn graphics is a big accomplishment for me.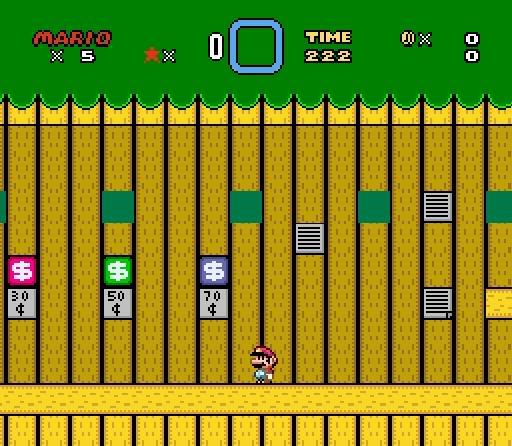 Here's the inside, where you'll find the shop blocks that charge you for powerups.
(restricted)
Just one. It had tons of glitched graphics, bad level design, and a plain overworld. Fortunately, it was only two levels in.
More stuff to show! Here are some "custom" bosses. It's nothing related to the storyline, but there might be some spoilers.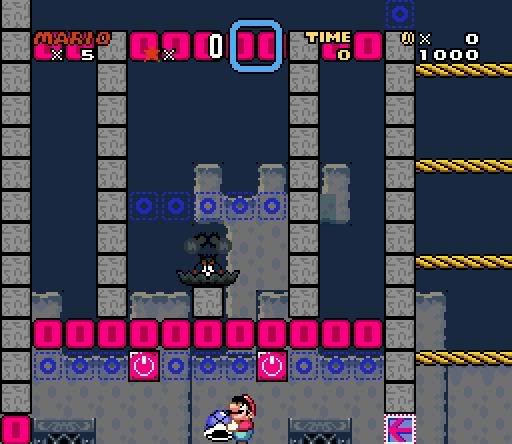 The Lahara Lotus. How do you hit it up there?



You have to send the shell up the chute on the right and guide it down to the lotus using on/off switches. Don't send it down the wrong chute! The lotus takes three hits, and as you can tell, each one takes place in a different arena.



It's Lakithunder from NSMB! In this battle, you have to keep moving and hopping, because this is an autoscroll level.
Last edited on 2008-10-26 07:19:30 PM by

Hailstorm

.
I came here to hack AND to hang out, which explains why I came to the "talk" section of the forums.
I think these people did a good job, but MATTAN's ips patch doesn't work for me!
It doesn't come with a header. I know it isn't my ROM, because it works on everyone else's. Dang, I want to see the scariest hack! Snestool doesn't work for me, either.
Originally posted by chriszombie

Do you use Lunar IPS?



Yep, still nothing. Maybe I can apply 512 bytes to the ROM, but I don't know quite what that means.
Thanks, where might I find that?
I have 34 (3.68 per day).

Not bad...I'm keeping up a good rate.
What does the badge mean? I know it is no longer available, but how was it obtained? What does it show about the person? Just curious.
Ah, so it was just random. I wonder if it will ever happen again?
If I learn to make videos, I'll definitely release a few for C3! Other than that, I'll probably just reveal a couple more levels. Videos would be cool, though, as I've learned to insert custom music a little while ago, and would like to show it. Too bad I won't have a demo done by then. On the other hand, I can't wait to see other people's stuff!
Just another small update. I created the Red Switch Palace, and here are a few screenshots: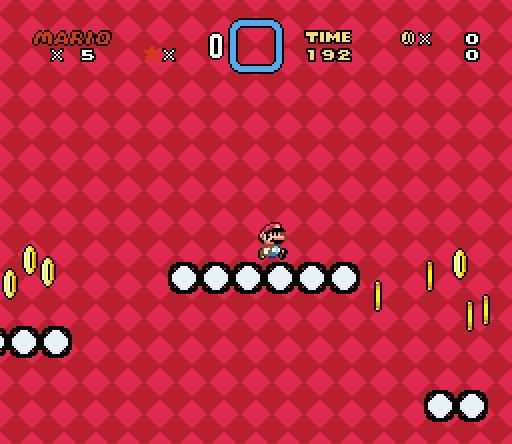 I inserted themilkman's coin heaven sprite generator, and coins will constantly shoot up at you. Unfortunately, the level scrolls automatically, so you need to grab 'em fast!



As you grab the coins, you also need to pay attention to the platforms, or you'll likely fall. Keep hopping!

Any comments or suggestions?
First, how do I change the music used during the Koopaling boss battles? Changing it via LM doesn't work.

Second, I'm having trouble inserting the hammer and boomerang bro sprites. I inserted the correct ExGFX file, but they still look garbled. Not just in LM, but on an emulator. They have hammer & boomerang bro graphics, just in all the wrong places. What am I doing wrong?