Posts by Hailstorm
Try downloading the Fast ROM patch from the patches section.
Just click one of the titles in the ExGFX section to get a preview of the graphics. If it looks like it suits your needs, download it.
Yeah, I think it means that the custom blocks out of page F in the Map16 will lose its "customness", though I've never used the blocktool slowdown fix patch.
I've seen SNN have different area titles in the status bar in his hack depending on the location. I think I've also seen Reading do it in his latest trailer. Is there any way I can do that without ASM/hex, or do I need to take this to the advanced hacking forum?

EDIT: Nevermind, I found the patch. This can be closed, I guess.
Last edited on 2008-11-08 06:58:17 PM by

Hailstorm

.
I don't know what I'm doing wrong. I downloaded a v1.0 ROM. It works fine in an emulator. But when I try to patch Kamek's Revenge to it, it says that no items match my search, even though the ROM's right there! What am I doing wrong?!? Sorry if this question is noobish, but this is the first time I've ever dealt with a YI ROM.
Ah, yes, it worked. I guess it was the wrong file type. Thanks.
I'm not a morning person either, though for some reason I want to be awake for as long as possible. That also means waking up at around 7:00. I hate it when I wake up at 10:00 or 11:00, but I know it was my fault, since I had stayed up 'till 1:30 last night, err, morning.
The boss door tiles use "acts like" settings 98 through 9C
(restricted)
@Larszoom: First, you need a tile editor, I reccomend YY-CHR. It can be found in the tools section. Next open up your hack in Lunar Magic and click the red mushroom button in the toolbar (if you haven't done that already). All of the game's graphics will be extracted and put into a folder called "Graphics" in the same folder as your ROM. Open up YY-CHR and open the file called GFX00.bin in the Graphics folder. The Nintendo Presents logo should be in there. Now just erase it and make look the way you want. When you're done, save, then go back to Lunar Magic and click the green mushroom button to insert your new graphics.
I'm having the same problem, too. Where is that byte? I didn't find it in the ROM map.
I haven't yet tried it, but I've seen the trailers and screenshots, and I can't wait to try! I'm sure it'll be great!

EDIT: In the short time I've played this, it shot up to my top five list. Amazing work, Golden Yoshi.
Last edited on 2008-11-11 10:51:26 PM by

Hailstorm

.
@Sushi: I like the second palette, though I suggest putting a little shade of blue on the grey areas in the first palette, but that could just be me.


Anyway, say hello to my first ever hand-made BG.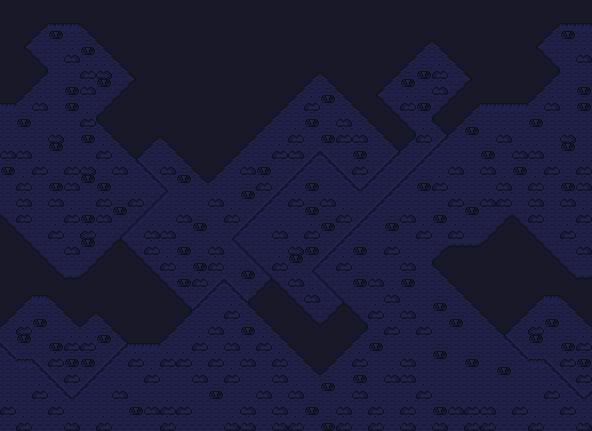 This is for my latest level, Submarine Trashbed. You can see the slime and cola cans dumped in the ocean. It may not be that good, but I like it.
(restricted)
The FG is also dark. This is supposed to be very deep in the ocean, hence Submarine Trashbed.
Make the level a layer 2 level, put the brick tiles on layer 2, and put the block on layer 1. Of course, you have to be willing to give up your layer 2 background.
New level. A hidden level called Submarine Trashbed. Since Mario's absence, the lake got totally wasted.



I used the Marine Pop sprite for this level. You get to shoot lotsa stuff.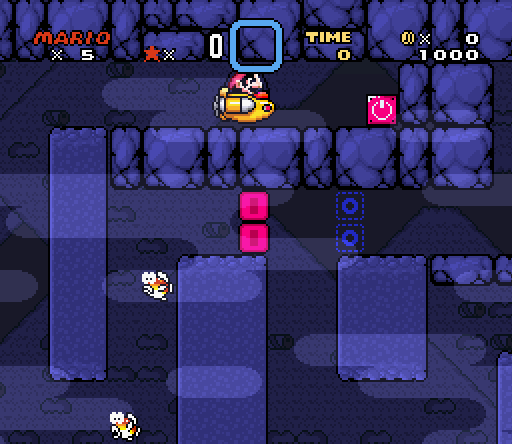 Eventually on/off switch puzzles factor into the level.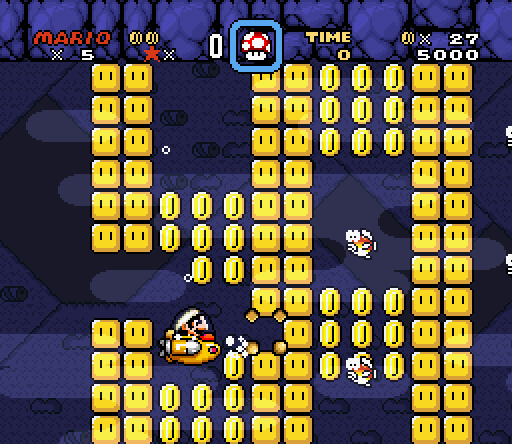 The level ends with an autoscroller in which you have to shoot fast or become a sub sandwich.

I drew the BG myself and downloaded the FG. With the completion of this level, there's only two and a half more until I can release a demo!
Yeah, there's a music request thread in the sticky section of the SMW hack discussion forum.

Anyway, I REALLY need help! I'm trying to change the title screen music. The FAQ said to go to offset x18C7 and change it to my OW music number. However, offset x18C7 is #$22, not #$01! I don't know what 22 is supposed to be, and when I try to change it to my music number, #$0F, the game freezes after the Nintendo Presents logo. I NEED HELP!
It's sprite 29. You have to place it at the right y position. Just move it around until it says Lemmy or Wendy Koopa.
(restricted)