Posts by Jack Kitetsu
Todos son rips aj, no me dio tiempo para hacer custom .-. y que bueno que te gustaron
Nice hack aj i like the photo of the munchers omnomnonom

(bunito hack aj me gustan la fotos de los munchers,.
ha y el ow es un poco cuadrado, pero se ve interesante
Gringos del ultramal ignoran a los que hablan español

pero meh,.. por lo menos se que hice algo,..
de todas formas en cuanto se acabe la c3 borrare mis graficos de la file bin,. asi los que no hayan visto mi post aprovechen por que ya no los vuelvo a subir aqui,... buno, si me envian un pm se los paso
Thanks for your comments anonimato, carld and skalibur
!
Broozer nice graphics! good job!
Ho, el lm nuevo, no me ha dado tiempo de probarlo ni probar el emulador,.. posiblemente luego corrijan las incompatibilidades con las musicas,.. pero bueno,.. creo que la c3 no estubo tan mal despues de todo... y casi nadie postio en mi thread .-. pero si muchos postearon el el thread del culo de xlk que sus graficos son una reverenda mi....... muy simples
NEW GRAPHICS!!!,............ only 2 .... xD


2 Custom graphics for me
[FG]Custom Grass
DOWNLOAD: HERE
[Sprite]Mine Car Custom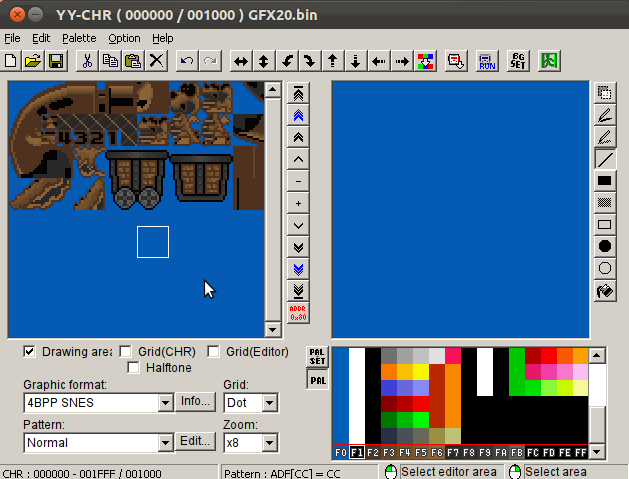 DOWNLOAD: HERE
woah! nice patch! yoshii xD good job
Se acabo la c3,.. y bueno yo no estube al tanto de todo ya que andaba haciendo otras cosas,. y como era de esperarse solo gente de reznor comento en mi thread .-.,..

y tal parece que ya comenzaron las votaciones del C3,.. dudo ganar algun voto,.. .-.
Si seria interesante una herraminta mas para los que hacen graficos, pero apesar de eso aun me siento muy comodo con el yy-chr, pero si sacan algo mas espero que tengas cosas muy utiles
Woah anon me gusto la paleta del arbol (me gusta ese tipo de verde) y como dice nox, el fg se ve interesante deverias monstrarlo completo se ve interesante,.. y res pecto al arbol se ve bastante bien, yo igual batallo mucho con los arboles el ultimo que hice fue el que puse ne la C3,. aun debo mejorar para "textursar las hojas" por asi decirlo, pero te quedo bastante bien,...
daizo nice graphics and nice hack! good job
Igual que nekoanon del mal, yo nisiquiera tengo hack y ando haciendo grficos y posteando aqui y en reznor,.. este es un hobby que dudo dejar
Momento,..peasados egoistas,... NINTENDO?!!!! por dios,. es mas egoísta sony! (sony del mal)
Si ami igual me faltan como 2 semanas o 3 de clases, lo que me preocupa son las tareas .-.,.. espero no reprobar ninguna aun que si hay posibilidad,. mas fisica D: ... respecto al hack no se si haga algo,... vere que me pasa mas adelante
yo, pues como dije antes estoy apunto de acabar el primer semestre de universidad,.... el segundo... ME VIOLARA EL HULK MATEMATICO!!.. razon:
Álgebra lineal, matemáticas discreta, calculo y mecánica.. me darán esas materia del mal (las demas, introduccion a la programacion taller de programacion, algo de redaccion o se que,... estan *inserte yao aqui*

y respecto a los avengers,.. digo lo mismo que neutron,..
diria cosas pero seria spoiler
Espera hasta que lleges a la universidad.... y veras si eres suertudo..... imploraras por un poco de suerte que te arojen los dioses!!!,. (dios,dios muncher, dios trfuerza, dios hongo, dios chupelupe no se escoje)..

Mrpincil del mal se registro a mi foro y nunca regreso... *desprecio*
sonikku is a horsehuman ! who knows asm!!!!
@Mario's Hat
Nice ow i like it!

@DragonFire6780
Nice frist screenshot palettes is awesome

mmmm the border of item (status bar) looks a little weird
@Turbo Man
woah! nice screenshots,. your palette's is awesome


@carbonMessiah
i like the cave! perfect for a level of dark underworld

my sux english