Posts by Lu-kaz
(restricted)
@Aqualakitu: Very nice, I love it.

Thought I'd throw some of my palettes into the mix here, I'm not sure of them: I like them for the atmostphere they create...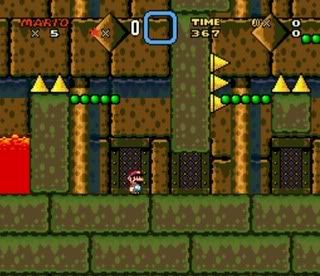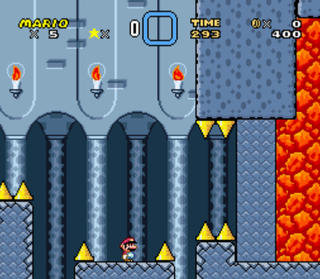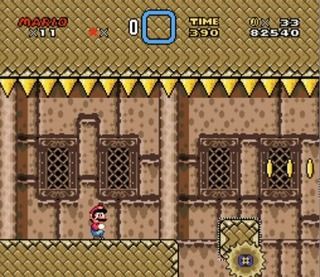 I think this level is good enough to compete:

Iron Grotto

It's a level in the hack I'm currently working on, which is why half of everything else is modified. You can only access the level meant to be played, and Yoshi's House, so I think that's okay. Please ignore everything else.
Wow, I suddenly feel so lame for not updating mine. I mean, I'm pretty sure it's as good as it's going to get, but...
I would bet at least. If I understand things correctly, the judges all review all the hacks, so each judge would have to review four hacks per day minimum from now to the end of March for it to be done by the end of March, assuming no bad patches. I'd imagine sometime in April is more realistic...

As an aside, after watching some videos of the levels of other people, I suddenly feel very lame. Half of the stuff that I saw completely bamboozled me, especially in how it's all Vanilla...
I've noticed that all the videos posted so far are TAS or silent LPs, so I thought I would make some blind run LPs to balance it out. Right now on my channel I have levels 1-12 done, although I somehow skipped six. If anyone particularly likes my style of review I'll do theirs first, but otherwise I'm going by the list in the other thread.
Hey Bowser's Level Designer, I have uploaded the videos for your level. I warn you though; I get annoyed easily, so I might come across as a little abrasive...
No problem, glad I could help. It was a fun level to record, in retrospect, because it at least wasn't boring. Keep at it, and if you want me to record another level for you after this contest is over, or I get sick of contest levels, I will.
I'm currently trying to LP as many Vanilla Level Contest Entries as I can, I've done the first thirteen plus another requested one, the start of which can be found here. Note: Their blind runs but I also try to play as fast as I can, which is often counterproductive.

Entries 1 and 2
Originally posted by Amos DeFamos

Either Talk, World of Insanity, Reality Corner, or Anime and Manga...

Even though I have never actually posted in Anime and Manga. :/

Maybe Computing also, but I wouldn't be good there, mainly because all of my advice would either be "lolwindows", "Switch to Linux", or "Bill Gates is Satan incarnate, stop giving him your money!".



I'm pretty sure that makes you the best candidate for it. Linux FTW!

Also, I guess I could moderate Programming, Tutorials, and the Reality Corner, as I have a little knowledge and visit those forums. Aside from the classic "Talk-SMW Hack Discussion-Basic Hacking Questions that most people tend to visit often.
I'm currently taking Calculus, and it seems easy enough. Stats tend to drive me nuts though...
Yeah, Mariofan1000, other people probably would have figured that out, I'm just an idiot, it would seem... (Assuming that's a response to my video)
(restricted)
Hey, speaking of, hebesphenomegacorona, do you want a Blind LP of your hack up tonight? I have one done, but I'm thinking I might wait until tomorrow to post it (someone mentioned I tend to post more videos than people can keep up with, so I'm trying to limit myself, but... ). I've been doing them alphabetically, so any hack before yours has also been done and uploaded. If you have any interest in watching it right now though, the videos are done. Fair warning if you watch it either way: I'm fairly harsh...
Originally posted by Fakescaper

I wonder, is my level also disqualified from these "reviews", what appears to be random people to me, are making.




What do you mean? Our reviews certainly have no bearing on what the judges say, if that's what you're asking. And even if your level is disqualified, it was still pretty freaking awesome.
So, the patch for Dust World doesn't work for me, does it work for anyone else?
Thundahack, I like it a lot, except for the arches, which seem too yellow.
Something bugs me about it, but I can't place what. I think the foreground and background have good palettes, but they don't work with each other. The foreground is too yellow/goldenrod whereas the background is too orange-y, and the difference in saturation bugs me.

This is a small nit-pick though, it's certainly function able.
It's been drifting back and forth between these layouts for a few weeks. I'm a major fan of the new one, to be honest; it looks cleaner and a lot of the features are quite nice, including the fact that I can keep one video playing while searching for others, so multitab browsing is a lot easier. (Before, the search bar didn't work with multi-tab browsing...

Anyways, I'm a fan for the most part, except that the video upload button took me a minute to find. Otherwise, I quite like it.
This sounds pretty neat, I'll have to keep an eye out for it.