Posts by Lavos
Nice Job smkdan Those are some very nice Sprites,looking forward to more great sprite realese,Im actullay Working on Some Sprites My self
Cannon Shy Guy and Giant Boss Bass,AKA the giant boss bass is the YIDS styled boss bass.

Last edited on 2007-10-24 07:33:02 PM by

Lavos

.
I need some testers for this custom sprite Zombie Shroom Anyone interested post reply.

pic below





also when useing sprite tool you must say NO to the Q when it asks you.

P.S i will need testers agen for other new sprites
Last edited on 2007-10-27 04:00:41 PM by

Lavos

.
Originally posted by EggO

Ok ill test. Does it require the latest ST?

im useing the newest ST but other than that the others should work fine.

Originally posted by EggO

Ok, are you going to send through PM?



no, email only.


Eggo Email Sent.

Last edited on 2007-10-27 04:10:34 PM by

Lavos

.
Sorry im so late getting back,iv desided to post them as Test Sprites here on SMWcentral it'll have lots of sprites.......well maybe not lots.

P.S most sprites are just Edits with new GFX.
Originally posted by Aiyo

Also it sometimes acts funny when it gets to close to mario and near an enemy.


funny how? i made it jump crazy around mario?


P.S also sorry but i cant include the Purpel Bass due to it being a mod of Carols Bass sprite but ill ask him if i can realse this edit.

Last edited on 2007-10-30 05:31:19 PM by

Lavos

.
Originally posted by bored2tears

I'll test. An idea for this sprite is make it the ghost shroom for super paper mario. When near an enemy, it attacks it!

Great idea,its a new sprite im gonna work on.

iv got a request, a Pirahna Fish from YI aka the Purpel pirahna that follows walls seen in World 3 Castle level 8.
Originally posted by Yakibomb

I don't think it's a good idea to have your ROM in it, use an IPS patch instead...


i already fixed the mistake. i didnt mean to put the rom in there it was a mistake.
Originally posted by Aiyo
yeah, that would be cool! all i would really like is
this:
and the barrel

Squak has already been made.

(restricted)
Originally posted by THE HUNTER!

Originally posted by Yakibomb

Why change it? It's only a minor error, not effecting the gameplay in any way. You should worry about it after you've fixed glitches that harm the game.

Well, lets just say im working on a SMB3 exact Bass Sprite, so far i have managed to change alot of it's movement properties to act exact like the SMB3 style, and when it jumps and eats mario, mario just disappears then dies after 1-2 secs. All i need is a liitle bit of help with the mouth shuting part when it is in contact with mario while jumping to eat him.


Sounds nice hoping it goes well,wish i could do more than this but im still working on mega boss bass......
Iv been working on my latests hack and i desided to realse some screen shots Note: most Screens are Demos and dont look Perfect

id also like to thank the following people for there stuff.

Carol~ Custom Sprites and Blocks along with GFX
IceGoom~ GFX
colorblue~ Level idea my cousin.
KT~ GFX
Mior~ Custom Sprites
Nipper~ Custom Sprites and Blocks
Darvos~ Custom Sprites
GettoYouth~ GFX and Custom Sprites
Smwedit~ Custom Sprites
Smkdan~Custom Sprites
BoingBoingsplat~ Custom sprite
And many others that ill post on later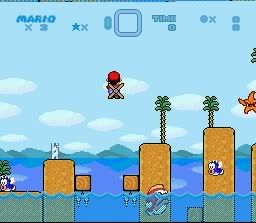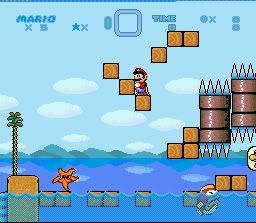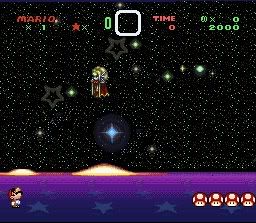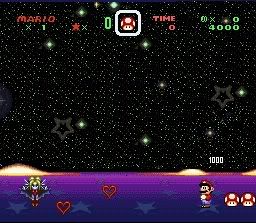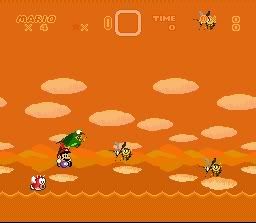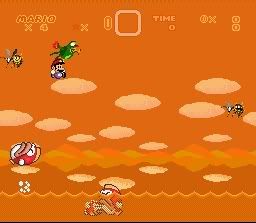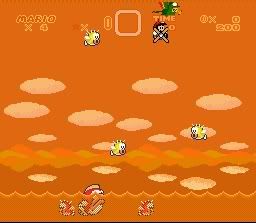 this level has a speacial sprite in it.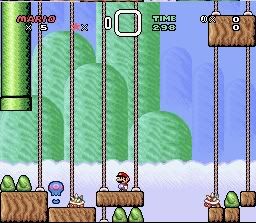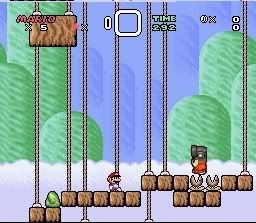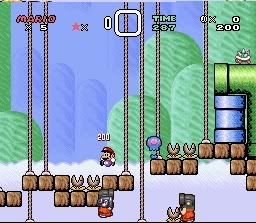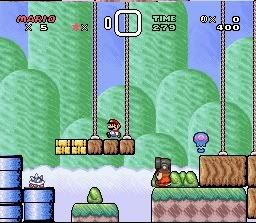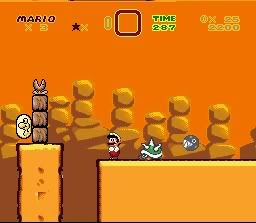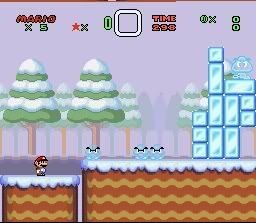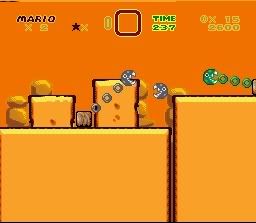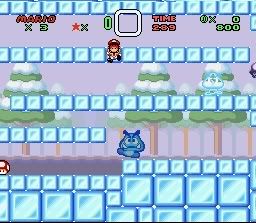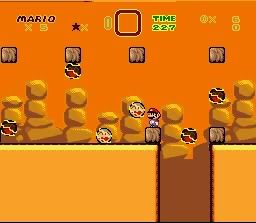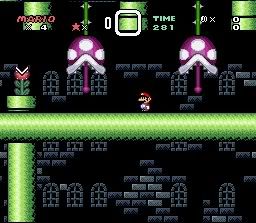 more soon.
Last edited on 2007-12-29 04:38:11 PM by

Lavos

.
Originally posted by Maxx

Hey, that actually looks good.
Except...
YOU USED A BRUTAL MARIO BOSS.
WHOA NO.

All of a sudden, all those bosses aren't new anymore. PLEASE make your own bosses! >.<

the bosses are just tests they'll be moded for later use.

I guess i could help, if you want any EXGFX from my hacks screens just let me know. sorry forgot the EX
Last edited on 2007-11-29 06:50:35 PM by

Lavos

.
More screens.........actully past levels coming soon to the hack


the bungee pirahnas will be fixed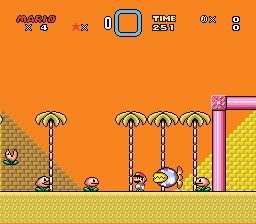 the 2nd desert has Fire Nippers thanks to Gettoyouth.
Originally posted by Remnic the Hedgehog

Someone made a Metroid sprite a long time ago back at the old ACMLM. A link to the sprite would be nice.


Bio made that,you could just ask him if he still has it.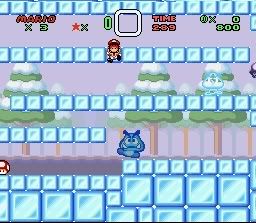 yes that is a Icegoom lol.... i made it to show thanks to Icegoom for his EXGFX. also any ideas for levels throw me a idea K.
Last edited on 2007-11-29 07:13:23 PM by

Lavos

.
i forgot to ask MM did you want a level like this?




with the Mega Frost Goomba?
a few new screens of my Bungee Pounding level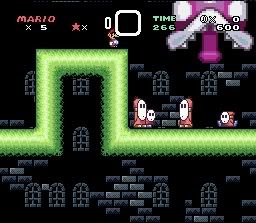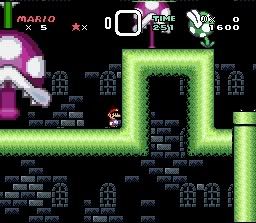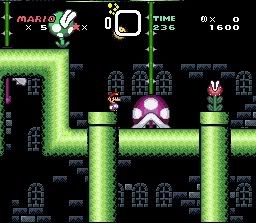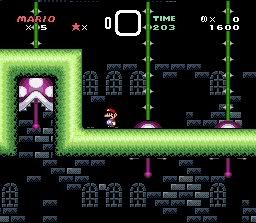 i plan to fix my big Bungee to look like this soon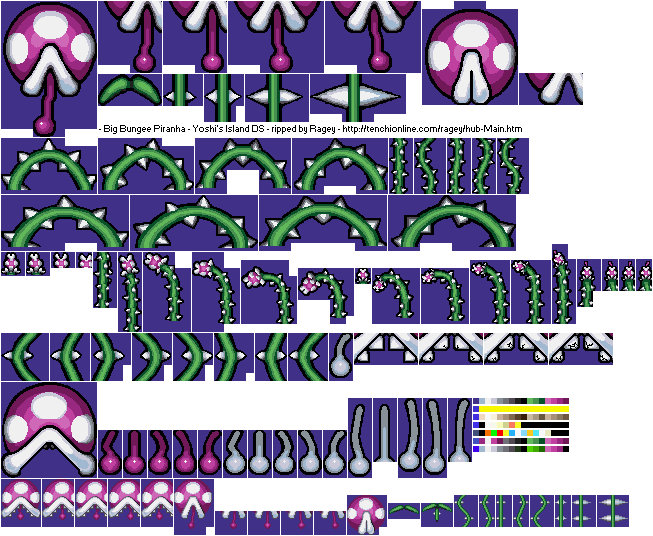 Last edited on 2007-12-01 12:06:20 PM by

Lavos

.