Posts by Bad luck man
this is unprecedented serious affair
Last edited on 2010-07-14 05:43:23 PM by

Bad luck man

.
gary was here ash is a loser
Last edited on 2010-11-13 08:30:13 PM by

Bad luck man

.
pit es gay
Last edited on 2011-05-09 09:06:22 PM by

Bad luck man

.
l or I whatever you call it.
SOMETHING IS WRONG WITH THE KING
Last edited on 2011-05-09 09:07:56 PM by

Bad luck man

.
))<>((
Last edited on 2011-05-09 09:13:18 PM by

Bad luck man

.
So, basically, I've made a block that uses just a single RAM address. I want this to turn into the next block in the Map16, what do I need to add in the code (and block tool offsets) so it works well? The code that Learn posted (archive) didn't work. <_<
I hate my memory of steal. Anyways, the Ppl ExGFX is almost done, lemme just put a readme with it. And I'll name it "Hot girl.jpg.txt" or worse.


Quote me



| | |
| --- | --- |
| Posted on 2007-08-20 07:12:07 PM in ? | Link |
Originally posted by sony

Fixed them. He used "Share link" I guess. It's URL link or BB code.
Anyways, the last screen has a small flaw, the climbing net, it's missing a corner. And this most likely looks like a 105 edit (looking at the mega mole and banzai bill and the BG AND the underground level) try changeing the BG...

Oh, the one with the title screen doesnt show up, so I removed it from this post.
Last edited on 2007-08-20 07:15:08 PM by

Bad luck man

.
| | |
| --- | --- |
| Posted on 2007-08-20 07:31:23 PM in ? | Link |
"Super Mario World In: Princess Panic"
Super Mario World? Why not just Super Mario? <_<
(restricted)
| | |
| --- | --- |
| Posted on 2007-08-20 08:05:59 PM in Bugs | Link |
o rly?
O well... some not moderated files (from the archive) are messed up. especially the ExGFX page. D:
Take a snapshot on your emulator instad of the print screen key.

In Zsnes, press F1 and choose "save snapshot" but you might want to change the format to png first (Better quality) and then go to Photobucket, upload the pic and post the BB code here.

The top, animated tile of the lava (not used in caves) acts like water, the deadly tile is the completly red/grey one, you can also make the top tile DEADLY (act like it's brother) so it act like in SMB3/NSMB. Also, this isn't advance.
Originally posted by DarthRiko

So, the top one ALWAYS acts like water? I can't realy understand what you are saying very well.


Look.

Top tile: Acts like water for some strange reason, which doesn't kill you, I guess it's a floating platform thing.

Bottom tile: Basically what makes lava deadly. If you touch this, you're (Mario) dead.

So, if you want to make the TOP tile deadly, then make the TOP tile act like the BOTTOM tile.
He means the GFX from the over world. Not he levels.
(restricted)
Originally posted by Onyx
Planes of Beginning [Level 1-1]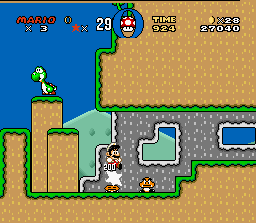 [As you can see The Grey walls aren't solid >_>]

[Also Notice my SMB3 Goombas, and my new "Squished" GFX]

[Yay; Kewl Yoshi GFX [Customized to my Liking [The Feet/Arms]



Mmm... I suggest you put Shabing to the SMB3 goombas, they look like a NES sprite.

Also, if you'd like, change the gray solid ledges to the non-solid ledge tiles. It'll look better... perhaps.
SNES, N64, Gamecube, Wii, NDS, and GBA SP.


...

I had a GBC and sold it to get a GBA, then I sold that one to get a GBA SP. I just had to because playing at night (Especially in a car or camp) it's hard to play. D:
Hey... I just found out we have a Demo World FAQ... anyways, the guide says this:

"Misty Star World Secret Exit: Go through the level as normal until you are given a choice to take the "upper" or "lower" path – when you reach the first one of those blocks that lets you run up a wall. Don't take that route. Instead, use your fire flower to smash through the ice blocks, but stay low near the ground. Then switch to the cape and smash through the destructible blocks. Be sure to hit the 5th block from the bottom in the very right-hand column – this block contains a star. Get the star and continue on in the level, hitting all the "?" blocks to get more stars. Eventually you will reach a block with a P-block inside. Carry the P-block with you, don't use it. Go on the upper path, on top of the dangerous black plants with your star. Keep on the upper path with your P-block until you reach the key. Then try to juggle the key and P-block, hitting them both up the "stairs" of blocks until you reach the end. When the keyhole is in sight, hit the P-block to change the wall of blocks into coins so that you can take the key to the keyhole."