Posts by Bad luck man
Er... no. Just insert it as an ExGFX file. And place it in the corresponding SP slot, the squishable goomba uses slot SP2.
Palette 4 is used for cement blocks. I recomend 3, I think it's barely used by lava and a pipe...
(restricted)
Originally posted by andy_k_250

are there any ExGFX for it? I didn't see any.


Get a SMAS ROM and open it in YY-CHR, the Mario Bros. Crab GFX are right at the bottom... along with some more interesting GFX...
(restricted)
65. And before submiting the IPS to the site, check if it works... try playing all the demo and see if you spot any glitches... I know it's hard work...
(restricted)
Yeah, but I recomend using only one type... no glitches or anything happen, it'll just look kinda bad for your hack...
I like kentucky...
I got to world 4 and quited.

You can only jump and move...
I was bored and decided to make 8-bit Mario, I was playing SMB in my Wii. And the idea just popped out. It's transperant.


I might make him walk.
Last edited on 2007-08-28 09:08:37 PM by

Bad luck man

.
Ok... maybe NOT tomorrow... but today!
This is the super path from Glitter Castle, just "renovated".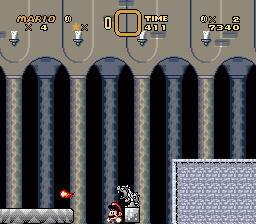 So, here, falling is die.


But falling in certain places...


...makes you go further...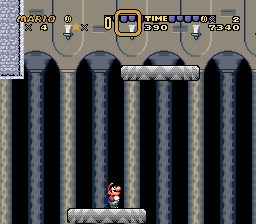 ...and...


..You go up and..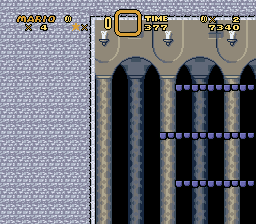 ...Fall and die, you can't return to the bottom.
I'll also be adding all sorts of bricks. Such as turn blocks, SMB3, SMB, sprite smashible only, etc. And I WILL add ? blocks with mushrooms only.
Last edited on 2007-08-28 09:58:24 PM by

Bad luck man

.
Use a command sprite in the level. Some of them have different effects. Just hover your mouse and see what each one does.
Originally posted by internoob

marios right shoulder looks messed up. or is it supposed to look like that?


I ripped it from this image. I don't think it's messed up...
And I'm making him walk any day and time and maybe even jump, I'll have to rip the sprites from the ROM...
Originally posted by andy_k_250

So, what's the squash cfg for?


It's practically a small edit of the SMW goomba, it'll act like it'll do when you enable "Can be jumped on" and "Dies when jumped on" in tweaker.
But, the "squished" tile is messed up. You'll have to do a small hex edit (forgot the addres and too lazy to search in the ROM map`) or use my patch in the patches section (the Squished Goomba tile fix patch). It'll make the squished tile use the unused 5-up tile, I also made some crappy-looking GFX.
(restricted)
I only played Ape Escape: on the loose (And part of Academy 1). I heard it's a re-make of the first one though. I helped my cousin capture all of the monkeys and beat Specter. He has the game 83.lol complete. He only needs to finish time attack...

I only played these levels:
- Oceanea or something like that.
- The one before the one below, I forgot the name, it was "something" palace, I think.
- Tiki Tiki Wall.
- Medival Castle.
- City Park.
- Specter's factory.
- TV Tower.
- Specter land (only the western part and the castle).
- Demension X, final battle.

He was missing monkeys from those parts, I captured them all...
The game is kinda fun, my cousin only plays mini-games now.
Last edited on 2007-08-29 04:51:42 PM by

Bad luck man

.
(restricted)
And make sure that Options->Mantain checksum is enabled...
K2playa, there is some enemies in the level, I usually build the level first, then place sprites when I like how the level is done, and sometimes I place sprites when building the main level. As you can see in the screen I intentionally fell, there's a Bowser Statue. And in the screen with the black and white floor, there's 2 firebars and a roto-disc nearby.

internoob, PM me glitches... and that one has been fixed, it originally was gonna be a screen scrolling pipe, but I didn't want one there, so I just got some cement blocks and blocked the entrance... and left the pipe there. I just removed it and replaced it with normal, non-exit enabled pipes. And it got fixed.

And, hyreforgling, is that bush thing a bug in my hack? <_<
If so, PM me about it with details...

And some video in youtube of my hack made me sad...
Last edited on 2007-08-29 05:11:13 PM by

Bad luck man

.
Teleport block in block tool.