Posts by Hawthorne
(restricted)
(restricted)
(restricted)
Probably my first YouTube video encounter, if I can recall from faint memory, was somewhere around the summer of 2005 (the year when site first debuted). Sadly, I do not remember the exact title of the video but I am very certain it was something Maple Story-related.
Last edited on 2011-12-29 12:45:42 AM by

Hawthorne

.
Originally posted by leod

Why would you set fire to a NPC village you moron, that just leaves behind an ugly mess and serves literally no purpose.
Do that on your single player worlds and not on the server.

Are you kidding? I'm having a blast with NPC villages: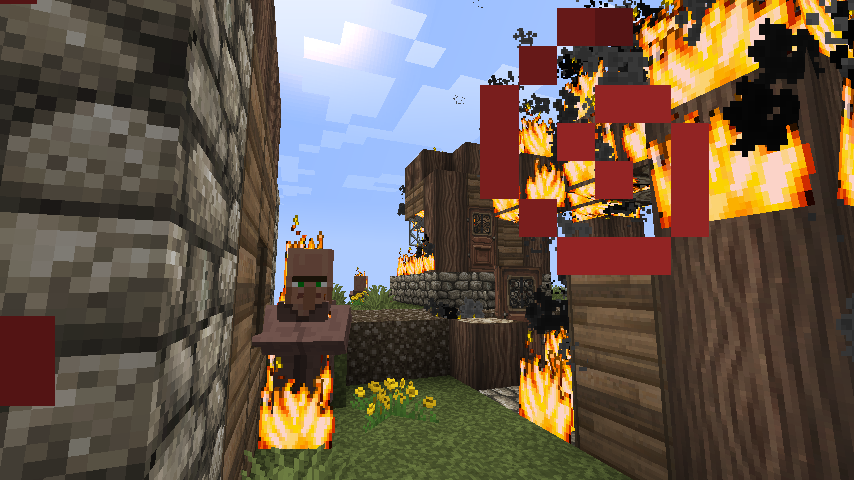 It was five thousand blocks away from spawn anyway so it's unlikely anyone would travel there. |B|
Last edited on 2011-12-29 07:30:47 PM by

Hawthorne

.
Originally posted by Chuckles

My posts tend to be rather short, though I put too much thought into my choice of words, so I can spend up to around 20 minutes for just a few sentences.


Oh lord, I am glad that I'm not alone on this. I ,too, have an issue of putting much thought on word choice, which leaves my posts pretty short as a result.

Usually the time coming up with a sentence or two spans from ten minutes to almost an hour, making the attempt to make my post interesting and presentable. But by the time I finish the second sentence, my interest on the topic sorta fizzles out as a consequence to the amount of time I spent on thoughts on my choice of words.

Thus, pretty much leaving me to the point where I go "f dis" and cease writing anymore or never bother to post at all.
Last edited on 2011-12-31 12:13:36 PM by

Hawthorne

.
Well "Mr. Bigmouth", I'll try to be civil and patient with you instead of being disrespectful. M'kay?



Originally posted by The Thunder

What is it you people/users look for in art? Visual aesthetics? Or proper anatomy?


Both. You don't want make your drawings look anatomically wrong and awkward. It's true, like you said, that not everyone has taken art classes. However, keep in mind that you do want to keep your drawings proportionally realistic and recognizably human.

In regards to the negative response from the community: I think the problem why some users are so hostile at you because you refuse to listen to their critique. However, most of their criticism is really constructive (hence constructive criticism) to help you improve your art so don't take it too negatively!
Last edited on 2012-01-01 07:49:23 AM by

Hawthorne

.
Rainmeter is amazing, as always.


Detroit Lions Deity, please state your reasons why you back SOPA/PIPA, the rest of us would love to hear what you say.



Originally posted by Detroit Lions Deity

I hope you enjoyed the internet while you can because once the bill is passed, the president will sign the bill.





Originally posted by Los Angeles Times

Obama administration officials said in a blog post early Saturday that they would "not support legislation that reduces freedom of expression, increases cybersecurity risk, or undermines the dynamic, innovative global Internet."
(restricted)
(restricted)
Great to have you back, Sagittaire!

Man, it's nice to see some cool people come back.
Various Homestuck fan art by different artists (my avatar is using a rotating PHP script).
Last edited on 2012-02-19 03:56:53 AM by

Hawthorne

.
(restricted)
Internet creeps/weirdos in general.

also lol @ everyone who said social networking
I simply ignore them.

If that doesn't work, I just tell them to shut the fuck up.
(restricted)
(restricted)