Posts by TomPhanto
Also, for the last phase, it should somehow lead into introducing the Mock Bonus World.

I like Hailstorms' idea for the first two phases. But for the last phase, I would still consider the Revenge of Meta Knight idea. After Norveg's collapse, he tries one last time to take out Mario charging at him from all over with his Jet Pack. I was also thinking he could throw bombs at Mario too.
It would help if you told us exactly what sprites you're trying to insert.
What's great about this whole project is that it gives people who aren't as well-known to SMWCentral a chance to show what they're truly capable of doing. Also in four days, some of us on the reservation list may be those lucky ones that get their chance to shine.
(restricted)
(restricted)
I will need Sublevels F8 and F9 please.
So for this level, I was thinking of having multi-colored ice. So it would be like the regular ice FG, but I would have it in different colors. I also plan to include some icy concept as well.
Now I'm waiting on sprite requests, and I'll have to get my Map16 claimed before anything, which shouldn't take long at all.

Okay, so I was thinking for the first half of the level, I was going to use the Spin ON/OFF sprite. I'd consider a wide variety of platform elements.

As for the second half, I like your idea mockingod. Though I can't create custom blocks, I can definitely work something out.
Okay, so far I've finished half the level. The next area uses the custom ice blocks. Of course, they'll be divided into different colors for effects.

I had an idea for 5 different types of blocks.
I was thinking:

1.) That one ice block from Chill Man's stage. When Mario or a sprite jump on it twice, it will break.
2.) Disappearing block. Which I mean the block disappears after standing on it for a while.
3.) Sinking block. You stand on it and it slowly sinks but rises back to its original position once Mario is off.
4.) Repel block. Slightly pushes Mario away from all directions.
5.) Gravity block. Mario would be hugging the block until you jump off.

Preview of the level coming soon.
I got the Map16 tiles that I currently need. I have them uploaded to my files right now.

Map16Page

Map16PageG
First half finished.

While I get what I need for the second half, I'd like to see how I can improve on what I have so far.

Level 129: Chilly Colors

Remember, it's still a demo, but I'd like to get some feedback on my current work. Oh, and please use images to illustrate what I need to work on.
I see.

Well anyways, I have a demo ready:

Level 129 First Half

The level will be called Chilly Colors; I'm currently waiting for feedback on the Level Testing thread. And I have the Map16Page up in my files.
Thanks for the feedback. I made the suggested changes. But before I can continue, I need to know something.

1.) How am I supposed to disable the color animation for Color 64?

2.) I tried inserting Jimmy's background, however for some unknown reason it won't let me have anything on Map16 Page 50 on my background.
All right. All I need right now is for someone to code two custom blocks.

1st would be the disappearing block that you stand on for a while and then it disappears.

The other one is that ice cube from Chill Man's stage, where any enemy or Mario would stand on it once but it would break the second time it was jumped on.

Other than that, I'm doing fine. Right now, I'm setting up a rough draft for the second half of the level. I might need some different GFX, but that can wait for now. I need to get those custom blocks first.
Last edited on 2011-08-16 03:58:50 PM by

TomPhanto

.
(restricted)
Originally posted by Lucas

About 60% of my level (World 1 Secret):

LINK

A bit worried about the difficulty so far. Might be too hard with all the venus fire traps, etc.



Well here's what I think, it'a not too difficult, but for World 1 you might want to tone it down just a little bit.

And as for points I feel need improving: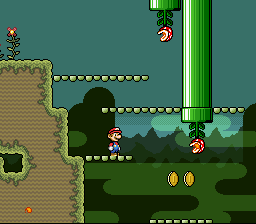 I'd replace the bottom one with an upside down piranha plant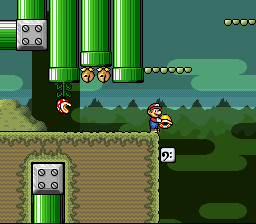 That note block should be just a little bit lower. I found it to be a little too difficult to reach at this point.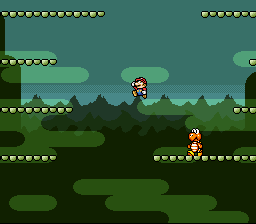 I know this area isn't finished, but from what it looks so far, there's a big blind jump into a pit waiting to happen.



Still, you've got something for now.
Artillery Auberge:





General Overview of the level:

Honestly, I had a lot of difficulty with this level. I liked the concept, I think it really fits in with the sky construction theme you're going for, but there were points in the level where the difficulty spiked more than it should. Plus, there were a lot of beginner's traps. But on a plus side, it was fun to play minus the numerous casualities I had getting through.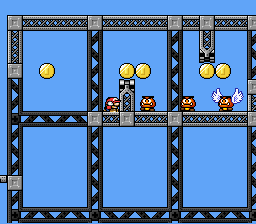 Like most of the level, it felt really cramped at times.
Also, I couldn't figure out how to get this coin without a cape, and I'm pretty sure that's not how you intended to get it. Speaking of which, with a cape I can just glide from the start to here.
Like I said earlier, this stage has numerous beginner's traps meaning blind jumps. I know what you're supposed to do here, but maybe you could add something to show there's nothing down there.
And same for here.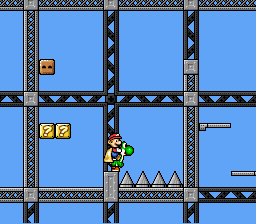 This was hard to figure out at first. Still, I don't think your typical gamer is going to know what to do here. I mean you need Yoshi to get the secret exit, but you can't get back out without something to bounce off of.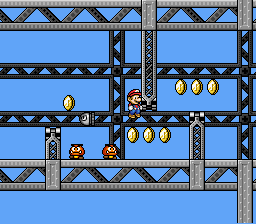 Didn't really care about the second half. It was good, but I just don't like autoscroll segments. Still I felt these two parts had too many hazards.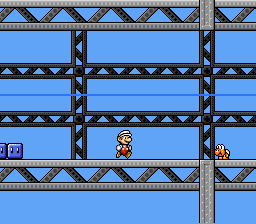 I can't tell you how many times that yellow koopa has put me in a bind. I would say either move him farther back, or get rid of him. I know there's throw blocks, but I find that he'll jump over them sometimes. And grabbing a second throw block just for the yellow koopa can get too tricky sometimes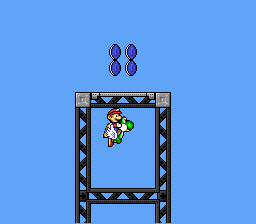 And as for the area with the secret exit, I didn't think the puzzle was very creative. All it was was another item babysitting puzzle with ON/OFF blocks which to this point have gotten really overused. I feel that I cannot yet beat it without having a cape which I really needed to finish the level.





Final Thoughts:

The level wasn't bad, but it felt too hard, even for World 6. It felt impossible without a cape, but I knew it wasn't. Still, it was well-designed, and even without the background, it still has that skyhigh feeling.
Last edited on 2011-08-19 05:10:32 PM by

TomPhanto

.