Posts by TomPhanto
Level 129 First Draft

So, I finally have the first draft of my level ready. I've already gotten some critique on the first half of the level, with some changes being made in the process.

Also, yoshicookiezeus, I reuploaded those photos for the critique.
Well, from what I've heard, the SMWC coins already serve a purpose where collecting them all will unlock World 9. Still, I don't see any purpose of the shop at the moment. But the idea of using the SMWC coins for unlockables is a good one.
The Level

After making SNN's suggested changes, I now have my level updated and ready. I may have to make some minor changes, but we'll soon find out.
I, along with papermarioworld am August 3rd. Getting a level for SMWCP2 was a birthday present enough.
When I first made an account for YouTube, I wanted to make my username, Tomination, but that was already taken. So I called myself, TheNavyRunner, because I ran track in high school and I wore a lot of navy blue.

But I decided to change to a new character, Quake Runner, Phantom Snake, just because they sounded cool, but I found them to be unprofessional for my tastes.

So when I went to make a new YouTube account, I wanted to be called TomPhantom, but it was already taken. So I decided to instead use Phanto, like the Phanto from SMB2. I also wanted it to be under 9 characters long and without numbers.

Since then, I've used this persona on casual websites.
Last edited on 2011-08-24 10:14:10 PM by

TomPhanto

.
Level 129

All right, after some minor edits my level is now ready.
Unfortunately, I'm only going to have until 9:00 to get it all done since I have to work tonight, and Hurricane Irene's likely to knock out my power for a while. But I won't slow down for this one.
Here is my Door 9 Level.

Not expecting Top 10 this time, but the effort is worth it.
(restricted)
(restricted)
(restricted)
(restricted)
It's ready.

As for the midpoint return location, I was hoping it would be at the start of the actual midpoint, but I'm not sure how I would go doing that. I know the Multiple Midway Points patch is needed, but it doesn't look like it's been inserted yet.

Also, If you perfer Colors without the u, that's fine.
Last edited on 2011-08-31 01:44:33 AM by

TomPhanto

.
So far, so good. I noticed the underwater segment doesn't have a background or custom music yet, but that's not important right now. There are a couple of things I'd like to note.

First, just to point out something: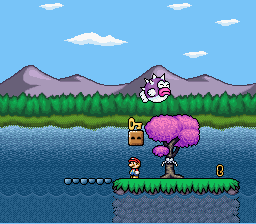 You probably can't tell from the images above, but the porcupuffers can be killed if you hit a ? block at the right time.



Now as for the level itself: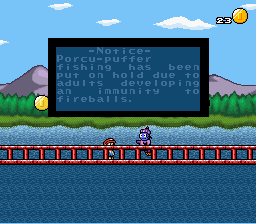 I don't seem to quite understand what this message is trying to say.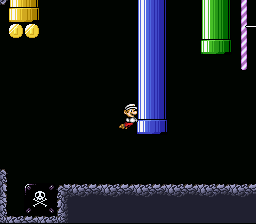 I would move the midpoint bar closer to the pipe, because if you take the pipe, you'll skip ahead of the midpoint bar. And the midway point starts you at the beginning of where you go up that pipe.
I found this part to be unfair, considering that the porcupuffers trap you and you get hurt.
I can't say I entirely agree with MrDeePay's opinion. He's right about the spikes, maybe the ones in Frostflow Freezer could also be changed to those directional hurt blocks. And some of the palettes were changed a bit.

Still, even in some the other completed levels, there are issues that I have that others don't have. Every game has some issues with it, but in all honesty, if S.N.N. thinks a level's good enough, then I feel it's ready. Of course, everyone has their own opinions.

As for the background, I feel the background for Frostflow Freezer would work well with the multicolored stars I wanted to include. My intent was to give off a rainbow vibe across the snowy mountains from afar.

This is the most work I've ever done on any level. I'm not planning on taking a second level for now, but I am happy to be able to contribute a level for this project.
Last edited on 2011-09-01 05:54:02 PM by

TomPhanto

.
I can always go back and make any needed changes, even if the level is already labeled complete.

In all honesty, I just wanted to have everything finished. And normally, I'm prone to making every suggestion others make.

And

Just an update

Still, I think if the red and green blocks need to be changed, I could do that. I feel the yellow block should stay though.
Last edited on 2011-09-01 09:03:03 PM by

TomPhanto

.
Just a note:

Levels 128 and 129 in the base rom have the titles reversed. Level 128 should be titled 7-4F. And as for Level 129, you pretty much know already.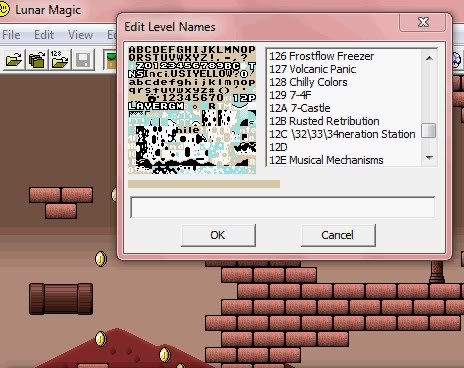 Like some of the entries, my level relied more on feeling like it fits in Super Mario World instead of incorporating some fancy gimmick.

Still, in a contest like this one, anybody who put in a decent effort could win.
I requested the Auto-Slide block for 35C a while ago. It turns out that I didn't need it for my level.

But if anyone is willing it use it for their levels, I don't see how it would work out yet, that's cool.
Tied with Jimmy52905 for 29th place, I thought it was good contest.

Anyways, would anyone happen to have a ZIP file of all the entries?