Megaman T (a hack of Megaman X1)
Forum Index - Non-SMW Hacking - Misc. ROM Hacking - Megaman T (a hack of Megaman X1)
| | |
| --- | --- |
| Pages: 1 2 | Thread Closed |
okay.. so im new here but i have been doing a bit of rom hacking in the past and so i have been working on this one for quite awhile now, its a hack of Megaman X called Megaman T, heres some screen shots,
as you can see T looks alot like X but more of a white color, you can see that his charged shot looks like the one zero uses against vile, theres also changes to the way bosses look and what the weapon sprites and colors look like too of the weapon and the color of T when he changes to the weapon, its not a huge hack but its an idea i had a couple years ago with my bro and thought id make it into the game

There really isnt too much story line but T is the same as X i plan to make another sequel to this game sometime after its done, im already done with all the bosses and weapons im just finishing the ending of the game! please comment and let me know what ya think!
Scientific genius!
It's just a Bosses, Weapons, and text hack, no new Level design? Or is that not possible at this time? Also, in the second screenshot, you have some spelling errors.
1. Contain should be Contains
2. Their should be it's
Also, T's Color scheme looks pretty cool.

--------------------
I am the Eggman! My current Egglayout is to support Sonic Robo Blast 2. I'll change it sometime in the future.

Listen to the SRB2 Soundtrack! It's awesome! AWESOME I SAY! Also, PM me if you ever wanna do SRB2 with me.
Bad pallet.
If you use gray scale you have to make sure it blends well. It don't in this case.

well.. i used to have data for hex editing levels but that was awhile ago.. now i cant find that data so im doing what i can, if you know of any data in hex that changes things in levels please let me know because i would remap the levels.. so far there wont be any level designing but the story will kind of change and now that theres a sprite editor for x3 i'll be working on that one next, heres some more shots
at this time there really isnt much change to the armor but it looks good on T because he is pretty much all white
this is the kind of change i made to every weapon, with shotgun ice you can see theres a small sprite change aswell
Scientific genius!
It's not bad, but I dislike the red outline on Dr. Light, it would be best to darken it a little. And sorry, I suck at hex editing. if I didn't, I would have made my own hacks of SMRPG, Megaman X, and Donkey Kong Country 2 (even though I am attempting to make a DKC2 editor).
Anyways, the new shotgun ice looks pretty nice, but darken the yellow a little so this way it's not too bright.

--------------------
I am the Eggman! My current Egglayout is to support Sonic Robo Blast 2. I'll change it sometime in the future.

Listen to the SRB2 Soundtrack! It's awesome! AWESOME I SAY! Also, PM me if you ever wanna do SRB2 with me.
i think this is good for your first hack, but I'd go just a little bit further and Give MMT a new sprite and Armor.
--------------------
Krakenskin Leather Works, my Etsy store.
LordVanya, my art page.
FundamentalEssence, my game development page.
well.. once i changed the color of the capsule dr light changed to that color.. >_< i cant change his color without changing the color of the capsule so i just left it alone :/ let me see if i can change the yellow to a bit darker, and im trying to figure out a way to change the head part of T to make him look different anyone know of any really good sprite editors for snes? i have yy-chr but the copy and paste thing doesnt work to well
Tile Molester is popular with some. I'd say check out Romhacking.net and see what they have available.
--------------------
Krakenskin Leather Works, my Etsy store.
LordVanya, my art page.
FundamentalEssence, my game development page.
Okay thanks! well i have just finished the ending so all i need now is new armor.. which may take awhile but yeah the hack will be pretty good if i can get that part done, i'll get to work

okay ive been working on the armor and its not as hard as i thought it would be, im gonna continue working on it but the style of the armor will be pretty much the armor from x3
How do you ACTUALLY edit the graphics. What tile editor or compressor did you use. Because you are able to edit the graphics, I should also do a graphics hack of Megaman X.

No Palettes to be changed though but I am going to create Mega Girl X with these graphics.
Mega Girl thats awesome! well i use YY-CHR and its actually really easy to use and better than i thought you can load colors from savestates i use ZSNES, you can still find some graphics that are used in mmx but mostly in every rom all the main graphics will be somewhere in the file you open with any editor.
UPDATE
i have been working with the head part and im done with it! its the head part from x3 this is what it looks like on megaman T, i may change the Red Colors to green
Good job man. Keep it up!

Yeah about Megagirl, I've been working on my Megaman 1 hack since March and already have all graphics in the NES version inserted, Enemy AI edited, some Boss AI edited and needs 2 more edits to the major bosses, now up to Weapons AI. But now I'm taking a small break from Megaman 1.

I see that Green Ninja also design Mega Girl X in one of his artworks which makes me want to edit the graphics too. Her helmet should be off though and some armor equipment from other X series should be inserted.
cool id love to see another hack of megaman x made, i would so play it, oh yeah ive been working on x3 armor for megaman T, i changed the red color to green and it suits him alot better, im not sure when i'll be done with this hack, hopefully soon because while its kinda cool to make, its tempting just to leave it alone for awhile.
Sometimes you do need a break for awhile. Anyway thanks with your inspiring project I was able to be motivated. I've just started with it about last night but needs a lot more work.
It is a small graphics project called Mega Girl X. You'll notice that she has no helmet unless you get it yourself from Dr. Light. And her body is a little different than X. Female Zero is also included, but I have to use Lunar Compress to dump Zero's graphics or other graphic related. But I'm not sure what offset where it's come from.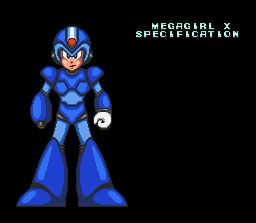 I'll edit that part really soon. Right now you'll see only the text changed.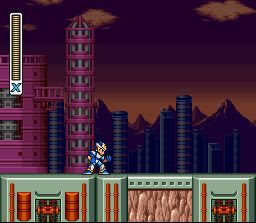 You'll notice that her helmet is from Megaman X2 and arm from Megaman X3. Boots and Armor remain as X1. Except her body should have boobs to look like a female.
Also, you may heard of that playable character from Megaman X8 which is
Alia
. I may have to do her soon if her tiles are compatable with X's tiles in the SNES Port. Both armor and regular.
Oh yeah, Megagirl X is based on GreenNijna's artwork.
looks pretty good

i think the hardest graphics on x's armor to change in the tile editor are the leg parts.. im working on pretty much anything i see that can be changed into x3 armor but some stuff is hard to make out, idk if i'll post anymore screen shots of T with his armor because it may spoil the hack if someone looks at the armor before they play it
okay i seriosly hate editing the leg parts in the sprite editor with megaman x... it takes forever! and they are more jumbled up than the head parts

but im making progress, trying to perfect it with each pixle ...i cant wait til im done with this hack
SMALL UPDATE: 9/30/08
ive changed the Color of T's Head part to green, this is what it looks like this
[/img]
it doesnt look like too much now but the real reason i changed it to green is because of the armor change, after megaman T is finished or maybe even before its finished i plan to release a hack of megaman x1 with the armor of x3 both normal and Gold, im currently still working on the leg parts, i have finished the head parts sprite but i dont want to show that until people play the hack and see it for themselves, i'll continue to work on this hack, please give me your comments and questions i'll be around the forum

You're not the only one. It's been forever trying to get the head frame correctly from Megaman X2 ported to my MMX1 hack. And I'm surprised that you know SNES palettes than me because it is 2 bytes per color in the PC format.

I wonder if it's possible to edit Zero's tiles by an another Tile editor or I have to use the Lunar Compress. I have no idea where his tile offset is but I am giving it a shot.

And the leg parts are annoying too. But I don't have to edit them though.

Best of luck with your project.
| | |
| --- | --- |
| Pages: 1 2 | Thread Closed |
Forum Index - Non-SMW Hacking - Misc. ROM Hacking - Megaman T (a hack of Megaman X1)