[Complete] 019 - Tropical Turnout - 1UPdudes
Forum Index - Events - SMW Central Production 2 - World 4 - [Complete] 019 - Tropical Turnout - 1UPdudes
| | |
| --- | --- |
| Pages: 1 2 3 | |
| | |
| --- | --- |
| Posted on 2011-08-12 01:06:36 PM | Link | Quote |
It's not a bad level overall, but some parts of it feel pretty dull. With a few improvements, I'm sure it'll turn out great. Here are some specific areas that need fixing up:



This part isn't particularly hard to get past at all. It almost feels like a waste of time. Perhaps you should stick a few cannons there that way you actually need to be quick to get by.



I find your underwater part quite dull. I really think it could benefit from being a tad less cramped and having a bit more decoration/variety. For instance, try using the Rip Van Fishes a bit more in the first chunk of it.

Also, that SMWC coin should be harder to get. As it stands, it's way too easy.



I really, really think you need to add some more danger to the water here. Perhaps you could bring the Porcupuffer back, or something?


On a related note: lay off on the Muncher overusage. It really detracts from the quality of the level. Focus more on integrating sprites and objects together to make actual architectural obstacles, and less on using hurt blocks as a cheap way out (and they really do look messy when you just throw one here, one there, etc).

As it stands, it's a nice little level, but it's still needs some work.
| | |
| --- | --- |
| Posted on 2011-08-12 02:15:27 PM | Link | Quote |
Thanks for the feedback, All I can do now is take on what you say and try and improve on my work. Expect some update sometime soon.
| | |
| --- | --- |
| Posted on 2011-08-16 01:23:12 PM | Link | Quote |
Just an update. Ive being testing my level/tweaking it. I will get an IPS of the latest version once most of the little things are ironed out.
| | |
| --- | --- |
| Posted on 2011-08-28 10:46:41 AM | Link | Quote |
How is that ironing out going? Its been almost two weeks since an update...
| | |
| --- | --- |
| Posted on 2011-08-28 02:56:55 PM | Link | Quote |
Im still getting it done.

Expect a new IPS of it tomorrow. I promise.
(I know promises over the interenet mean shit but yeah, I will get something done for you guys to play tommrow)


EDIT: Fuck tomorrow, Heres the IPS:
http://bin.smwcentral.net/u/6549/1UP4-1.ips

Stuff about the ips:

-My level is 4-1
-Tried to take on SNN's suggestions/thoughts
-Changed how to get the second coin> if its too hard or something tell me!
- Added more water enemies in the third section
-Please note that slowdown will be fixed (hopefully) when the fastrom patch is added.
Last edited on 2011-08-28 03:56:35 PM by

Golden 1UPdudes

.
| | |
| --- | --- |
| Posted on 2011-09-04 10:03:20 PM | Link | Quote |
No feedback for this one? Really guys?

Anyway, I played it, and I'm pretty much satisfied with it. I really think two midpoints are unnecessary here, though. It doesn't seem that long or difficult overall, so one midpoint in the middle of the underwater portion would be fine.

I would greatly appreciate at least one other person's feedback on this one before I accept it into the base ROM though (HINT HINT).
| | |
| --- | --- |
| Posted on 2011-09-05 12:53:31 AM | Link | Quote |
I'll give feedback after my homework.

...that's over 8/9 hours I guess.
| | |
| --- | --- |
| Posted on 2011-09-05 05:19:14 AM | Link | Quote |
Fuck Bloop's homework, I'll do it.

First some small comments:
I'm not sure if I'm in the right position to say this, since my level pretty much has the same issue, only bigger, but: Could you put a mushroom near the end of the first section? I died quite a lot of times there since I found it pretty hard to keep my powerup(This might be due to my stupid keyboard setup - I can't press up+right+B+Y at the same time).
Continuing: I really wish that you could find an alternative to Munchers and cement blocks to put in your level, since they don't look very good at all and detracts a lot from the aesthetic quality of the level.
Also, I think that the first area doesn't really fit in where it is compared to the other two above-ground parts. If you could put it in after the underwater section, I think that would be better. I'm not sure if other people will agree with this, and it'll be a lot of work, since the first part is also a very nice introduction to water enemies and the likes. :/

Next there's two pictures.


The baseball doesn't look very good. Is this a palette issue or is it just supposed to be like that?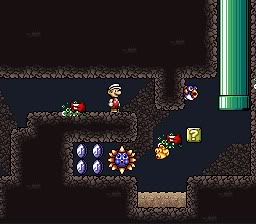 im not very good with this thing how do you do this aa

O_o (They behave like Super Koopas as well)

The level was very fun though. Good job.
| | |
| --- | --- |
| Posted on 2011-09-05 09:26:59 AM | Link | Quote |
I played it, and i founded it quite fine, the thing is that the kind of level that you gotta learn a bit how to deal some parts, like the porcupuffer, where it's a lot more esay at some poinst to ride him, besides that, which isn't really a bad thing, the difficulty is nice implemented, my only complaint is the midway placement, i agree with SNN that only one at the middle of the underwater section would work better.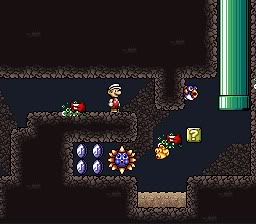 You had patched it wrong i guess, but that's the second part that "bothers" me a bit, the way you place the throw blocks in front of the chuck section, makes me believe that the reason they are there is to defeat the enemies, and not to get the second coin, would be quite improbable that anyone can get all the 3 coins on it's first try due to that, but really is a matter of taste, if that isn't allright i would suggest adding a throw block in a place you can actually see the urchin.
Last edited on 2011-09-05 09:27:46 AM by

Leo137

.
| | |
| --- | --- |
| Posted on 2011-09-05 11:08:33 AM | Link | Quote |
Thanks for the feedback.
I will get onto updating and tweaking a few things before posting a final IPS which SNN can use insert.

EDIT:
http://bin.smwcentral.net/u/6549/4-1%2BFinal.ips

Finished. Hopfully all works well with my level. Heres a few things you may want to know.

-No BG's as of yet for the cave/underwater sections, mainly due to the lack of them. However there was a good underwater BG I seen for SMWCP2 somewhere.

-Ive kept the midway point in the thrid section, mainly as it saves people re-doing the whole water section again. Seriously with the ammount of "hate" water levels get I think its a wise move. However if it really needs to goIm fine with that. :>

-Im sure that Supa Koopa glitch someone got is not a problem by me. Im using the correct Whislin chuck. (correct x postion)

And yeah. Thats about it!
Last edited on 2011-09-05 11:24:15 AM by

Golden 1UPdudes

.
| | |
| --- | --- |
| Posted on 2011-09-07 08:40:41 PM | Link | Quote |
In regards to the midway, I suggested that you put it in the middle of the water section, or even at the end. In fact, I really don't care where you put it at all. My problem is that the level itself does not need two midway points. It is not long enough, nor is it difficult enough, to require that.

Other than that, I'd say you're cleared, so you can send me the files and such that you used in your level my way (as well as the .mwls).
| | |
| --- | --- |
| Pages: 1 2 3 | |
Forum Index - Events - SMW Central Production 2 - World 4 - [Complete] 019 - Tropical Turnout - 1UPdudes