Mario's Kool-Aid Acid Trip
Forum Index - SMW Hacking - SMW Hack Discussion - Works in Progress - Mario's Kool-Aid Acid Trip
| | |
| --- | --- |
| Posted on 2012-01-17 02:25:15 PM | Link | Quote |
Looks like I need to step it up on my end. This looks great Rhubarb Ridge has come to a screeching halt until I can come up with a better concept for the secret exit. Orange Oasis will have an update as soon as I can get a decent BG made.
| | |
| --- | --- |
| Posted on 2012-01-19 10:00:14 AM | Link | Quote |
It looks pretty cool. I like the transparency use (even if it's not a ice level). However the slopes (scenery ledges?) are a bit confusing because they look like the solid ledges. Please make them darker to avoid confusion. Other than that it look like a nice level.
| | |
| --- | --- |
| Posted on 2012-01-20 04:07:48 PM | Link | Quote |
Very good,Biospark88!!
IT'S REALLY A GOOD VANILLA HACK!!
Last edited on 2012-01-20 04:08:29 PM by

Roberto zampari

.
| | |
| --- | --- |
| Posted on 2012-01-28 07:59:02 PM | Link | Quote |
Thanks so much! You're the only one with raving compliments so far. I'm taking one of my rare breaks from studying to post this, so I apologize if there hasn't been any progress lately.


A tease for later: Durian Wastes has a BG in the works. It uses recolored, ExAnimated ghost house wood beams that look like toxic slime dripping down the cliffs. The slime comes out of holes based on the OW cave level tiles--or as I call them, barbecue pits ;)

Like the eponymous stinky fruit, the air is nauseating, and the time limit is low. Go into pipes to reset it. And the final stretch will be a star-2 invincibility run under a Swooper death bat ceiling.

And now a sneak peek of another sublevel I was working on a few weeks back: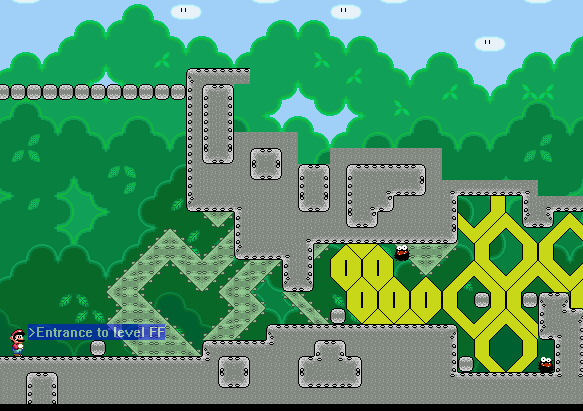 Primitive, I know. There are three sizes of honeycombs I designed--the largest isn't shown. They're made from recolored diagonal dirt tiles. Please keep the feedback coming--I can still check in from time to time.



Patience, my friends.
| | |
| --- | --- |
| Posted on 2012-02-24 04:48:25 PM | Link | Quote |
Looking good biospark,

I finally got around to posting my first screenshot of Orange Oasis.




Its only one as I only have the bg and about 5% of the level done.

How does it look?
| | |
| --- | --- |
| Posted on 2012-02-29 12:21:42 AM | Link | Quote |
Good to have you back, Lost! I have my second midterms in two days and finals in a couple of weeks, so inactivity will be the norm until all that's over.

But that screenie looks frickin' legit so far. I like how you took my idea and gave it a nice coat of polish and ran it over with a floor buffer.


The palettes in the FG, especially the mushrooms, are lovely. Maybe lighten up the topmost tree GFX a bit to make it look lighter and sunnier? And also the bush in the lower left is a bit too dark, but don't change it unless you agree.

Are there any clouds in the sky? If not, a fake HDMA would give a nice hazy, humid effect. You're in a lush, green area by a lake, so it should fit the climate. Subtle is best--don't overdo it.

I like leaving the BG hills the brownish/barren color they are. Since the level after this is Lemonade Desert, it makes it look like you're actually traveling there next. It gives you, the player, more immersion.

Can't wait to see more, and as always, feel free to PM me!

Good night, my friends. Gotta study hard tomorrow. Destiny awaits!

*flicks off the light*
| | |
| --- | --- |
| Posted on 2012-03-01 07:14:29 AM | Link | Quote |
I really like the way the plant columns have been used as mushroom stems. They go together very well.
| | |
| --- | --- |
| Posted on 2012-03-02 07:33:42 PM | Link | Quote |
Agreed with above. Also, the level design is good.
| | |
| --- | --- |
| Posted on 2012-03-17 01:24:23 AM | Link | Quote |
So the good reviews keep rolling in. Awesome sauce. I have my final exams a week from now, but I decided to take tonight off and give you a quick verbal update.

Starting 3/24, I have spring break, and I can squeeze in some much-needed progress. I spent this evening working on the honeycomb sublevel. I scrapped the smallest ones; they look awkward to me. Not enough has changed for a new screenie, but just wait another week and see.

If anyone has comments on specific screenies, please, don't be shy. Speak up and give more opinions! I'll have more progress soon enough. And Lost, please keep me posted--I'm finding I can check in more often than I thought.

Biospark out!
| | |
| --- | --- |
| Posted on 2012-03-26 08:32:09 PM | Link | Quote |
At last! It's good to be back! I spent the last two days sorting my Magic the Gathering collection (which I just brought out of storage), so I just now got the chance to post these screenies!




Durian Wastes BG. I used recolored ghost house beams to create an oozing slime look. They'll be ExAnimated later.

http://i1119.photobucket.com/albums/k638/Biospark88/honeycombupdate.png

Honeyhive Galaxy My honeycomb forest sublevel with progress. Just showing you a little of it for now ;)

Please give your comments! More to come!

yczedit: table stretch begone
Last edited on 2012-03-27 01:03:31 PM by

yoshicookiezeus

.
| | |
| --- | --- |
| Posted on 2012-04-04 05:51:49 PM | Link | Quote |
Hellooooo? Anybody heeeeere? (here...here...here...)

Any feedback is welcome. Don't expect any new progress for a while though, as I'm in a tough quarter at school and recently got back into Magic: The Gathering. It's hard for me, personally, to pursue two passionate hobbies at once. But be patient, and I'll have updates. No matter what, I'll be back in full force this summer.

I can still check in regularly, though. Feel free to PM me about anything related.
| | |
| --- | --- |
| Posted on 2012-04-09 10:27:21 AM | Link | Quote |
I like this hack so far. As for the last screenshot, the BG looks good as is, but has a lot of cutoff. I wonder what it'll look like ExAnimated...
| | |
| --- | --- |
| Posted on 2012-04-09 11:01:49 AM | Link | Quote |
Interesting use of vanilla GFX there. However, there are incorrect corner tiles in the lower brighter part of the BG and the cave OW tiles create cutoff in the dirt.

As for the Honeycomb Forest sublevel, I'm liking that. Can't see anything wrong there.
Last edited on 2012-04-09 11:03:22 AM by

MarioFan22

.
| | |
| --- | --- |
| Posted on 2012-04-11 11:53:49 AM | Link | Quote |
I've made massive progress on Orange Oasis and I'm planning to finish it before I move back to Rhubarb Ridge. Orange oasis resembles level 102 as they use similar level styles but that's about it. a video is available but I would like Biospark to post it so...I'll post it later if Biospark doesn't come online today.
Last edited on 2012-04-11 12:01:07 PM by

Lost ECHO

.
| | |
| --- | --- |
| Posted on 2012-04-12 04:49:46 PM | Link | Quote |
Here is the Demo Of Orange Oasis
Orange Oasis

Please leave some feedback and nitpick as much as possible, it helps improve my skills.
| | |
| --- | --- |
| Posted on 2012-04-13 05:12:36 AM | Link | Quote |
Looking good. I'm liking the combination of vanilla graphics used and the design looks good. The only problem I can see is that you have used Layer 3 water and cutting the goal tape makes it disappear. I'd suggest having a pipe lead to a separate room with the goal there to avoid such a glitch occurring.
| | |
| --- | --- |
| Posted on 2012-04-13 09:32:52 AM | Link | Quote |
Very well, I noticed it but I wasn't sure if it was a glitch or not, I'll go ahead and do that thanks.
| | |
| --- | --- |
| Posted on 2012-04-14 11:25:46 PM | Link | Quote |
Hey guys, time for another reply, finally. School has been a real bear these last 2 weeks. This is one of the busiest semesters of my life, so expect less activity than before. I'm kinda feeling some hacker's block too, so hopefully by summer my inspiration returns.

Thanks for the reviews--glad they're still positive. There's not much that can be done about the Durian Wastes cutoff, besides altering the "BBQ pit" tiles in YY-CHR. The slime rivers will have their black outlines removed or faded.

And Lost, I answered your PM a few minutes ago. For all you other viewers, I liked what I saw. The design was simple but fun, easy without being boring. The coin game was a really nice touch--it took advantage of the terrain nicely if you're skillful with Yoshi jumps. And yes, the goal should be in a separate dry sublevel, so it looks more professional. This is a good place to make the BG more "deserty", since Lemonade Desert is the level after Orange Oasis.

Patience is a virtue. Stay tuned.
| | |
| --- | --- |
| Posted on 2012-04-16 02:45:58 PM | Link | Quote |
I've been getting a bunch of experience with my recent work on Orange Oasis, so I recently decided the BG in Rhubarb Ridge needed an "upgrade"




Same as always, pick it apart as much as possible, I really improve if I have alot to fix.

Also, I'll be adding that sub-level needed for Orange Oasis and performing the "Tweaks" to make Rhubarb Ridge a little bit more "savory" soon. Another demo showing both levels in their (NEAR) complete stage is coming soon as well.
| | |
| --- | --- |
| Posted on 2012-04-16 05:21:22 PM | Link | Quote |
That BG is a feast for the eyes. Splendid work, Lost. I'm not sure about the color of the sky, but it's gloomy enough to fit the rejected flavor world, and it's got just enough chroma to fit with the rest of the BG. Maybe darken the clouds just a hair, though.

The only part that looks odd is the double leaf near the center. I'll circle it if you don't know which one. It doesn't line up with the pink dots (vine segments?)

It'll be easier to spot flaws if you show it with the FG. Great concept though.

Can't wait for the full versions, though. Thanks for following through on this. I'll check in whenever my schedule permits.

Bio out!
Forum Index - SMW Hacking - SMW Hack Discussion - Works in Progress - Mario's Kool-Aid Acid Trip