[Allegro.pas|Puzzle] Amazing Tetris - Looking for Musicians
Forum Index - Hobbies - Game Creation - [Allegro.pas|Puzzle] Amazing Tetris - Looking for Musicians
| | |
| --- | --- |
| Pages: 1 | |
| | |
| --- | --- |
| Posted on 2012-03-17 05:31:02 PM | Link | Quote |
Amazing Tetris was my Computer Science project at school in 2011. All it is is just an ordinary Tetris clone with a few minor gimmicks. But what more than just regular Tetris do you need, anyways?

Details & Download
Last edited on 2013-06-30 04:41:24 PM by

RPG Hacker

.
| | |
| --- | --- |
| Posted on 2012-03-20 12:50:34 PM | Link | Quote |
Originally posted by RPG Hacker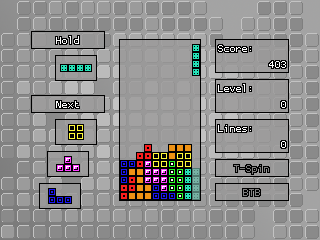 My first own game, a clone of Tetris, is now almost done. I don't want to go into detail yet; I will do so once the game is done. Anyways, right now I'm having a problem: I'm using music from Game Boy Tetris as a placeholder, but I don't want copyright issues. Therefore I'd like some costum tracks for the game. I've already asked a few people to help out, but none of them had the time or the interest yet. I only need a few tracks (like 5 or 6 maybe), including a remix of Korobeinki. Therefore I would like to ask if there are good musicians here who are willing to help out or if you know other good musicians who might be interested. That aside I'll leave the link to the news post with a few more details on my website here:

http://www.rpg-hacker.de/?p=208


I can help. I am really good with techno bgm and metal type custom vgm. Just tell me what kind of music you want.
| | |
| --- | --- |
| Posted on 2012-03-20 02:10:10 PM | Link | Quote |
Someone offered to help on my website yesterday, but after all I love having options.

Maybe for the beginning you can try a remix of Korobeinki? Here are a few examples:
http://www.youtube.com/watch?v=EYlbtKZxtzw
http://www.youtube.com/watch?v=xzL1tXzcvBY
Use, whatever style you want. Maybe a 16-bit style, if you can accomplish that. Otherwise whatever style you prefer.
Maybe I'll split the tracks up between you two or pick the music I like most. I can also PM you the current version of the game later.
| | |
| --- | --- |
| Posted on 2013-06-30 04:43:15 PM | Link | Quote |
Updated the first post with a link to the download page on my website.
GEEZE! Really took me over a year to do that! >_<
At least I can finally stop bothering about it. This game has been bugging me so much for the past year.
| | |
| --- | --- |
| Pages: 1 | |
Forum Index - Hobbies - Game Creation - [Allegro.pas|Puzzle] Amazing Tetris - Looking for Musicians