t-shirts
Forum Index - Serious Business - Talk - t-shirts
| | |
| --- | --- |
| Pages: 1 | |
| | |
| --- | --- |
| Posted on 2012-08-08 05:45:05 PM | Link | Quote |
basically a thread about t-shirts

I just bought two t-shirts from ebay and I wanted to show you one of em.
Its a gray "super nintendo" shirt, cool?



Well, I've bought some other nintendo shirts in the past, "super mario world" with mario and yoshi, and a shirt with racoon mario on it.
The thing is, I feel kinda stupid wearing this in public.

Do you have any similar shirts you would like to show off? How do you feel wearing these in public?
| | |
| --- | --- |
| Posted on 2012-08-08 05:53:15 PM | Link | Quote |
I once had a Donkey Kong 64 shirt, but i can't find it.
| | |
| --- | --- |
| Posted on 2012-08-08 06:08:45 PM | Link | Quote |
My novelty t-shirt collection includes:

-Mario and Luigi being chased by a Bob-Omb
-Nintendo Rehabilitation Clinic
-Mushroom Kingdom
-2 shirts with collages of Mario characters and enemies
-Crush Orange soda
-Rocko's Modern Life

I hardly wear them anymore. I figure they're not a good way to get laid...well not like I'm getting it now regardless.
Last edited on 2012-08-08 06:12:39 PM by

Golden Yoshi

.
| | |
| --- | --- |
| Posted on 2012-08-08 06:45:13 PM | Link | Quote |
My collection!
Captain America
Marvel (Wolverine, Iron Man, Spider-Man, Angel and Hulk)
Pikmin
Mountain Dew
Inconceivable! Princess Bride
Ghostbusters

And I cant remember any more.
Last edited on 2012-08-08 06:45:36 PM by

Egadd

.
| | |
| --- | --- |
| Posted on 2012-08-08 08:54:59 PM | Link | Quote |
Ah, novelty t-shirts. Even though I often find them to be incredibly stylish, I normally avoid using them in public unless I'm hanging out with my friends or my sis. I don't know why, but it's likely just because of the generic paranoia I have of people secretly making fun of me due to them. Though I'm slowly starting not to give a damn about others, something I have always been a slave of.

I don't have any Mario-themed shirts, nor videogame themed ones for that matter. All I have are two Family Guy shirts (more specifically, this one and another grey-colored one portraying Peter Griffin fighting against the Coupon Chicken) and a shirt of Boba Fett from Star Wars (though this one I actually am not all that ashamed of, since everyone is aware of this guy's awesomeness).

Also, if band shirts count, my (unbelievably small) collection is as it follows:
- Led Zeppelin shirt from Hot Topic;
- Judas Priest shirt from their last tour;
- AC/DC discography shirt;

I'm thinking about possibly getting a Pink Floyd one, but we'll see how it goes.

Oh, and also, this. It's just genius, I get everyone's attention whenever I'm wearing it.
Last edited on 2012-08-08 08:57:10 PM by

Broozer

.
| | |
| --- | --- |
| Posted on 2012-08-09 01:37:12 AM | Link | Quote |
I don't really have a lot fancy T-shirts (most of the ones I wear are plaid, or from American Eagle/Aeropostale). There are a couple of notable ones though.

1. This one (well, the text), which is fairly fitting considering my career path in neurobiology. I actually bought it off of a random ad that popped up in the Project Wonderful box. No regrets at all.
2. Yes, I also have a pony shirt. For fairly obvious reasons, I really only wear it around the house and/or in the winter when I can actually zip up a coat if I need to.

I'm eyeballing a couple of other shirts I want right now though (one is biology based), so assuming I get them in the next little while, I'll probably add to this post.
| | |
| --- | --- |
| Posted on 2012-08-09 02:16:32 AM | Link | Quote |
Surprisingly, I don't think I've ever had a single novelty shirt or such my whole life. I definitely don't have one now. And I'm not really a huge fan of much things in general to the point I'll buy any franchise. But if I did have a shirt, chances are I'd probably wear it at home since I prefer to wear "normal" and "stylish" (lolwatstyle) clothes in public so the chances of even buying one would be greatly reduced.

If anything, I would definitely love a t-shirt from my favorite band but since they live in Japan and barely performed in the U.S., it makes everything harder especially for being young still.
| | |
| --- | --- |
| Posted on 2012-08-09 03:36:59 AM | Link | Quote |
All I have is a Dream Theater shirt, showing the album cover of Images and Words on the front, and there's a Dream Theater inscription on the back. Originally, it was my brother's (he got it for his birthday), but he handed it to me a few years ago. I occasionally wear it, though it's not my favorite, since it's a bit too large for me.
| | |
| --- | --- |
| Posted on 2012-08-09 05:12:03 AM | Link | Quote |
I do have the shirt Jayne wears from Firefly/Serenity and a makeuseof.com shirt, but that's about it
| | |
| --- | --- |
| Posted on 2012-08-09 09:52:18 AM | Link | Quote |
I have a lot of anime shirts, the highlight being this one: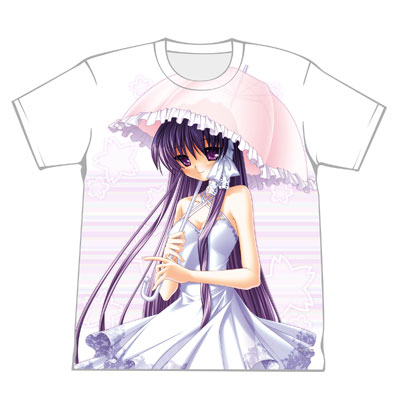 The stares I get on the streets are priceless. Otherwise no brand-name clothes because it bugs me to advertise for these companies, also no gaaruzu = not stylish and sexy.
| | |
| --- | --- |
| Posted on 2012-08-09 10:45:44 AM | Link | Quote |
I have no overly fancy t-shirts, nor do I care enough about my clothes to buy some.

But I guess one of them is worth mentioning. And yes, I wear it just as much as other t-shirts in public.
| | |
| --- | --- |
| Posted on 2012-08-09 12:37:57 PM | Link | Quote |
I have a t-shirt that says "If I wanted to hear from an asshole I would've farted!"

I also bought a few gaming related t-shirts, one of my most recent one being this.

A Mario t-shirt with the bullet bill on the front.

A couple others are being shipped in at the moment. I bought a couple Zelda related ones and another Megaman.
| | |
| --- | --- |
| Posted on 2012-08-09 05:45:22 PM | Link | Quote |
@ Jacob: hehe, I can see how your mojo is affected by t-shirts, girls can easily categorize you.

@ Broozer: haha, that "I hate you" shirt, it fits perfectly to how I see you, especally that "morning" story were you yelled at your friends.

@ S.N.N: haha, I love that "serotonin and dopamine" shirt, perfectly silly drawn.

@ weeabuu: lovely shirt, would bang.

@ GN: nice! have you made that one yourself or something?

Also, I forgot to mention, this is the site I bought that "super nintendo" shirt from. They got plenty of of other cool shirts I might buy.
| | |
| --- | --- |
| Posted on 2012-08-09 07:41:20 PM | Link | Quote |
Hadron, I have a dream theater shirt too, only mine is for Metropolis Pt 2: Scenes from a memory.

Also I'll edit this post when I find it, but I have a shirt for some band called "Sugar, Water, Purple." They're a jazz band I've never bothered listening to, although the shirt is amazing.

In fact, here it is. I normally wear a necklace with a cross over the joint in public. Just because.
| | |
| --- | --- |
| Posted on 2012-08-10 11:31:02 PM | Link | Quote |
I think I own more sweatshirts than T-Shirts because of the whole living in Alaska thing. I think the last T-Shirt I bought was this.


| | |
| --- | --- |
| Posted on 2012-08-11 06:43:31 AM | Link | Quote |
Most of my t-shirts are just plain colours, I do have a few Mario themed ones such as a smw one and a one with shyguy on. :3
| | |
| --- | --- |
| Posted on 2012-08-11 01:10:57 PM | Link | Quote |
I have a Nyan Cat shirt and I wear it pretty much as often as I wear my other stuff. It's kinda funny how some people just start singing Nyan Cat as soon as they see it. Has happened quite often already, haha.

And I'd like to have a Scootaloo shirt, though I still have to search for one.
| | |
| --- | --- |
| Pages: 1 | |
Forum Index - Serious Business - Talk - t-shirts