[Edit] Figured out how to upload images. >.>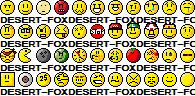 Top left to right:

Bored, happy, scared, pissed off, happy 2, showing off, retarded, confused, sad, empathetical, sleepy, angry, professor, raspberry, dead, stop sign, Mairo!, Luigi!, Toad!, Princess!, cautious, Rambo, Puck-man, Bowling ball, jungle-Ops, clock, eating, sick, apple, shot, black eye, robot (some 80's movie), square, eye, $2 (australian coin), facepalm, realistic, badly drawn, embarrased, angry 2, some person with a gotee, original, template.

Made in 20 minutes + 5 mins checking and polishing.
Over 25 colours used.

Please comment.