Sorry I'm late, but here's something?
Would you like to guess what kind of level is this?
Also accepting suggestions for music and level name (maybe).
I guess it's an ice forest. Am I right??

The palette looks good. So far there isn't much to judge.
This level reminds me the second half of your VLDC7 level, btw this is looking nice, i suggest you to change the trunk palette to something more blue-ish or less brown-ish.
Looks good. Unfortunately, there's nothing more to say.

Also, I agree with G.D.
Currently trying to hack both SMW and YI
Layout by RanAS
I think the brown trunks look fine, you could change it to a whiteish color and it would look good too.

Level names - frosted forest, cold coppice, frigid thicket, wintry woods?
Watch it become a castle level. smh
Maybe I should drop this. I've hit a "block". I already know the gimmick for the second part, but I can't design it. I've lost passion and motivation to do this level.
Here's some images of the first part of the level: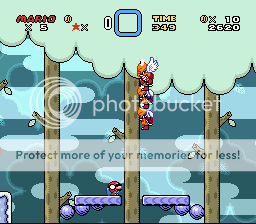 And I don't know if I can still do something, given the current time before the deadline.
If it makes you feel better, I'm actually away from my computer for the remaining days of vldc, so I'm stuck with what I got. if I can be away for three days without vldc, then surely you can pull a last minute miracle. Other than that, I'd say just say submit to the base rom whats been done. A good amount of effort shown here shouldn't be wasted.
--------------------
What-A-Blast! - My WIP Super Mario World hack
**Layout by Erik557
It sucks that you've lost passion for the second part, but so far it looks really nice and I think it would be worth continuing. It's not a big deal if it ends up being a short level

This is a fun level from the looks of it! I like how you're focusing on one gameplay gimmick, and the level theme is cool as well. (

)
Shame you've lost motivation though, but it'd be even more of a shame if you ended up not submitting it. You could at the very least submit the level in its unfinished state (maybe have a message box at the start pointing it out), or move the midpoint and just give it a proper ending. Nothing wrong with short levels!
--------------------

It's done!
It's over!
I finally did it!
Here's a few screenshots:
Download
here
! Feedback very appreciated as time's running out!
Design-wise, this is not the most innovative level ever, but it offers platforming gimmicks that are challenging and well thought out for the most part. The difficulty relies heavily on enemies - which isn't a bad thing, but I feel there's too many of them in one place sometimes. (Also, there are places where question blocks could easily push you through platforms - don't know if that's just my playing style, but if you can, try and move the blocks up maybe?)
The layer 2 gimmick in the second part is interesting - visually, too - though I had trouble "parsing" it in places and figuring out what the intended path through an obstacle was. I also managed to get a powerup stuck inside the ground (I think it's the area in the last screenshot? No big deal though.)
As far as visuals go, I especially like the color animation shenanigans on layer 2/3. You're not going overboard with decorations and fanciness but still manage to make it look distinctly different from the run-of-the-mill vanilla level, which is great.
Overall, it's a well-made level that I'd say is on the challenging side. And in any case, it's great you got it done in time.

Feels nice to have finished something, doesn't it?
--------------------

Submitted and updated entry a bit. The following changes include:
- Lowered the rotating platforms near the start on the question mark blocks by 1 tile
That's all.
Received a few nice feedback for this (some on IRC). Thanks!
Originally posted by WhiteYoshiEgg
Feels nice to have finished something, doesn't it?
now I can slack again all I want
didn't remove ice physics though
| | |
| --- | --- |
| Pages: 1 | |
Forum Index - Sunken Ghost Ship - Old Contests & Events - The 9th Annual VLDC Level Design Contest - Hinalyte - Snowy Bits (done)