Morton's Empire gradual release thread [nothing.]
Forum Index - Sunken Ghost Ship - C3 Museum - Winter 2018 - Morton's Empire gradual release thread [nothing.]
| | |
| --- | --- |
| Pages: 1 2 | |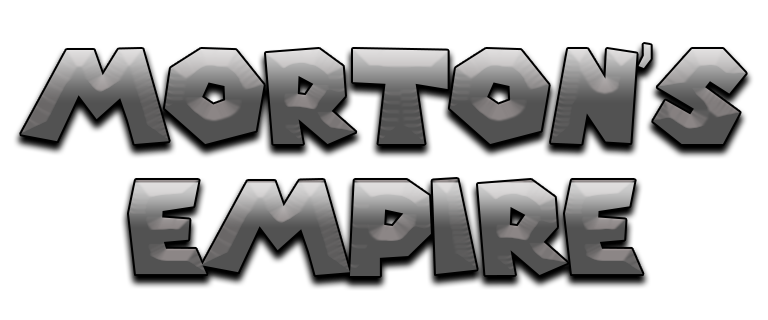 DOWNLOAD
Welcome to the Morton's Emprire release thread. In the span of three days, I'll be releasing some stuff involved in the hack until finally getting to the hack itself. (We're still polishing and a level is missing, but fret not, I assure you it'll be 100% done by Day 3!)
For our first day, Erik gave us Assembly in the form of two bosses.
Boss 1: Tutanreznor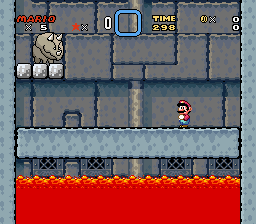 This is the world 2 boss. You hit him when he stuns himself by hitting against a wall. Its attacks include like 90 million fireballs and a rock attack.
Here's a video on this boy where you can see all his patterns:
Link
DOWNLOAD
(PIXI only)
Fully tested but still I'd like to know if it has any bugs before uploading it.
Foliage the Para-Plant v2
The world 3 boss, which you hit by using bob-ombs. I had released this like 3 C3s ago, but it had bad RNG and nobody really noticed it lol. I hope it's better now.
This video, while outdated, will do:
Link
DOWNLOAD
(Note: requires the shared subroutines patch! level not included shrugio)
Cool stuff!
Thank you for releasing these bosses. I don't really like the koopas kids and I can't make something this crazy, so I'm sure I end up using at least one of these at some point in time.
Hype for Morton's Empire!
--------------------
My Youtube channel
Currently working on:
Project C
Finished project:
In before this becomes the new Homing Thwomp Boss.
Joking aside I really like the attack patterns.
Whats more important is that it looks fun to fight which a lot of bosses are not.
Awesome.

>not uploaded in the sprite sections

:angery:

I'll give them a try soon-ish, and maybe give you some feedback.
Looks interesting. Good work. I like this!

A word fitly spoken is like apples of gold in pictures of silver.
--Proverbs 25:11
Might as well test them out when I have the chance.
Originally posted by Erik
Foliage the Para-Plant v2
Should probably replace the graphics-swapped dahnamics Tryclyde boss I was using for my piranha plant boss with that, lmao.

Come, join the waltz of the dead...
|
YouTube
Originally posted by Erik
Boss 1: Tutanreznor
The boss itself is hybrid but the
patch required
isn't. Do you have a SA-1/hybrid version of that too?
--------------------
Originally posted by Erik
In the span of three days, I'll be releasing some stuff involved in the hack until finally getting to the hack itself. (We're still polishing and a level is missing, but fret not, I assure you it'll be 100% done by Day 3!)
dude why didn't you just tell me that when I asked you when M.E. would be 100% released yesterday

Your bosses are looking nice. There really isn't anything I can say about this hack that I haven't already said on elsewhere or other hackers in on the project haven't already brought up. This is was a pretty snazzy hack a year ago, and trust me it'll be snazzy when its fully released.
In the second day Erik gave you nithing because he was an idiot and was too busy being sad to actually get someone to make a trailer and make one by himself. I'm sorry.
In the third day, Erik and his team actually pull through and finish. You can download the hack
here
.
Thanks to the entirety of SMWCentral for participating in this, and for allowing me to grow up, both as a person and as a ROM Hacker. Had this not been a thing, I'd probably still be a lurker with little to no posts, and that didn't decide to learn ASM. Thanks to the Other three (Centipede, aHick, MercuryPenny) for staying with me until the end and lending me the trust I was to finish this; I'm sure they also learned a lot along the way. Finally, thanks to Lightvayne for the exposure this received; by making this a collaboration. To everyone who ended up not making the cut: I'm sorry.
As I said in the hack's description, there is a sequel planned; I know what the story will be and all. When will it be? Maybe never, maybe tomorrow. I don't even know if this website is interested in collaboration hacks anymore. Besides, I'd need to make a lot of ASM before starting. ;)
Thoughts on a sequel?
shoutouts to erik for doing the vast majority of the work when i was too lazy and uninspired to git gud at level design lmao. hope y'all enjoy what little made it in along side those original music tracks

also uhhhh if there's a sequel i'll try my hardest to do things for it. probs not gonna bother doing levels but i may throw some more music together for it
Originally posted by Erik
In the second day Erik gave you nithing because he was an idiot and was too busy being sad
in the third day tob didnt do anything even though he had the time to edit a trailer for the hack so im just here being sad as well
.nice
// hey check out my junk
HERE
The hack was rejected due to a multitude of bugs that happen randomly on higan and always on real hardware due to Von Fahrenheit's IRQ hijack. After doing a few tweaks the ROM refuses to start in any setup given. Thank you Mr. progress for easier HDMA and a separate status bar palette for leaving me with a lot of badly written ASM and the broken promise of a world 1 boss and an "epic transition to the final level".
not only is this the first time im legitimately pissed off like this at anyone, but should some of the other bugs noivern reported be worst case, there's just no way this setup will work without a lot of recoding and cutting on songs. im sorry for fucking up. like always.
--------------------
jid when
The link in the release post no longer works, so
here
is a backup.
Erik, don't be so hard on yourself, you have given the community a lot. Just because some things aren't going right with this hack doesn't mean it's the end of the world, or that your a fuck up.
--------------------
Captain Toad is returning to your SNES.
My first completed SMB 1 hack is finished.
Uncle Mario Bros.
Does a lot of code depend on the statusbar you used?
If not it might be easier to switch to a different statusbar and screw this one.
I feel really sorry for you, good luck!
--------------------
My Youtube channel
Currently working on:
Project C
Finished project:
Posting to apologize for some of my rude behavior towards Von Fahrenheit in that post. I was pretty tired yesterday, and my life situation didn't help.
Anyways, I have decided to try and fix the status bar. I realized I had missed some code regarding the palette, which may have caused some issues yesterday I tried to recompile the ROM - though most of the issues were due to AddmusicK's list was disorganized. I'll still need to either fully cut in songs or remove the multiple death songs gimmick. I don't like either, but I'll see.
Thank you for your replies. I'm feeling better now.
--------------------
jid when
Managed to end up fixing it today, and tweaked some stuff! Check it out
here
.
--------------------
jid when
| | |
| --- | --- |
| Pages: 1 2 | |
Forum Index - Sunken Ghost Ship - C3 Museum - Winter 2018 - Morton's Empire gradual release thread [nothing.]