Just about all of the Paper Mario Toads from Sticker Star onwards. From what I've seen, there's just way too many of them with the same generic personality copy-pasted over and over again.
Layout by Mirann <3

Kamek
, probably.
--------------------
Tumblr
|
Facebook
|
Twitter
|
PM
|
SMWDB
"I told you to leave… Now you leave me no choice. PREPARE TO BE ROCKED!"
Custom layout coming soon, please wait warmly...
Imagine if you couldn't watch the videos you love. We support copyright reform with an Article 13 that works for everyone. #SaveYourInternet
Cheer up. Your life doesn't end here... NOT! >:D
Mario himself, but in baby form. You can probably already guess why.
Oh dear god! Why the cry!
Not even gonna say the name... The picture says it all...
Signed, one great guy!#
gomba
Originally posted by Epic_Manky
I can't stand Daisy.
SAME!
Signed, one great guy!#
I used to be a shallow, daisy-hating individual because of her voice in mario kart wii. Then I finally found the light and realized she's the best, and ought to co-star in a Super Princess Peach reboot.
--------------------
A lot of people hate Daisy, wow. I'll admit she's my least favorite female Mario character, but she's far from my least favorite character overall. Neither is that Wario clone, Waluigi, to which I blame ProtonJon. If I had to pick my least favorite character overall from the series...

...I'd pick the Koopalings. The New Super Mario Bros. series really bled them dry by using them way too much, to the point of me just downright disliking them. Not to mention the fact that they are basically just kind of "there" alongside Bowser Jr., for no explained reason. Although Bowser Jr. and the Koopalings have had some brillant moments in several games and points, I just don't really like them all that much.

Especially Larry. He's the Koopaling with the most bland personality ever compared to the others: Lemmy's childish and immature, Roy's the brawns, Ludwig's the brains, Morton's a balance between Roy and Ludwig, Wendy's selfish and bratty, and Iggy's mentally insane. Yet, Larry just does not have a personality trait, period. So, if I'm going to hate anyone in the Mario series, the grand prize goes to Larry. Learn to have to a personality, why don'tcha!
R.I.P. eXcavator... You will always have a place in our hearts...
Waluigi just plain sucks as both a meme and a character.
You take that back. Waluigi is one fucking handsome bastard and anyone who says otherwise is ignorant trash.

--------------------
bunny extraordinaire 🐇
I'm ignorant trash and even I see the beauty of Waluigi
You mean you see the pointlessness in him?

(I honestly have grown to despise Waluigi over the massive BWAAAAWING and RRRRREEEEEEEEEEEEEING over Daisy as well as Twitter harassment over Waluigi not being in smash ultimate. It's never gonna happen. He will never be playable in smash. Move on and suggest something else.)
Fedora Kong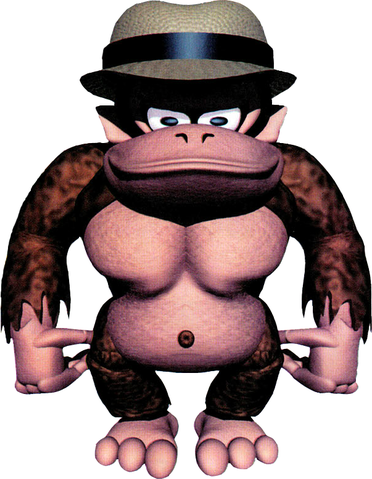 I hate Fedora Kong so much

♪ ılıll|̲̅̅●̲̅̅|̲̅̅=̲̅̅|̲̅̅●̲̅̅|llılı ♪
Toad also i agree with @Conal his voice is so annoying
Wart because he ugly as fucc
--------------------
Music Submissions
This is a difficult question, since I'm not sure if I actively dislike any Mario characters? If I do, I just can't think of them at the moment.

But I guess I could say the pixls from Super Paper Mario? Not that I "actually" dislike them, they're a cool idea with cool designs! It's just kinda disappointing that they only say anything when you first meet them, then never again. Especially after coming from TTYD, where every partner had unique dialogue for every situation.
Originally posted by PaperWario
Pink Gold Peach.
Of course because she's just a clone of Princess Peach that appeared out of nowhere in a game that already had a bad character roster (before all the DLCs and Deluxe)
| | |
| --- | --- |
| Pages: 1 2 | |
Forum Index - Donut Plains - General Discussion - Least Favorite Mario Character?