Posts by Broozer
You can edit it in your way and you MUST edit all the background correctly.
Hello,
I've made a level that starts on the top but it's horizontal scroll. When I play it, it begins showing the bottom part and it goes to the top after this. How can I fix it making it begins NOT showing the bottom part?
I'm having a problem with some platforms on chains of my level. Look the images below:
In Lunar Magic, this platform is perfect:
But when I play the level...
It becames glitched (I think that's the word).
How can I fix this problem? Thanks.
Could somebody rip to me Yoshi's Island's bricks of the castles? It can be in any original YI Palette. Only do it if it's not too much work. I'll give credit for who do it for me.
I think so. It's only put kamek's graphics where are the big boo boss' ones.
I'm very n00b, I know but...
How can I do it? Is it clicking on Mario's head?
Thank you Mr. Bean 2! It's working!
I made a pic of one of the bonus levels of the hack I am working on... Super Mario Dime. In my hack the bonus levels are only accesible by a secret level in very difficult situations of put the key on a very distant keyhole. Well, I made the BG Palette, it's not presented in the original YI game. Thanks Pac for the BG. What about you? Do you like my custom BG palette?
@darklink898: I like the pic! Is that from your hack?! Cool!
About my hack, the 1st world is almost completed... I still have to edit the castle. The 1st world is called Natpic Isle (Natpic is the fusion of "nature" and "epic").
The Overworld is not finished yet. I'm not showing in this picture the secret levels.
Natpic Heights, the fourth level of Natpic Isle. It's also the most difficult level of the first world. It features frozen blocks and slow Auto-Scroll. I've made the BG palette. Credit goes to SMWedit for the bg.
What's your opinion about this?
Yes, it's possible to substitute Mario to Wario. I don't know about the tile layer pro but I suggest you use YY-CHR that's found in the tools section. With YY-CHR you can open the ALLGFX.bin (the SMW graphics) in 4bpp SNES mode. Find Mario's sprites and then copy Wario's ones in where are the original Mario's sprites. Remember that you have to change the palette later. Got it?
I've deleted the first one but it still glitched. dAre you talking about to change the sprite gfx?
Thanks Xmas-Buu (Buu-Huu)!
I've put the correct event to activate when the level is passed that's event 5. I've tested it with page up, page down. But when I play my hack the event doesn't unravel, the next level only appears but the green path doesn't transform into white path. It only unravels when I die in the level that was oppened. What I need to do to fix it?
No, it's all right. But it's continue the same problem...
@Z Hacker - Your overworld is better now but IN MY OPINION the islands are very big. I think you should make them smaller. Remember that it's only my opinion about your overworld.
Originally posted by Bad luck man
Look! A Power Star!

I drew it myself.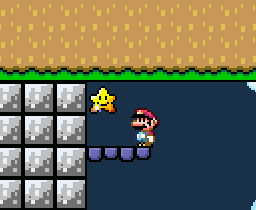 Shiny Shiny Pretty Pretty...
Hey Bad Luck Man, I really like your star! It's beautiful! Is it a edit of the goal sphere or a redrawn of a starman?
I've made a vertical level that the entrance is by a vertical pipe exit down. It is at screen number 0. When I play the level, Mario dies before exiting the pipe. How can I fix this problem? Thanks.
But it's on the right position, Mario is exactly at the end of the vertical pipe.

I've put 00, is it wrong?
It's ok, here is the image. Remember it's a vertical level and this screen is screen 00.