Posts by ToxicRave
@Kaizoman: I think Nintendo even bother to make a invisible solid block sprite because on the cloud/forest tileset. The place where the switch place corner in map16 (the block is 110) is replace with a forest corner piece that isn't solid on the side.

@Shadowed Reaper: All the above, but not sure with the "amount of time on hand" because most kaizo hacks are really short.
Originally posted by Sadistic Designer
I suggest we do not speculate but let the mods decide that part.

Also despite being short an average Kaizo level takes a lot longer than an average 'regular' level, I know that my 11-exit Hack will most likely take over 30 hours to beat for inexperienced people. Then again the last two puzzle levels are extreme examples, without these I don't think more than 10 hours would be needed. Still 10 hours makes a decently long hack to play.
I meant most "kaizo" hacks that most LPers do are only like 1 world big. Also, can anyone give me a final feedback on my burning in hell hack. So I can make my next kaizo hack a lot more better.
Let me guess, the orange turnblocks is death. Also, it still not pit, try using one-tile angle muncher gaps or something of the like. The three Banzai Bill section is impossible because only one can be showed at a time, unless you somehow made it so more then one is showed.
Is there a way to insert a rainbow shell sprite instead of a Koopa and a yellow shell though lunar magic "Add Sprite Manual" command? If not is there a other way to do it?
Don't use level mode 4, try using level mode 0A instead.
They are not powerups. They are projectiles that can be use with ICB's Hammer/Bommerang Generator. The only power up is the file called, "ml_powerup". Which is a hammer powerup. Also, I got all this info in the readme that was include in the .zip file.
Originally posted by leod (...)
IMO people who just have to be mods are Sadistic Designer, SoulJester, and Kaizoman
Agree 100%.
I think the glitch key-jumping should be allowed because it's really easy to pull off without slowdown when next to a wall, but shouldn't if use like in moltensnow "pit of despair" hack.
What is the hex code so I can change the sliding koopa palette set because I want it to be red then blue? Yes I did look in the rom map but I can't find it.
Is there a way to make the player (Mario for example) use ExAnimated because I want Mario after some frames blink?
So is there anyway to do it like a patch maybe?
Originally posted by SoulJester726
is it fair if i make the player use frame advance? the trick i have in mind is very easy, however it requires frame advance to pull off.
I think focus frame advance in a kaizo hack should be avoid at all cost, but tricking the playing thinking he can break a part of your hack, by using frame advance, ends up getting the player screwed. For example, wall-jumping to get a 3-up moon but ends up getting the player trap (it shouldn't be that obvious of course).
SoulJester726: Go right ahead.

Also, the "kaizo submission thread" was moved to the full release sub-forum for some reason. I think we may have a kaizo section before we know it.
How can I insert custom music Sample Banks with Romi Addmusic?
There is a sprite called the
The Newbie's Custom Boss- Verison 1.43
in the sprite section, but give credit to the creator (Maxx) if you going to use it.
Not really a complain, but whats the point of the "Turn off Generators" on the third screen-shot?
A one-level kaizo hack that is extremely hard to beat without any usage of save-states. It also contains key jumping and block cloning, and yes all of it is possible.
Try it out yourself.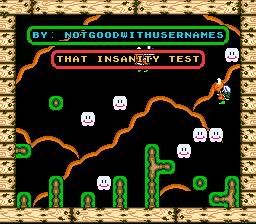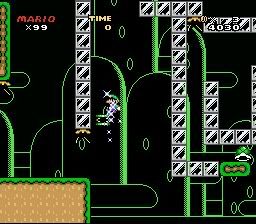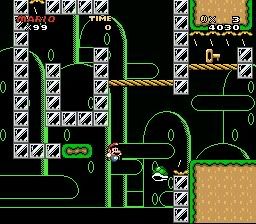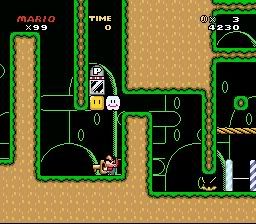 This is a sequel to my Burning in Hell hack. I know it's pretty early to make one already but I have some level ideas that are not in the first one. I'm already finish making 2 levels already. Please note these levels are still being work on so they are not 100% done yet.
Level 1 - Warm up
Level 2 - Hauling Ass
Edit:
First Burning in Hell if people want to try it out -
LINK
Also, a five level demo is release -
Try it out!
Originally posted by Blue_Raven
It looks really good; though it looks like it could be easaly broke by wallumps... also, can I gave a link to the first one?
I apply a anti-walljump patch so it can't get broking by walljumping.
@Sadistic Designer: Let me guess: you can break the first level at :37 by using the bullet bills to get on top of the level.
Here's a video of the third level.
Link
Its nothing much but the first part of the switch palace. I doubt the part with the 4 turn blocks is possible because I didn't test that part yet, but most likely the level can be broking.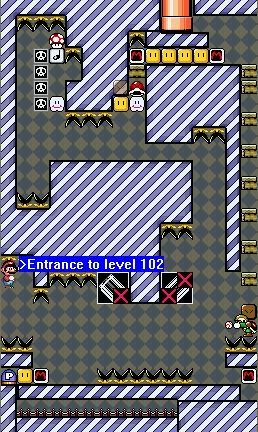 @Sadistic Designer: Are you able to jump on the shell then on the exact frame garb the shell that you already jumped on?