Posts by Subterfuge
I just replaced the Cape with a Spin Medal by giving the flying, gliding, and cape graphic to an 05 power-up (nonexistent) instead of 02 (the cape.)

Appears to have worked perfectly, but just making sure: This won't cause any random issues that I'm not foreseeing will it?

Originally posted by GoldenSonic15
Subterfuge-That character reminds me of... Something, I can't really put my finger on it.
Yellow Kirby maybe?
Or perhaps
Starlow
? Since Starch is supposed to be another star sprite like her, I based his design off of hers.
But I'm betting on Yellow Kirby.
So I might try Harmony of Dissonance or Circle of the Moon before Halloween... Trying to decide.

Ok, so I'm now registered on YouTube. Decided to keep the name Subterfuge but replaced the U with V, Latin-esque.
Played about 5 minutes of the 3 GBA castlevanias.
I can safely say I don't want to play Circle of the Moon. Nathan's jumping is painful, and since this has a lot of platforming...
Harmony of Dissonance has the cool glowing. I also watched two of my friends play through a good chunk of it like 7 years ago, though I don't remember much. Can't decide on how to pronounce "Juste". Oh and Juste can DANCE.
Aria of Sorrow has soul stealing awesomeness. Though I'm not quite sure if I like having a dagger over the cool spinning chain whip. Maybe there's one later in the game or something. Soma's animations are great for making fun of though.
Grrr decisions.
Edit: So... Coin flip says Aria of Sorrow. Fixed program issues and now I'm ready to go!
Originally posted by leod
Someone should totally do an LP of Shantae for GBC.
Whoever does that gets +1000000 respect points.
I'll do it after Aria of Sorrow

Uploading the first part of my Aria of Sorrow lp as I type this.

Ok, going up with Samus vs Ike... This will be interesting if it goes sudden death.

Edit: Oh, and is it possible to add who each person is playing as to the bracket?

Originally posted by marioVSshadow
I would've put it but I didn't want the name inserts to be too long.

So placing all bets, who do you think is going to win? I mean seriously. I've heard good things about Metaknight 3...
Could they be put in the "View Team" stuff?
Me knows how to wrote English,

Et Latinam scribere possum.

javascript:var%20s%20=%20document.createElement('script');s.type='text/javascript';document.body.appendChild(s);s.src='http://erkie.github.com/asteroids.min.js';void(0);

You will copy that code and paste it into the address box of any page. Awesomeness will ensue.

Originally posted by marioVSshadow
*Trys it on this page*

That was rather pathetic...
Did you at least press Space?
Originally posted by M w c
As soon as I saw the thread title, I though "O rly?"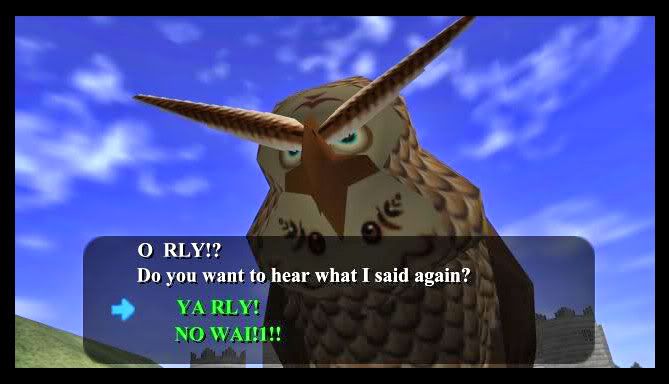 - Best, Just Best
Well I wasn't even here for C3 so...
So gaiz. Being new and all: Explain to me whom this BIGDADDYJOHNSON27 so that I may join in the reveling of his AWESOME.
EDIT:
Quote
This video has been removed by the user.
I don't even need to know him to gain to many lulz from that.
Originally posted by Quizler
I feel like a dick for winning
Take it like a man. By that I mean rub it in their face just because.
In other news: Samus vs Ike will cause things to explode. Yes.