Posts by Foursword4
I've had trouble trying to insert extra backgrounds into my hack. I can add extra foregrounds just fine, but I don't know what I have to do differently to make the backgrounds work. Can someone help me?
Here is a short video of a level from my hack...

<object width="425" height="355"><param name="movie" value="http://www.youtube.com/v/WMN28sPrrew&rel=1"></param><param name="wmode" value="transparent"></param><embed src="http://www.youtube.com/v/WMN28sPrrew&rel=1" type="application/x-shockwave-flash" wmode="transparent" width="425" height="355"></embed></object>
That's what I have it set to right now. The graphics I'm using now is named ExGFX83, and its set in BG1. I loaded it into page 12 of Map16, and it's unrecognizable.
Yeah, I did that too.
I think it's mainly a palette problem that is making the graphics look messy, but I don't know how to change it. When I go to the Change Palettes in Header box, the color of the grpahics I'm using only change when I change the foreground palette, not the background.
Originally posted by Lucas
Are you sure it didn't come with a palette file? Switch on custom palette, then go to the file menu, and insert the custom palette from a file. I believe it is a .tpl?
Ok, I guess I overlooked that file

But now this is what my level looks like...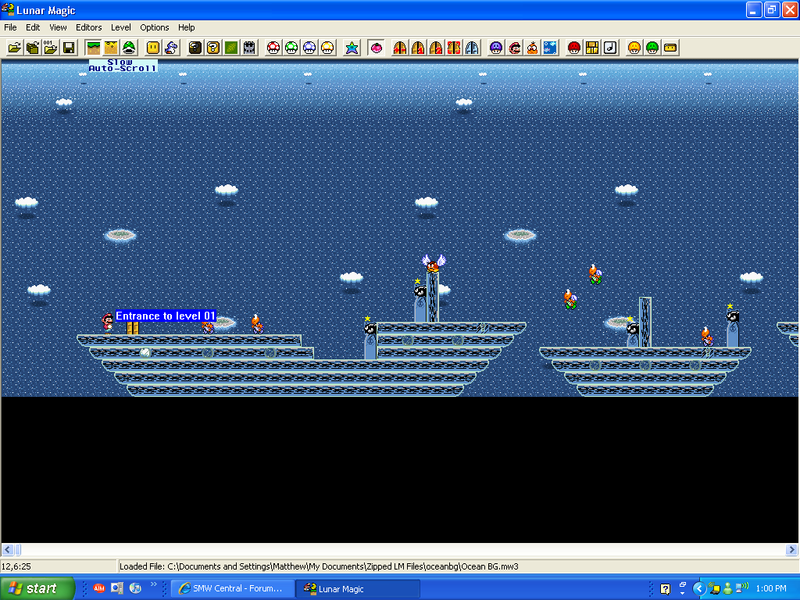 I don't understand why the background palette is the same as the foreground.
If it's possible, can you please do Crucifix Held Close from Portrait of Ruin? Thanks!
http://www.vgmusic.com/music/console/nintendo/ds/CVPoRCrucifixHeldClose.mid
I'm surprised no one has put up a request for any music from the Golden Sun series (at least I don't think anyone has...)
This series has magnificent music for a handheld. I have a few songs I would like to request, but I'll start with an old favorite...
http://www.vgmusic.com/music/console/nintendo/gba/golden_sun_overworld.mid
This is the overworld theme from Book 1. I think it would be a great piece for an outdoor overworld, or even a regular outdoor level.
Please and thank you

Thank you for taking my request S.N.N.

When an ExGFX file is made to overwrite the original ground blocks, is there a special way to insert them?

(Such as the Custom Bonus Room ExGFX)
It has been quite a while since I've posted anything regarding my hack. So I thought it was time to post some screenshots!
My hack is called Super Mario World: The Legend of the Rift. I thought I would start by showing the opening screen...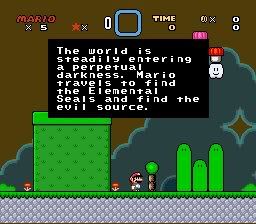 These two screenshots are from one of my earliest levels. The level starts on a bridge, and you go from above water and under water throughout the level.
These next few screenshots are from a level called Salty Isle, which is the first level in World 2.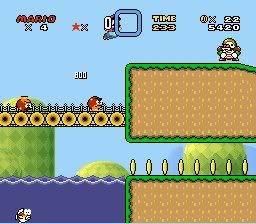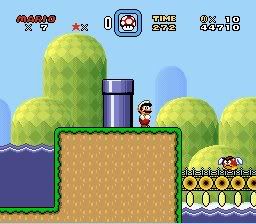 This level is one of my personal favorites, as a lot of planning went into it. It is a level called the Forgotten Isle, but it also is home to the Yellow Switch Palace, which is called the Earth Seal in this game.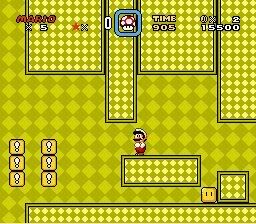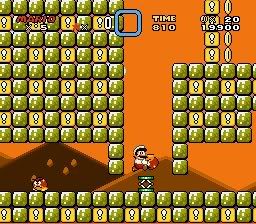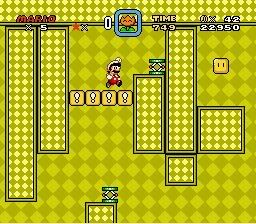 This next level is an optional stage. You get nothing from completing it, but it offers more to the overall story of the game. This area is called the Venus Shrine. There will be one for each element.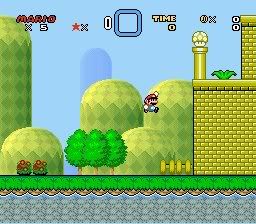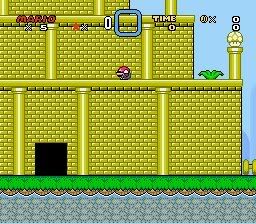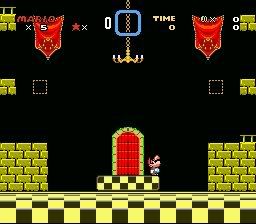 And last, this is the first level of World 3. It's a partially side scrolling level, called He's a Pirate (PotC fans should recognize the title.) It's a fairly long level, with a lot of secrets. It is currently incomplete though...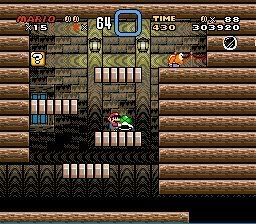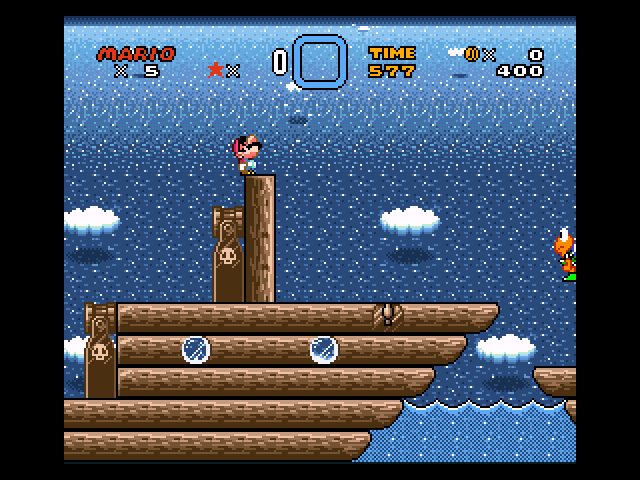 Comments?
Originally posted by BlizzC
Nice to see you are back,also i have heard that you want custom music right? yeah well you need to have an unmodified smw rom of 1025 kb to use addmusic on it,then you can just reinsert your levels and ow in the new rom with custom music.

Also the "He's a pirate" song can be found in the music section.

One more thing, please don't use names from super demo world,your hack may get rejected and you don't want that right? after so much work? ;)


Thanks for the tip...the same name wasn't intentional, but I'll make sure to change it.
If anyone is interested, I would like someone to test my hack. I'm getting ready for a demo release up through World 2, and I need both a bug tester and a play tester.
I am wondering if anyone is willing to rip some nice cloud graphics. I remember some real nice ones from Kirby and the Amazing Mirror. I can't seem to find any good ExGFX for a cloud level right now.

If there is already a rip of these graphics, then I apologize...I couldn't find any in the ExGFX section.
Originally posted by Obsidian Serpent


@Foursword: Could you post a picture of the Kirby and the Amazing Mirror clouds, since I never played that game, I have no idea what to strive for.
This is a quick picture I found...but it's not too good. I'll look for a better picture soon, but it might be enough.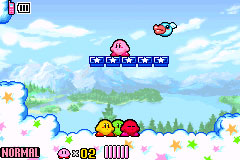 EDIT: Here are some more pictures...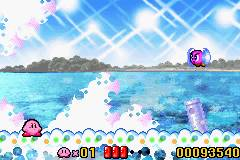 Wow...this is absolutely fantastic. Everything flows so nicely...the music, the graphics...everything is genius...
Im halfway through World 5, and I'm having a blast. I'm pretty sure that I have found every secret exit up to this point. Most of the levels are fantastic, but a few made me pull my hair our in frustration *coughpipehypecough*
Also, as I was backtracking to the Top Secret Area to grab a feather, I noticed something...interesting. At first, I thought it was some strange Overworld glitch...but it wasn't. I don't want to accidently spoil anything, but is their a purpose to this *secret* level?
EDIT: Nevermind, I hit the blue switch and read the message in the top secret area. Everything makes sense now

Wow...this was unexpected. I don't know what it was I just saw...I thought it was the ending...but I'm not sure. I never played the original, but it seems there is more to this than meets the eye...

Well, this was a nice surprise. After beating the secret world, I think I understand a little bit more about this series. Great work FPI!
Originally posted by Waweegee
That means I haven't found it then.

Edit: But I have now!

That world was interesting. The last level gave me a real headache. But since I was in a hurry to finish it, I forget to find the secret exit in one of the levels, and now I have to go back

Well then. I just beat it a few moments ago. I'll write a full review soon, but there were a few things I was wondering if FPI or someone else could clear up for me...(unless these things aren't supposed to be "clear")
(Major spoilers ahead...read at your own risk)
Well, I found the secret exit at Crashland Castle before I made it to the last world. I thought this secret world was the true final area, but when I beat it, I wasnt treated to the credits as I thought I would've. Anyways, is this secret world considered the third reality? The ChaosComplexx level reminded me a bit of the Orbital Station that I saw in TSRP2 and later on in the final world. I was very interested seeing the little conversation with Zycloboo after I beat Braindamaged Finale...it shed a little bit of light on the events in TSRP2. It was interesting to see how Zycloboo was secretly behind the scenes of both games...I guess he's smarter than I thought. But it was unexpected to see his...err, eye. This is just my imagination running wild, but the events in the last two levels seems to be a little backstory to your "garbage" hack Chaos Complexx, which is ironically the name of the level where this world falls into Chaos.....just me thinking aloud


Also, was this strange world ever visited and or mentioned in TSRP2? I can't seem to remember. Also, I can't help but to think....what happened to Marty Mole? Did he escape total Chaos? Also, are the Roboxx truly done in? Is their hopes for a dessert of Chaos done in? So many questionsXD

Anyways, that extra world pretty much sealed the deal on my outlook for this hack...it was brilliantly thought out and expertly put forth. I am even more stoked for TSRP3. I have so many more questions, and I hope the third installment will tell more. I wonder if this third reality will be in it? I can't wait to find out!

BTW, I lol'ed on the Roboxx and their pizza quotes

EDIT: For some strange reason, I wanted to give Chaos Complexx a try. I downloaded it...and well...I noticed the resemblence immediately. One thing that is fresh on my mind is the suicide Thromp from Castle#2 and the bonus level design from the Yellow Switch Palace. Very clever FPI

I have been a member for quite some time now, but I never was very active. Some of you may have seen me around, but I never introduced myself.
Well, my name is foursword4. I'm your average 17 year old SMW hacker. I have been hacking for about two years now, and I am slowly getting better at it (I hope...) At first, Lunar Magic was like a dream I saw while surfing the web at school, but now it's a hobby of mine, which I use to make my dreams come to life. My hack is called Super Mario: The Legend of the Rift, and it is a steady project. I'm sure some of you have seen a few screenshots around the site.
I'm a pretty friendly guy, and I like to chat

I never turn down a conversation, and hope to become friends with a lot of you here!