Posts by Jonny
So I was testing my hack and when I cleared one of the fortress levels and (after beating just reznors) it went to the game credits. I didnt set it to do this (i dont know how to either). so i figured it just happened this one time so I Closed Zsnes and opened it again and restarted. it happened again. anyone have a clue on how this happened? thank you and if you need more info ill try and explain more.
So i decided to use yy-chr to edit marios graphics like a lot of the things in the hack i recently started working on. Anyway so i changed them a bit(yes i made a copy of my hack in case) and when I inserted the graphics and tested the hack nothing looked different. im sure since this is my first time i probably made obvious mistake.and all the other changed graphics were there besides marios. anyone know why this happened?
i edited allgfx but when that didn't work i decided to check out 32 and that was edited like it was in allgfx so I just figured it was edited in the right way. so does it matter which 1 should I edit or does it not matter?
I like the last one. it all just blends together and has an adventurous feel I think.
In my opinion the VIP series is my favorite. the graphics for the enemies are just hilarious, the game is long(love long games) and the level design for the most part is great(good puzzles and gimmicks)
(restricted)
I'll Join if its ok. I sent you a PM so for more info just check that i guess
Sorry it's taken me forever but am i making an overworld or just a level?
I'm tired of video games having a dark sad story with everything depressing and bloody. This is the reason I am making this hack. You play as Waff, Marios biggest fan who decides to dress as his hero, Mario, and go on an adventure. I will post screenshots once I figure out how >_< or someone tells me.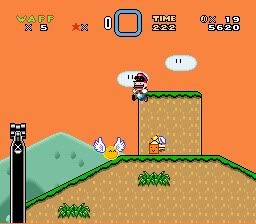 These shots are not great. but I'll upload some better one(s) soon.
Yeah good call, I guess a black outline would look better. I'll add that soon.
Alright cool. ill try an overworld for a change i suppose. Are you going to make events or am I doing the whole thing for the map?
This hack as far as I've seen from the screenshots, looks amazing. The graphics remind me of the Mario and Luigi Super Star Saga series. I love the think outlines and the shading. The levels look like fun and original so far. Looking forward to this one.
I can make an abstract dreamy map song. it will take me awhile to do though. i make music in my spare time so this could be fun
I was testing my hack after i made a new level and so when i was working my way to that level the events from level to level were all glitchy(Black squares with various out of place graphics) this never happened before either so I have no idea what is happening. In lunar magic when i look at the events there, they seem fine. Thanks
Wow it worked thanks
**( Go to the latest page for updated GFX, levels and more )**
The title used to be Super Happy World but since so many hacks have super or world in their titles I decided to make it more original. I've redone practically the first 2 worlds(demo areas)and the demo should be released soon, not that anyone probably cares as better hacks are coming out soon. here are some pictures of the first 2 levels...
EDIT: THESE ARE OLD GFX
Level 1...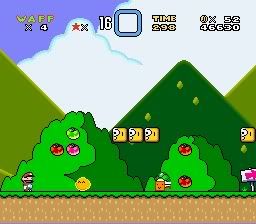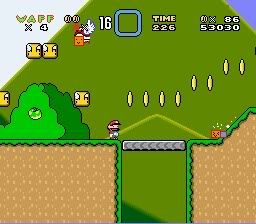 Level 2...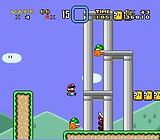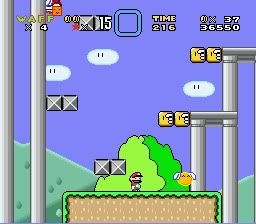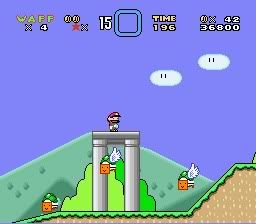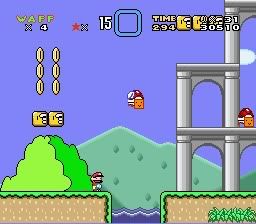 hey I can't seem to find time to work on this project with you guys. so you'll need to find someone else to do my job..sorry.
Thanks for the comments. The reason why WAFF is dressed like Mario is because he's Mario's biggest fan so he dressed like him and went on an adventure. Not that great at stories but it works. I'll try to fix the palette for the status bar. I agree I didn't like the colors very much but never took the time to fix that. again thanks for the comments
The graphics edits were purposely bad. its just to give the hack a simple feel. and I gave level 1 a new palette (level 2 already had 1)
what do you think? it isn't really anything that stands out and I changed the background a little bit. I know the quality of the picture is bad sorry. also changed the palette on status bar to something more fitting.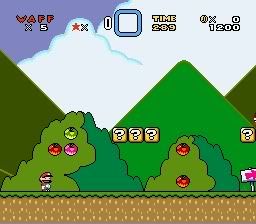 Hey cool I have one too. Hotsos120 is my username on there to.(how original)