I love the idea of this hack, and I liked the new controls that went with it, but there were some small problems I found. I've only played up to Amethyst Arches, and there are some minor things I just wanted to point out.
1. Cutoff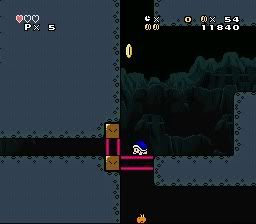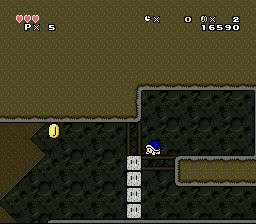 In these two places, the net bars dont exacly touch the ground. Editing the GFX of the ground will easily solve this problem.
Also when Saph is running up a hill and turns the corner, his sprite changes into this: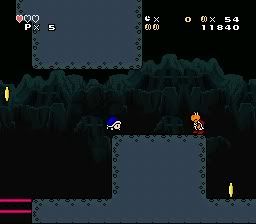 The cutoff here makes it look like Saph is floating in mid-air, maybe some GFX editing would help? No really too sure, since I've never made my own character.
Fixing the cutoff will make the hack look nicer.
2. A Glitch *EDIT* This Glitch has been Fixed!
At Granite Grotto I was at this part of the level:
And then.....this happened when I ran back across it:
And when I ran across it normally: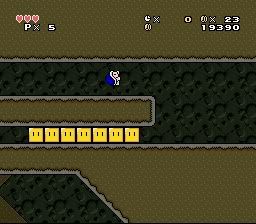 I'm not sure what happened here, but that layout of blocks (The three gray blocks) needs to be changed. Also if this block layout exists anywhere else in the hack, I would change it because this might be level breaking.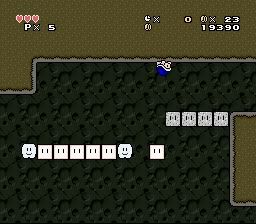 He shouldn't be able to reach here.
3. One More Thing
At the start of Amethyst Arches, why can't Saph run up this wall?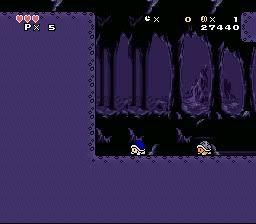 Yeah, I know its the wall next to the beginning of the entrance and not many people would actually want to go back up, but there should be an 'X' block to signify you can't go up there. Otherwise it is inconsistent with the rest of the cavern walls in the game.
Otherwise, this is a great hack. The Music choices were good, the ExGFX were nice, and the concept and new controls were something new. Most of the problems here are minor and could easily be fixed.
Keep up the good work! I'm looking foward to the later levels.