Posts by HoorayForJay
So, submissions are now open to pit hacks which is nice, so I've spent some time improving my first romhack, ColonThree. I have fixed several minor pieces of cutoff, added some more themed objects to the surrounding space, and improved some of the palettes.
Almost 5 years on from the original release, there is currently no one (other than the creators - myself and ShadowDragon121) who has completed a playthrough of this hack. Many have tried, and some have even completed the first level, yet no one has defeated the final boss; ColonThree. Can you? Play what is widely considered to be one of the hardest rom hacks out there, download below:
ColonThree
Have some pictures:
Orange Oranges
Cold Castle
ColonThree's Haunt
Originally posted by LappySheep
Originally posted by HoorayForJay
How do you push yourself into the door room with 1 p-switch?
Oh, I was thinking of duping the blocks down so you can clip them, but still holding both the shell and the switch
It's only possible to dupe blocks sideways, upwards, and diagonally upwards, never down.
Originally posted by TheBiob
Unless there's scrolling layer 2 close to the block
I really like the new graphics and the idea of a one screen pit puzzle though. Are you going to submit it as a whole hack eventually?
Progress is very slow, between finding time and getting inspired to create new stuff. I really want to make this hack (whatever it ends up being) as unique as possible, by either using concepts not seen in pit hacks (I've seen the occasional 1 screen room, but never a series, which I plan to have a puzzle being carried across several rooms) or taking previously seen concepts to the extreme, for example I plan to include
the worlds longest shelljump
as a level later on.
There is also the issue with graphics and asm stuff. I know absolutely nothing about importing stuff nor do I care to learn. In fact, the graphics you see in these 1 screen rooms are leftovers from ColonThree (cheers ShadowDragon121), so if I'm to continue making anything as pretty I'll be needing plenty of assistance adding stuff. But this is all far in the future, if/when new ideas come to me in a vision

Some more pictures, namely of the updated palettes. I was never fond of the palettes of the green and blue vertical rooms, The vibrant, monochrome colours offended the senses, so I altered them to fit in better with the cave feel.
Downwards level
Upwards level
And the entire
Boss level
which no one has gotten to yet.
imo if you're not forced to use frame advance for at least half the time, it's not hard enough. Sure, you could class it as pit since it'd be harder than Kaizo:hard, but if you wanna make a REAL pit hack, it's gotta be hard as balls. Pit hacks are meant to be frustratingly difficult even with frame advance.
Originally posted by Amaraticando

2) Rooms shouldn't be too small: I don't mean its size, but the time spent in each one. Many transitions per minute is not nice.

Couldn't agree more. Unless the room has a specific gimmick such as not camera scroll or abuses a specific trick and you've exhausted your creativity for that trick, there is little reason not to make a level longer. I've seen too many short pit hacks recently that feature several 10-15 second rooms, rather than a few longer ones.
What would be the technical requirements to distinguish pit and kaizo? Would kaizo require at most 25% slowdown or 50%? Whatever it is, I'm going to try and beat this hack played at whatever slowdown rate, and if I can beat it, then it's kaizo not pit.
Regardless of its difficulty class, your hack is looking pretty nice so far

Originally posted by lyla
Hello, I'm Lyla. I was working on just a small Pit Hack but was wondering if anyone would be interested in playing it. Here's the first room:
Any feedback is appreciated. Thanks : )
Looks really nice, interesting puzzle, I think I've solved it

Originally posted by lyla


Just a note: all of the dirt tiles act like gray cement blocks ; )
Good guess though!
:o
ok nvm I'll need to think about this more haha
Originally posted by LadiesMan217
if there's anything you think could be a bug or a way to break the level please let me know.
Could you make it so I can access lunar magic? That way I can check for breaks.
I'm not interested in playing Kaizo hacks I'm just offering to help look for breaks.
The 2 things you want to try and do:

1) Land on the shell just before it touches the munchers. This way, the shell will bounce, so you can hold jump for more frames and still be able to regrab the shell.

2) Land on the shell at the lowest point of the shell as possible. This will again allow you to hold jump for more frame and still regrab the shell, resulting in more air time.

Whenever both of these criteria are met, you will be able to do another shelljump, assuming the floor doesn't get any higher. On munchers, I'm not sure if it's strictly possible to do an infinite shelljump; as far as I know, if the floor is completely made out of munchers with no gaps, you can do at most 3. If there are gaps, Mario can potentially safely land on the shell lower, and do more than 3.
Thanks for the kind words guys

Originally posted by GbreezeSunset
Sometimes I get so nostalgic when I see pit hacks and wish I could still play them, but I have literally no skills whatsoever left to play them.
I know how you feel. As my life changes, so does my interest in hobbies, and I've found myself back on smw, making a new pit hack with a new creative outlook. Most of it isn't tested because my tasing skills now are even worse than the sub-par level they were at back in the day, so when I add something new I'm essentially thinking "Yeh that'll probably be possible" and hope that it is. I also have absolutely no experience with any sort of editing outside of lunar magic (i.e. adding custom things, or fixing graphical glitches) so if this new hack is going to be anywhere near the quality of ColonThree I'll have to hire someone or something

Progress! 8 complete rooms so far. Mostly tested and everything is assumed to be possible, however I'm not 100% sure overall. If you spot any cutoff (or more aesthetically pleasing ways to arrange the floor/muncher tiles), potential breaks, or things that look truly impossible, please do tell me so I can fix them

It's worth noting, this is meant to be a pit-difficulty puzzle level, so there may be things to trick you into thinking you have solved the puzzle... so, by all means, try and find the solution, and explain the route you would take if you'd like, good luck!
Here are the 8 rooms in order. Each room has fixed no vertical or horizontal scroll, and has you starting on the moon, and finishing by entering the door. Blue blocks are cement blocks (excluding the sloped ones, they're just regular slopes) and the yellow ones are munchers. You start room 1 small, and your goal is to finish room 8 caped, ready to fly as soon as you enter whatever room 9 is going to be.
Room 1: That's a regular turn block in the top left.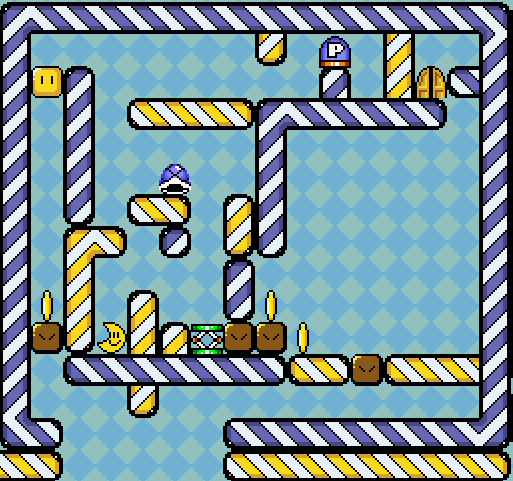 Room 2: That's a regular turn block above where you start.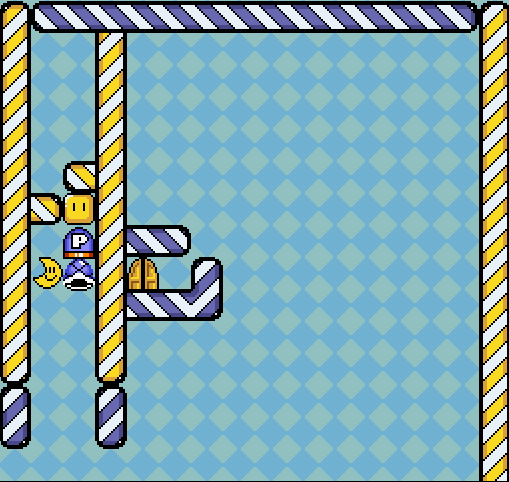 Room 3: The note block and all the ? blocks are blocks that appear when you hit them from below.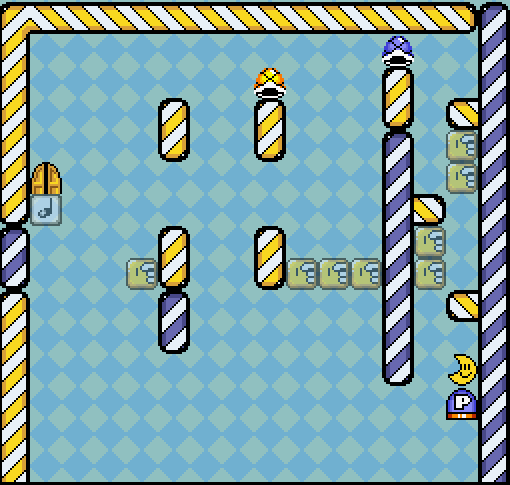 Room 4: That ? block appears when you hit it from below.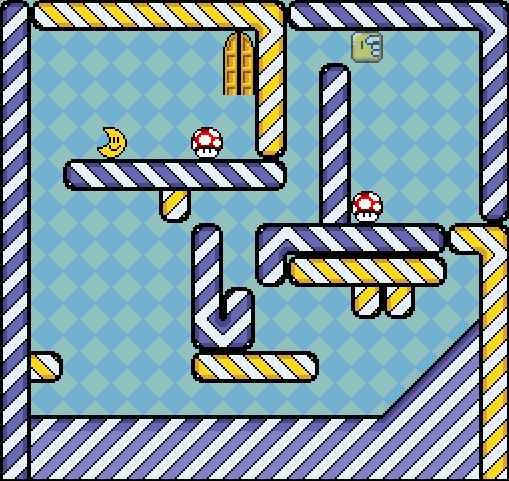 Room 5: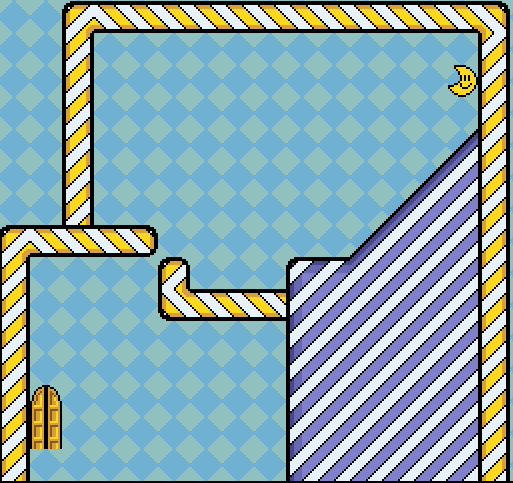 Room 6: Those note blocks appear when you hit them from below. In the top right, there is a regular turn block, and a ? block that gives you a mushroom if Mario is small, and a cape feather otherwise.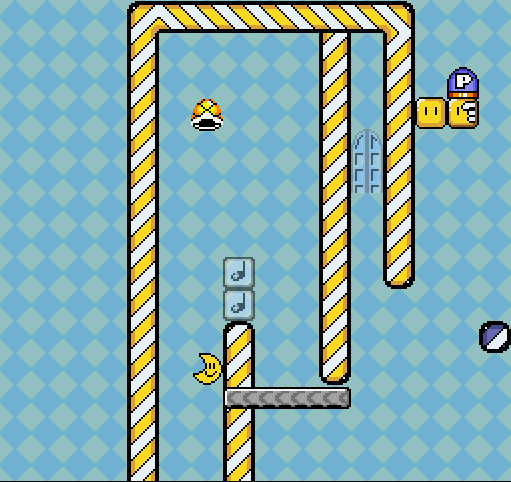 Room 7: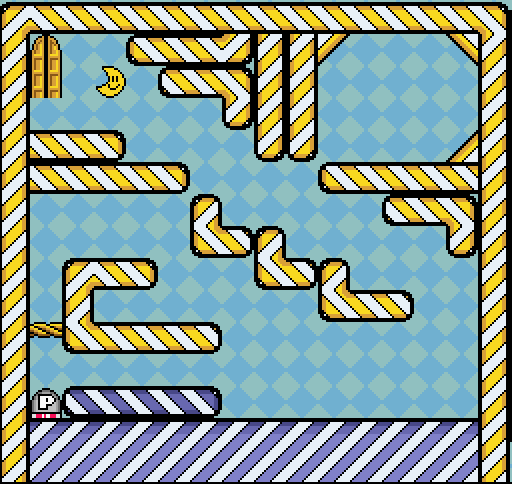 Room 8: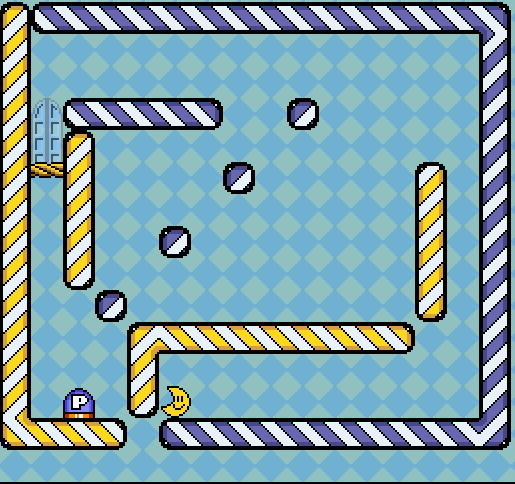 Originally posted by AbuseFreakHacker
That looks good, will you use custom music?
I haven't considered any for this level, the default switch palace music sounds good enough to me. Do you have any other suggestions I could listen to?
Room 9: Quite possibly the nastiest room yet. The red blocks are munchers that items can pass through. I couldn't find a way to force the intended solution without using those blocks, but if you can find a way please do tell me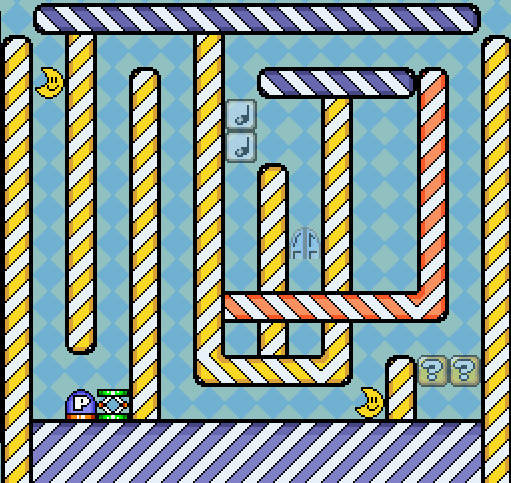 Room 10: Yoshi in the ? block.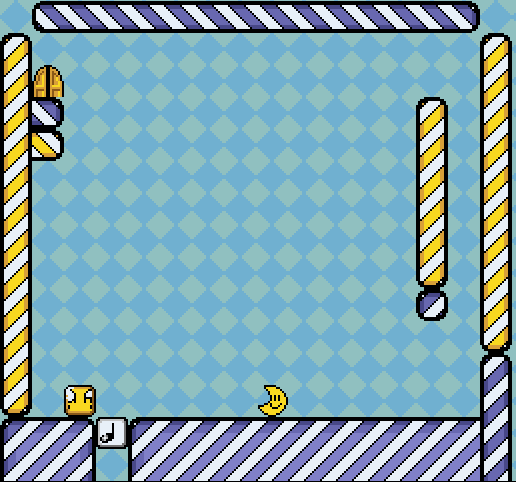 Originally posted by Amaraticando
How many rooms are you willing to make?
If I can think of a room concept that:
-fits into 1 square
-exhausts the gimmick enough so it wouldn't be much better off being used in a larger, non-1squ room
-has a puzzle element in the sense that it's not immediately obvious what the correct route is
I'll keep making things like this until I run out of ideas. Long term goal is to combine it with precise perfection and the worlds longest shelljump (which I plan to make longer) into a proper hack, with many other levels too.
Originally posted by MasterKastylinos222
I don't even know if 9th screen is possible. Other than that, I like the whole thing.
I'm glad you think that, that means I've succeeded

Remember you should start the room while flying.
Here are some more rooms, hopefully you can't bring yoshi with you through the door in room 12. In room 11, that's a regular turn block, and as usual you start where the moons are.
Room 11: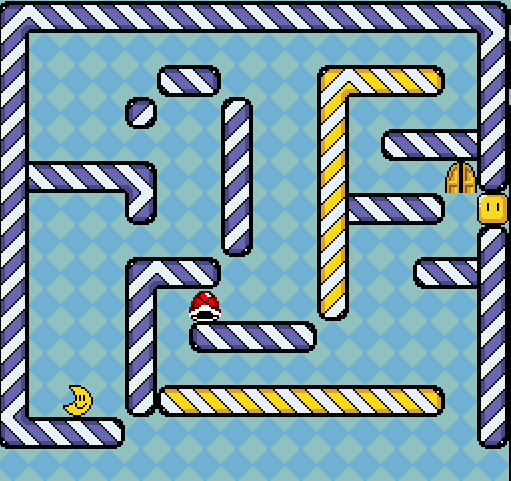 Room 12: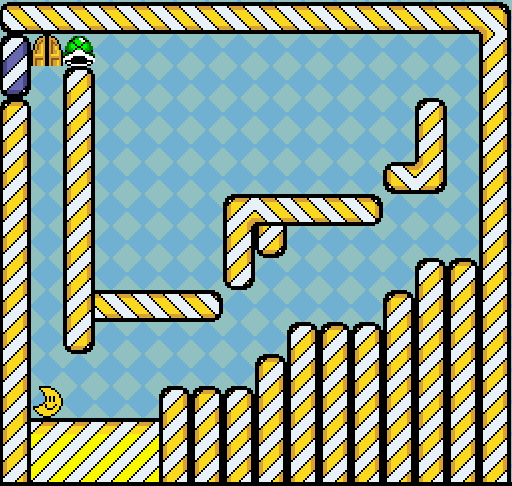 Room 13: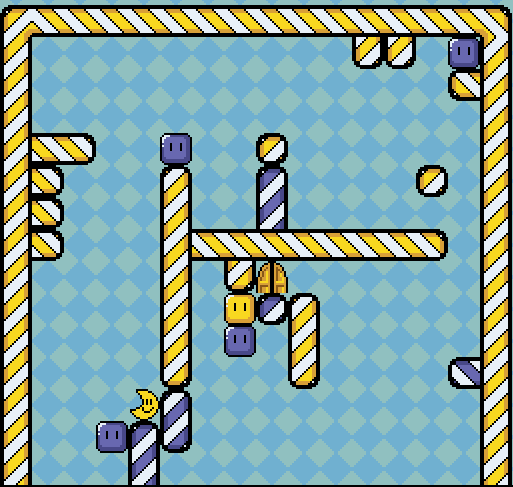 I'm starting to run out of ideas so I suspect there won't be many more rooms in this style. I've decided to not include any keys in these types of rooms; key levels are much better suited to levels with more space to roam around.
Well spotted, I've changed it to match the other yellow

Have another room: