Originally posted by shreerocks1324
Is it just me, or does this hack's level design look like it was remade directly from NSMB DS. I mean, look at the Underground level, where in the DS game, Mario starts by ground-pounding directly onto the three blocks.
Maybe it is me.
I am also making a New Super Mario World, exactly that. Mine has been under "Construction" since 2 months. Maybe we could team up together? I've already finished 2 worlds.
It isn't. Now as for why I'm not teaming up. From what I saw of your posts, it was a demake of New Super Mario Bros.
Wii
that you are working on, whereas this is a demake of New Super Mario Bros.
DS
. Because of this update edit
because some reason all of the sudden I can't double post

, it should be an okay slight bump.
Now, time for content!
This is a new overworld for World 1. The flatness is temporary, and will be fixed by the time of release 2 (at least in World 1's case). This is a TEST level, actually placeable in Lunar Magic. You can't enter it, and both directions lead you to Level 0
but
they are not enterable either
First, the BG mountains colors have been slightly changed, leading us to the second screenshot. As the mountains colors have been changed, the fade-out now works properly.
The first Tower in the game. This is the main level. It is a vertical level with Layer 2 blocks which can crush you. The only problem I have is that, I can't activate the "No Yoshi" entrance for this level. But I need to because the level has Dry Bones in it.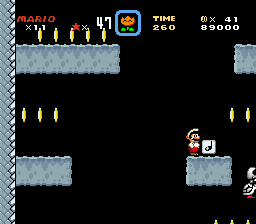 Another preview for the first Tower. This also shows a problem to the right. The enemies (Dry Bones) fall through Layer 2.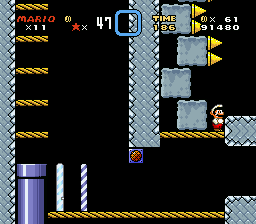 More of the same, but this time showing off the optional way to get the second/third Yoshi Coin. It's hard, but is possible.
No vertical cannons in Super Mario World = no cannons in this level.
EDIT: Outdated screenshot.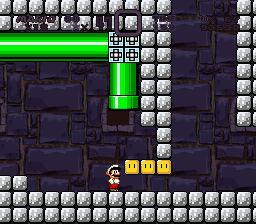 It's another secret area accessible from a sub area. You'll need the Cape Feather (which is replacing the blue shell) as..........

.....
these blocks are in the way, and if you find this area without a Cape Feather, the pipe will send you back to the main level (The one in the above screenshot)
This is the sub area where you can find the secret area and get the third/second Yoshi Coin.
The boss of this Tower is Morton, AKA Bowser Jr.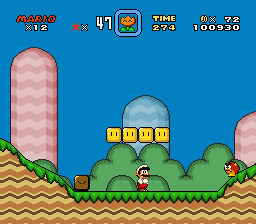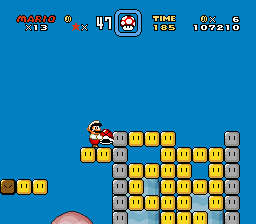 Various Level 4 previews.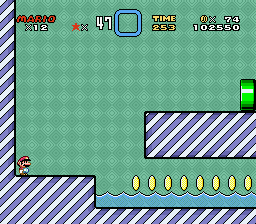 A small/mini Mario bonus room with the first Yoshi Coin. You can reach it as Super, Fire, or Cape Mario, but it's a small door.
The pipe
here, leads to this underground sub area, with the second Yoshi Coin.
And that is all I have to show you!
See you at release 0.5 (C3 Version)!
Also the walljump has been added.
--------------------
There used to be stuff in this footer, but it's all gone now.