Posts by Fornaxus
Here's the final version of the swamp version.
TCCR Level 16
I agree, that 4th level has a really nice pallete. Great job again with the mixture of chocolate and vanilla. Just 1 thing. That passage you showed in your screenshot, isn't that a bit too hard for the first world?
That looks really good! As promised in your description, the vanilla GFX are used in a very creative way. There's a little odd structure in the last screeshot, but that's something minor. Excellent Job!
Woa, Triple Post.
I've taken a break on this hack because I was stuck and worked on some team hack levels.
But I made 2 new levels a few days ago and I wanted to share them with you!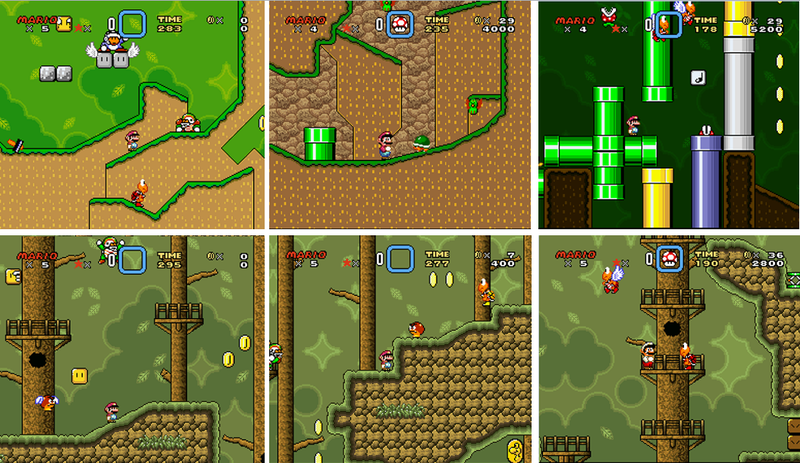 Upper Screenshots:
This level is called "Time Flies", from which I know it's a expression in Dutch, but not in English. Please comment if it's all-right and if not, what's a similar expression.
I just wanted to point out that you often forget time while hacking, so this level has 4 parts in which it gets darker every screen until it's night (upper-right-screenshot).
Lower Screenshots:
This is the last level for the castle. There are going to be 5 levels, but I may consider adding one to avoid too many levels with the same tileset (Lvl 1 to 3 in Forest).
@Rulep, BMG and xImseiken3
Thanks a bunch! I really appreciate you like my slope constructions ;D.
Anyways I thought the first castle (Mossy Castle) fits better in world two in difficulty and theme, so I started making the 1st castle yesterday: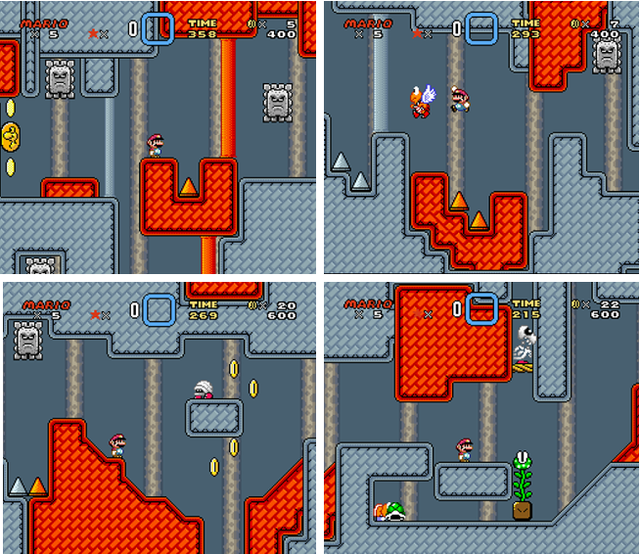 Please ignore the bad BG, The FG messes up the castle BG, so I'll think of a solution later.
4th Screenshot: This is a funny idea I came up with, the koopa hits the shell, the shell hits the block with a vine inside. As most of you know it goes trough a rope and reveals some dry bones or other enemies.
I'm sorry, I haven't been working a lot on my Snow/Ice GFX lately, I was busy with my own hack

.
So the Outdoor GFX is finished, although I didn't have a lot of changes since my last post.
I'll claim Sublevel: 3A
Secondary Exit: 3A
Map16Page: 3A
And ExGFX File: E0
Last Update Ice ExGFX
ExGFX_File v0.2
EDIT 1:
Here's my last update shown in a level. I know, a lot has to be improved, but we have a start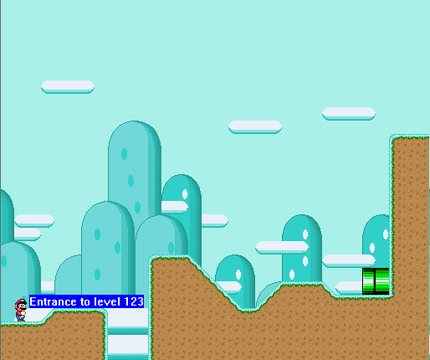 EDIT 2: I made some improvements for the tileset, mainly thicking the walking tiles, see for yourself: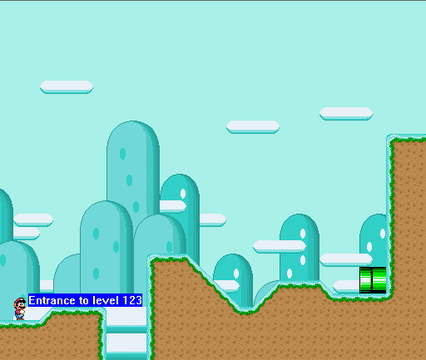 Originally posted by WeegeeBen
Not to be the bearer of bad news, but since no one's said it yet, it's obligatory for me to say that it's spelled "Senate", with an E. Unless, of course, that was intentional. If so, disregard this post.
You're absolutely right! I looked it up in a dictionary and it's with an extra E. Thanks so much!
@BM
M
(sorry ;D)
Thanks, WhiteYoshiEgg makes so much good tilesets

Ow, and I'm considering about releasing a 3_Level Demo. What do you think?
Hey, I hear this amzing custom music in a lot of good hacks, but I can't find it anymore on the site. Does anyone know where I can find it?
http://www.youtube.com/watch?v=VlmOhXoKmoQ
Nice work there Sockbat Replica! You seem to be working really fast and it also looks very good.
For the OW: It's not bad, not at all. But I suggest adding more decorations and height variety. The sea could always use some small islands

Originally posted by levelengine
Originally posted by Sinc-X
all original smw songs scare me




because they suck
I use custom music even in vanilla hacks since a few months ago, not because the original music is bad, because because I've heard the original music, I've heard it again and I've heard it some more.
The Switch Palace music doesn't scare me, unless if someone else's level leads to level 0 without warning.
Yea, I've heard this from many other friends and youtubers who also hack or Let's Play SMW(-Hacks). They've heard it too much. It doesn't suck at all, it's just that I've heard it countless times.
Those Graphics look really good! With the lights on Blackout Caves also look nice.
Originally posted by Daizo
You could perhaps add some enemy's and decoration in those screens to make things more challenging.
Sure, this is just a test for my custom ExGFX, which will be expanded soon with some bushes and other icy stuff.
Thanks all for the feedback!
I have three more things to tell/show you.
First: I have a co-worker! He is a very good friend and we're in the same year and school. He (Bug)Tested all my levels and picked up hacking again shortly after seeing my first levels. A few days ago he showed me a level he made and I thought: Hmm, I planned 75 levels in this hack, but I may not have enough time/inspiration/motivation to finish this. So I invited him to work with me on this hack and he happily agreed. Soon he sent me lots of ideas for levels and nice custom music he found and yesterday we worked on a scheme to plan te whole hack. On friday we both have a "Tussenuur" as we call it in dutch. It basically means you have a free period between your lessons.
We'll work and share ideas via chat and school and that free period.
His name on SMWCentral is (If I'm correct) Alfred the Stone. I hope he'll post here soon to introduce himself and his levels

.
Second: I haven't been working really hard on a new level. I just improved my older levels and drew some GFX, like a new key and keyhole:
Third: I totally forgot to show the last part of the 3rd swamp level. Here are some screenies!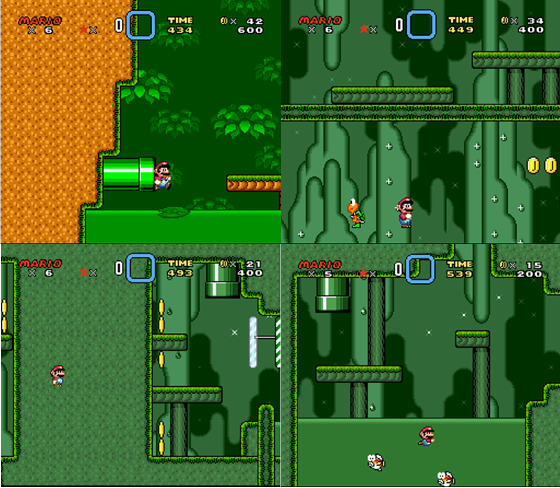 Hmm, I see now they're in the wrong order

Lower_Right:
I'll start here. After some outdoor screens this is the swamp cave.
Lower_Left:
In this level you can walk trough some ledges, some even reveal secret passages...
Upper_Right
This is a small kindof gimmick part. You can see the level above. But you have to play it in the down part and to make it more challenging, I added some sprites to the down part.
Upper_Left
And here you come out of the swamp cave.
Well... That's it. Hope you enjoyed!
Originally posted by Mr. Knoxville
The Screenshots are too Big, but this is not problem for me.
I'm Loving the Way of your hack, have a Good Level Desing, Style, Good Palette Choices, keep it up!

PS: Mario Emoticon Abuse.
I prefer making PrtScreens over capturing shots from ZSnes, so I can easily adjust the screen size, but thanks, I really appreciate you like it.
As for my new designer, I can't reach him via my chat app, so he doesn't know yet he has to answer

Ok, Have you watched the Lunar Magic tutorials of Chainfire9001? If not, I'd highly recommend doing that. If you start with LM, It's just like school; You just need someone who's better in this.
Here are his tuts:
Level Basics Part 1/3
(Mostly of this you know already, but it explains BMM's palette thingy and some other things you might not know)
Making an Overworld Part 1/7
(70 minutes you really need when making a OW for the first time)
More on Levels Part 1/2
(More Complicated then Basics, but still easy to understand)
ExGFX & SpritesTutorial Part 1/2
(Explains the program YYCHR and some sprite stuff)
Level Odds and Ends 1/1
(Very usefol tutorial about sprite limits and some hard sprites to handle correctly like Magikoopa)
Hope this helps and I hope to see some levels from you soon!
Nice Job on those two levels, they look amazing! But those spikes on the last 2 Screenshots from the castle lvl, their palettes look a bit odd, I personally don't like the white end, maybe make it light green or so?
@Evildonuts
That looks pretty funny, I like the slight up and down movement when walking with the mushroom, making it more realistic.
@Phazon
3 levels with 3 different styles. Is there are a specific theme for this world/hack or not?
@S.N.N
Nice level with absolutely great design, love it!
But I have also some things to show.
First: My self-drawn key and keyhole for my hack. "The Senate"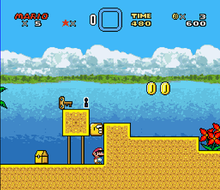 Second: A start of my new world 3 Ruins themed level. Going for ArdyLightfoot ExGFX. Unfortunately there isn't custom music for the music in that stage, I just love it.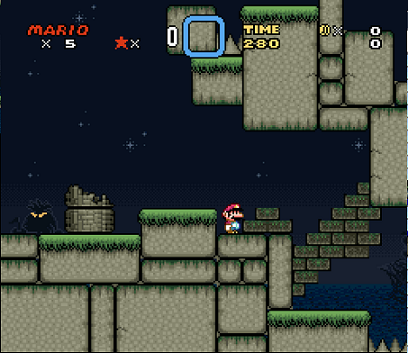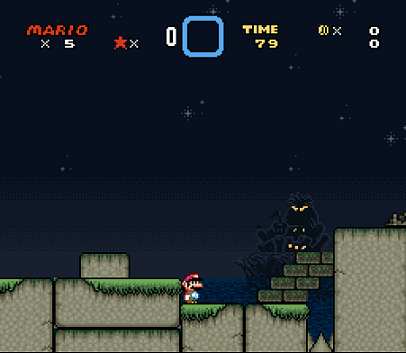 I just started this and I already see a cutoff in the second SS but... It's a start. The Palette will also be changed soon.
Comments?
Originally posted by Exor
Anyway, as for the key, it's a bit hard to tell from the screenshot. I'd recommend taking nicer, clearer screenshots, but from what I see, I don't really like the key. The shading of it doesn't really make sense to me. If I could offer advice for drawing graphics, it'd be to really look and analyze how some of the great graphics artists on this site design their graphics, and really try to emulate some of the techniques they use in doing that; I tried that and I think it helped me out a lot.
Anyway, here's a key I drew up for this:
You can analyze and observe that if you'd like, hopefully it could help a bit in terms of sprite shading, for keys at least.
Oh, and the keyhole looks fine I think.
Well, That key looks much better. But here's the key in YYCHR so you have a better look.

And In-Game Here

Originally posted by Egadd
Wow, this is looking great guys! I would totally support putting out a demo sometime soon.

Also, Time Flies is a very common saying in the English language, so keep it in!
Ah, thanks someone finally pointed that out and yea, We hope to release a demo soon with a few levels.
@Alfred the Stone
Hey, finally you introduced yourself XD.
EDIT:
New palet for my World 3 Ruins Level.
Linky!
Old Palet:
Linky 2!
Which Palette is better in your opninion?
100st Post!
@xImseiken3
Co-Worker AtS (Alfred the Stone) also thought that's the better one.
I'm on a quarter of the World 3 Ruins level. AtS just started the first world 3 level. I'm definitly more motivated now I'm working together with my co.
Anyways Screenies of Night Ruins
!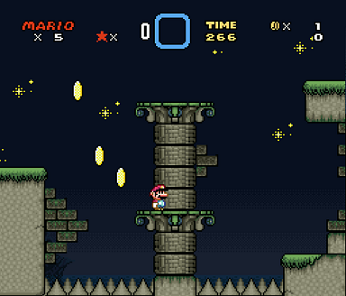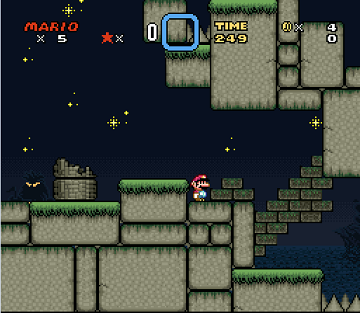 And a Sublevel I made:
Sublevel 3A