Originally posted by FuSoYa
[...]
I don't have a Win10 system to check on it myself, but if you can get a few more people with Win10 to confirm it's an issue I'll look into loading it up in a VM to see what's up.
Win10 user here, can confirm this happens only with the top edge. I might have found the cause: DPI settings. With the regular size, it doesn't happen but with the 125% (120 DPI) setting in the Display options this happens: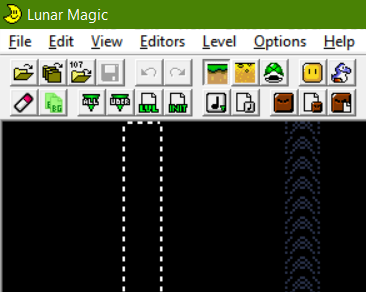 (The cursor is at the top edge of the selection; 120DPI mode; I started the selection at the topmost tile)
I tried 150% (144 DPI) and 175% (168 DPI) scaling, too. There it works like it supposed to.
To reproduce this bug in Windows 10:
Open the "Settings"-panel, go to "System" then "Display" change the value of the slider to 125%. Then open LM and a ROM and try to drag the selection thing out of the level. The selection should spaz out.
I also tested it with WinXP in 120 DPI mode, which should be the same as 125% in Win10. There it works properly. I couldn't try it with Windows 7 (I don't have it) but I guess it might spaz out there, too, if you set the DPI to a higher value.