Posts by Mediocre Espurr
| | |
| --- | --- |
| Pages: 1 2 | |
Hi, I'm Mediocre Espurr. I am 17 years old and am currently in school learning Networking, Computer Repair, and eventually programming.
I had an account on this site a little over 5 years ago, but it was pretty embarrassing. I forgot all the information for that account anyway (and I'd rather not remember). I remembered this website after finding a bunch of my awful SMW hacks on an old flash drive. I decided to see if I still remembered anything about SMW hacking, rejoin this website, and see what has changed on here since I was last on.
Oh, and maybe attempt at another hack.
By the way, I was messing around with Lunar Magic to see what I could remember about basic editing and level design. The level is still a bit barren, but do you think I've still got it??
Are pictures this size fine? I'm having trouble finding a rules page on pictures if one exists.
--------------------
I'll make a layout eventually...
I keep forgetting I made an account on here lol.
Every once and awhile, I decide to mess around with Lunar Magic. It's not something I'm very good at, but I try.
Anyway, this is part of a level I whipped up over the past few days to test everything out.
I've never tried doing a vertical level before so it's probably awful. You gotta start somewhere though.
Also I'm horrible at enemy placement...
--------------------
I'll make a layout eventually...
Originally posted by Medic
You should try and turn the diagonal dirt decorations into more uniform vertical landmasses, though.
Also, try not to put two edges right next to each other, like above the shellless koopa. I think it would look better if you turned those parts into one piece of dirt with the extrusions, rather than three separate dirt pillars. Also, avoid 1 tile thick ground.
That's a good idea.
Originally posted by Medic
Maybe add some more ? blocks and turn blocks here and there.
As for enemy placement: you are only using the generic sprites, try experimenting with different spritesets.
Like I said, enemy placement is not something I'm good with. Lol
Originally posted by Medic
Lastly, unless this is a purely vanilla hack, draw an ending to your vines. It looks rather bad how they just abruptly end right now.
As of now, it's purely vanilla. (at least until I learn more about Lunar Magic and ROM hacking in general) Maybe I'll add vanilla looking vine ends in a bit.
Originally posted by Medic
Also this is all opinions and I dont mean to sound commanding just trying to help and give some suggestions ok????
Opinions and suggestions are why I posted this XD
--------------------
I'll make a layout eventually...
Originally posted by underway
Just in case you're interested: you can find an 8x8 tile with a single pixel in the sprite gfx for the dino rhino, which works great for vine ends.
Thanks for the tip! I knew a spot existed, but wasn't sure where.
--------------------
I'll make a layout eventually...
Have you ever played a game and thought "Meh, it was OK," or "Ech, that was awful," only to find out that the game was universally acclaimed? Or maybe you heard a lot of people hyping up a game and decided to try it out, only to be disappointed?

For me, it was Cave Story. While the gameplay itself was great and the music was superb, I was strongly disappointed by the story. I found the characters fairly bland and the game wasn't long enough for me to form any attachment to them. It kind of sucks considering the story was the most hyped part of the game from what I had heard. I still really enjoyed the game, but couldn't help feeling let down.

--------------------
I'll make a layout eventually...
I have a few more to add.

Super Mario 64: Clunky controls, awful, camera, mostly forgettable music, and some maps almost look unfinished. I'll give it credit for being the first of it's kind, but I just can't play it anymore.

Final Fantasy VI: The game, overall, felt very dull. I didn't find many characters to be all that interesting and the battles felt oddly slow. That said, Kefka was probably one of the best villains in the series. It's just a shame that one of the most colorful characters was put into such a bland world.

Mario Kart 64: How do people still call this the best Mario Kart?

Megaman: I found the game to be very cheap at times and not being to shoot upward added artificial difficulty.

Morrowind: While I enjoyed the RPG elements more in this than I did in Skyrim, everything else in the game made me want to never touch it again.

Sonic Adventure 1/2: I only enjoyed the Sonic, and Tails stages while playing through story mode. The Chao Garden is what kept me coming back years later.

A Link to The Past: Controls more clunky than OoT's and a fairly forgettable Story and Soundtrack.

--------------------
I'll make a layout eventually...
I was waiting to see what game Melee fans booed next.

--------------------
I'll make a layout eventually...
Who's the dog on the right? Is he from Happy Home or is he a new character?

Also, I'm really hoping the direct isn't just about Amiibo support. I really want to see some new content added to the game, whether it be new clothes and furniture, or some new daily activities you can partake in.

--------------------
I'll make a layout eventually...
I foumd that almost every area in Xenoblade Chronicles was amazing, but if I had to narrow it down, I would pick Satoral Marsh (night) or Mechonis Field. The visuals and music really made these areas stand out.

--------------------
I'll make a layout eventually...
I feel like I only play indie games anymore lol.
Doesn't help the game market is over-saturated with warfare shooters and unfinished games anymore
Here are a few that I can easily recall:
Terraria
Undertale
Minecraft
OneShot
Ark: Survival Evolved
Ori and the Blind Forest
Stardew Valley
Death Road to Canada
Shovel Knight
The Binding of Issac: Rebirth
Cave Story
--------------------
I'll make a layout eventually...
Ōkami
I never really considered Ōkamiden a true sequel to the game. We'll probably just get another port, but its nice to dream.
Ori and the Blind Forest
One of the best platformers I've ever played. It was challenging yet never felt unfair. Would love to see a sequel with new abilities and improved combat.

--------------------
I'll make a layout eventually...
August 8, 1998

--------------------
I'll make a layout eventually...
It was either Super Mario Bros. 3 or Super Mario World. When I was little, I wasn't allowed to use the brand new Ps2 or even the PS1, since I always deleted my dad's saves. I was stuck with the NES, SNES, and the Sega Genesis for the longest time.
The earliest memory I had was playing SMB3 when I was 4 years old. It was Taco Tuesday and I accidently knocked the console down when I ran to get food. I had made it to world 3 for the first time in my life and lost the progress just like that.
I can remember this vividly yet can't remember my Japanese Homework for the life of me...
--------------------
I'll make a layout eventually...
Originally posted by Spy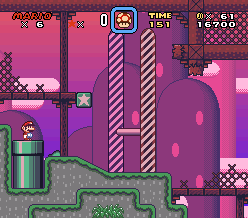 I actually really like the unnatural look of the gradient in this image. I can't really describe why though.
Maybe it would work with a surreal kind of level.
Not sure if that's the right word to describe it...
I doubt that's what you were going for though lol.
--------------------
I'll make a layout eventually...
I'm really enjoying the Switch so far, but I'm having a strange issue. The device seems to crash constantly in handheld mode giving me an error screen and telling me to restart the console requiring. It happens no matter what I'm doing; Playing Zelda, making a mii, browsing the eshop. Even stranger is that it stops if I plug in headphones. I'm not sure if its a defective console or if it's something that can be fixed in a patch. Is anyone else experiencing this?

--------------------
I'll make a layout eventually...
So my Switch is definitely defective... Its a strange issue too. The system will crash to an error screen if the sound gets too loud. I tried it at lower volumes and it worked fine. It sucks because save data isn't transferable and I'm already 10 hours into Breath of the Wild...

Also, I managed to open Facebook through the Switch and it's suprisingly functional. I was even able to open videos.

--------------------
I'll make a layout eventually...
It's been a while since I was able to sit down and play through an RPG entirely. Between work and college, I barely have time to sleep anymore. The most recent RPG's I've played through are Xenoblade, Xenoblade Chronicles, Xenoblade X, and a second playthrough of Mother 3.

Xenoblade Chronicles and Mother 3 are two of my favorite games of all time. Meanwhile, between the mixed soundtrack, bad dubbing, dull story, and empty world, Xenoblade X was a huge disapointment for me.

I also managed to find a copy of Chrono Trigger for a decent price. Sadly, the AC adapter slot on my SNES apparently broke after my previous use of the thing and I don't currently have the time or tools needed to fix it. Someday, I'll finally be able to play through the game.

--------------------
I'll make a layout eventually...
I remember being really annoyed that I was able to beat the games story mode hours after getting the game. Especially since the first 2 games took a couple days to finish. I also felt as though the new characters (especially Swoop) were under used in the game's story.

Also, I remember having an issue with climbing on walls in the game. Sackboy would randomly jolt in whatever direction I was going, which caused me to fall to my death countless times. Might have just been in the Ps4 version, but it still hadn't been fixed the last time I played it a year ago.

Not sure if we're ever going to get an LBP4, but they should really look into polishing the next game because 3's bugginess really damaged the game's playerbase.

--------------------
I'll make a layout eventually...
Been messing with Lunar Magic for the first time in a long while. Outside of small tests, the last time I really used Lunar Magic to make full levels was 2011. I'm pretty sure I'm awful with it now (Although I was probably awful with it then as well), but oh well.
Split the image in half because it was really wide
The beginning looks a little empty, but I'm not sure what I can squeeze in there to make it look better. Maybe another bottomless pit would help spice it up.
--------------------
I'll make a layout eventually...
Originally posted by user23507
I think you can add some pipe with a piranha jumping out of it or a chargin' chuck. Other than that, the level aesthetically looks quite great. I'm assuming the palette of the FG is made by you?
Not sure I can fit a chargin chuck in there, but I'll try squeezing in another pirahna. I did make the pallete. Not sure if I got the BG pallete right, but I think the FG looks good.
Originally posted by Roberto zampari
@Mediocre Espurr: Nice level...
I suggest to add more decorations in the level.
By the way, where came the FG?
I'll try to add more detail if I can. Also, the FG is "Just Another Grassland" by Gamma V
--------------------
I'll make a layout eventually...
| | |
| --- | --- |
| Pages: 1 2 | |