Posts by Mippish
Does anyone still have Yoshis Fan's Sprite Set list? Because the one at the first post is broken, and Blumiere's list is for Eggvine (I use Golden Egg). (I believe Yoshis Fan's list is for Golden Egg, dunno.)
Three screenshots of my 1-2 (A Friendly Blob) for my 'I hope I can complete this' hack. (I used
this patch
. That's why you see red Yoshi in x-2.)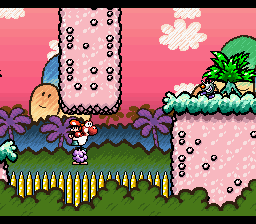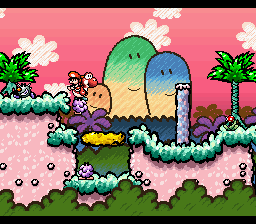 There's a reason why I put another Muddy Buddy there. Can you guess?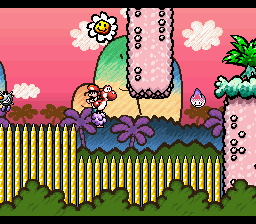 Uhh... another screen.
Yeah yeah I will put some coins in. Also is it okay to have blue tree trunks on those palm trees? (The Mario series never have realistic environment anyways.) Also I am working on other levels in World 1, I'm just editing the ones that seem easier due to the level names.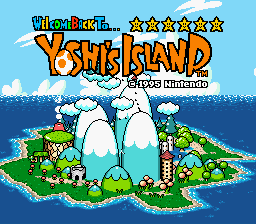 holy shit look who came up with a hack name
(year and author will be edited later)
Hmm, not a bad looking level. I like it.
Two things, though:
1)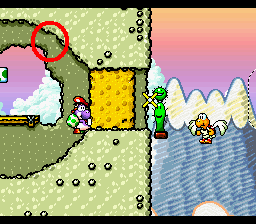 2) The part with the 3 Cactus Jacks, you could use the "Ground Edge Planer" on the edge so the grass won't be behind the cement blocks.
Originally posted by Conal

An updated report can answer those questions...

HUGE IMAGE

Zombies?! How does that work? Yeah I know it's fake and all, but...
Lookie guys, I have done my first port!
Mickey Mania (SNES) - Unused Level Theme
Thanks for you feedback, Hadron!
Originally posted by Hadron
Next time, you should rather upload an .spc file instead of an .sp2 file
Eh, I had two other SPC files that were crappy ports from The Legend of the Mystical Ninja (Oedo Town and Yamato Town, to be specific) (and this one is my REAL first port), and I was too lazy to delete them and rip this one again.

Originally posted by Hadron
I hear some dissonance in channels #2 and #3 though,
Channel #4 is actually making dissonance to #2 and #3 (if you're talking about somewhere about 16 seconds). I'm trying to figure out a way to fix that. They're all on-key, though (I checked).
Nope, that's not the reason, but I fixed it.
Originally posted by Hadron
and why doesn't it loop?
It does loop.
Originally posted by Hadron
Also, maybe you should lower the volume a bit.
My ears are not too well when it comes to volume (I DO get used to loud noises

), but I'll try to lower it in a way that suits you.
No wonder why. My volume in SNES SPC700 Player was set all the way to 25% (I have some very strong-ass headsets, that's why).
Stupid me.
Here's a WIP rip I've started doing yesterday: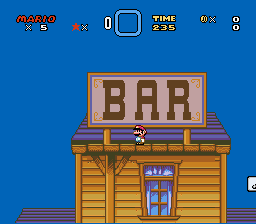 Pink Panther in Pink Goes to Hollywood (Genesis) - Pink Ranger
As you can see, I only have the outside part done (I think, if not then almost). I have to do the underground part, the background, the inside part, all that I have to do. Expect more.
Don't you love ripping more than one ExGFX at the same time? (I actually do, because I love ripping graphics!)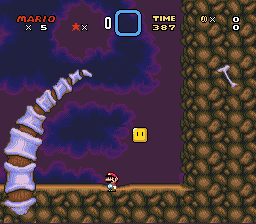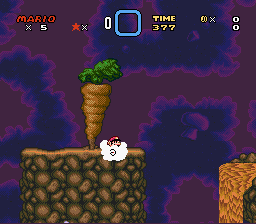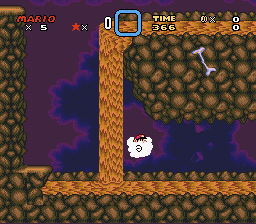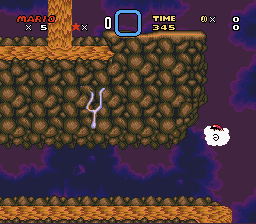 Pink Panther in Pink Goes to Hollywood (Genesis) - Stuffing Battle
Yeah I know it looks strange to see Mario in the FG a littie bit, but there is no way to work around that. Also you may see little cutoffs in these screens, but that's how the game worked them out.
I'm having a problem with my bonus room for 1-7:
As you can see, the screen scrolls down a little bit in this part of the room, but I haven't put anything objects under the ground, nor anything extending under the ground:
(Selected to show proof that no invisible tile exists.)
What could be the problem here?
(Layer 2 and 3 disabled to see what I made. Won't be in my hack of course.)
I was bored lol
I fixed my problem:
There WAS something extending to screen 60, it was just invisible (the kind of invisible tile that you can't select normally in the editor):
Yellow
- Visible Tiles
Purple
- Invisible Tiles
Green
- Invisible Tiles that caused the problem in the first place
@Usetheforce: Actually my entrance is at the top-left, so that couldn't cause the problem in the first place.
Originally posted by Grav
Originally posted by Mippish
This uh.. sounds like it's all over the place. I can't tell what is what and I don't really like the choice of instruments either.
You probably haven't heard the original song or the game before.

I will do 6-6. It will get me time to actually return to this great site, and this project seems interesting.

Welp, finally got the first room done.
The snowball sits on those blocks, but you have to find a switch first.
Now how do you get that flower?
The yellow coin down there tells you how.
And that leads to the next area.
I might add a secret on the last screen, and possibly more coins, but this is what I have so far.
Lookie,
I'm done
.
And here are the screenies for the rest of the level:
The normal coins has been added after I took these screenies.
When you guys review, I'd like to see some screenshots so I can exactly know where the flaws are (I'm probably going to have a lot of flaws, as I am NOT a great level designer of any game.

)
Also, I can't figure out how to get the coordinates for the second mid-ring in the level. S.N.N., if you're reading this, I would like the coordinates to be at 6E, 37 please.
Originally posted by S.N.N.
IMAGE
I found this part a bit unfair. Naturally, the player is going to run along with the rock over the dirt, but this results in them falling to their death. Even as a veteran YI player/hacker, I forgot about this detail until I died. I think a good solution to "train" the player would be to put the Chomp Rock on a dirt ledge that you have to roll it off of so that they can see how the mechanics actually work.
I changed it to this. Would this work?
Also, I can't figure out how to fix the first issue you pointed. The arrow cloud is glitched, so that's why I hid it. The directional arrows are also glitched.
All other issues you pointed out are fixed.
Originally posted by S.N.N.
As for the arrow cloud issue .. what if you put it off-screen upwards instead of downwards, and then put the coin at the top of the screen? That's honestly the best solution I can think of.
Why didn't I think of that before? XP Thanks for your help!
Also,
woohoo for the improved version
.
I had fun participating in this collab. I'll think about doing another level when it's avaliable, but for now, I think I'm done with this collab.
EDIT: I almost forgot. I suck at drawing level icons, so I am hiring someone to do it for me. PM me for the details.