Posts by lukacspatrick
The graphics are glitched and the rom crashes if I use my .srm, is there a working one?
Oh well I can use cheat codes.
Cutoff pipes in Yoshi's Island 3
Yoshi's Island 4 not inserted
Donut Plains 1 not inserted
Reply to post below: ok.
(again, sorry I don't mean to be rude)
Link to updated sampler
--------------------
b
Wait, you included a .sfc rom!
Otherwise looks good, but there is a Yoshi coin glitch in the goal area. (You placed it on a screen boundary)
edit: I'll claim Red Switch Palace Forest Fortress.Nevermind.

--------------------
b
I have two questions:
1. How do I apply a freespace patch?
2. How do I mix tilesets?
Yeah I forgot to mention that I don't like Soda Lake or Lemmy's Castle either, and YI1 is really boring now indeed. Valley of Bowser 3 and 4 is actually good though.

--------------------
b
I tested the other levels, here are some errors:
Some slowdown at the end of Donut Plains 1.
Donut Plains 3: One end of the midpoint is visible, the other isn't. Not sure if this is a problem.
I will edit this post if I find more.

--------------------
b
I like this hack! I always really liked tutorial levels, I don't know why. Your overworld is definitely better than what I make, even though I never show them because mine is super plain. It is awesome that you added the football patch! Overall, good hack!

--------------------
b
(restricted)
It's exactly what TheJullasicFox and Epic_Manky said, you have a ton of hacks going on right now and changing Toad's color doesn't make him original.
Also, this is funny:
Originally posted by Matheus2653
This is not Bomberman, this is my ultimate original character, Matheus2653 the Hedgehog! Please do not steal!
--------------------
b
+1 to A Strange Mission,
+1 to Mushroom Kingdom - Under Crimson Skies,
+1 to Mario's Keytastrophe Rebirth Edition.

--------------------
b
I'm usually going to sleep at midnight, school will start a month later here. (I'm watching TV before I go to sleep.)
I miss smw haxing mast0r too, now that he's banned he can't show us his awesome hacks

--------------------
b
I'll claim level 105, I'd like to make it a tutorial level. (I know, it's not like anyone here doesn't know how to play SMW but I'm doing it anyway.)

--------------------
b
Here is level 105.
It didn't really turn out as a tutorial level, did it?
Contains 5 Yoshi coins + 1 moon + 1 Easter egg + 1 glitch (optional).
Solution for moon:
There's an invisible block column right at the start of the level, near the left wall. Get max speed, reveal the first invisible block. From here, jump to the mushroom/flower block with max speed. Jump to the invisible block you revealed earlier, then start revealing the other invisible blocks, and you should see the moon on a horizontal skinny pipe!
As usual, if you find something too hard, PM me and I'll edit this post with the update. After all, it's the first level, I want it easy.
--------------------
b
Is there a way to edit the player's graphics in a sheet like this:
Originally posted by tmauri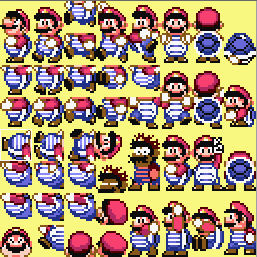 If there is, how do I do it?
tl;dr: how do I edit graphics in a way that the colors aren't off?
I'll claim Forest of Illusion 4. Is glitch abuse allowed? I'll use coins to guide the player (so that if (s)he doesn't know about the glitch the level won't be any harder).

--------------------
b
If you send a PM and then reply to it without the recipient responding, you send the PM to yourself. Not sure if this is a bug.

--------------------
b
Where do I insert AllGFX.bin and PlayerGFX.bin from the 32x32 Character Tilemap Kit patch? Do I have to use joined GFX files?

--------------------
b
Don't be unnecessarily rude, calm down.
They make better hacks because they're more experienced at hacking. Look up the Tutorials section, most things explaining aspects of SMW hacking are there. Or if you didn't find the answer to your question, ask either in the Tutorials section or make a real thread in this section. And not everyone hates you. Of the 1,497 1,498 active users on this site, there are people who don't hate you. And please don't swear excessively.

--------------------
b
Level 11F is finally done!
It's a life farming level and it's loaded with secrets. Uses sub area 1DF. 2 exits obviously, no Yoshi coins, 1 moon, and 1 intentional glitch for the secret exit
but you can fly over it with a cape.
There's an optional "puzzle" at the end, the reward is
If you want the solution, PM me. And also PM me if there's a bug outside of the intentional glitch.
--------------------
b
If everyone needs to speak on this one, I'd say that create one level for the SMW version and another for the GBA version without the patch and without the pipes.

--------------------
b
Hello, welcome to my hack thread! This is my first serious hack (but
not
my first hack, don't complain). I have thought about making a hack that is very hard, but not kaizo. So here it is. I plan this hack to have around 30 exits and 3 worlds + special world. Secret levels will be funny or interesting stuff like my first real SMW level. I only have 1 level done.
Yoshi graphics are by Construct101.
Here are some screenshots of the level.
No overworld yet - I'm not experienced at overworld editing.
I don't have a demo yet because I only have one level. But I hope you like the screenshots!
Also, I disabled my layout here because it glitched.
11/4/2017 EDIT: Fixed image wrap
11/5/2017 EDIT: I counted the completed levels wrong, I fixed it now