Posts by Chelf
Level 22...if its an ice level. I cant be sure, because of the colors. If I can't do that, I'd like 105. Probably taken, but still.

Give me a Grassland level. Vanilla Ice killed my motivation for an Ice stage. Seriously. I don't care what it is, as long as its not a castle. D:
ExGFX 9F. I'll need another slot for the FG, but I'll post that when I get to that point.

9E for the FG.
I was messing around, playing with the levels, when I noticed that 2-4...when you beat Reznor, the game gets stuck in an endless loop. I was just messing around with the levels, to see the OW first hand, rather than in Lunar Magic.
Congrats, ST. I miss Chester though. =P

Welcome back, FP as well. I wish the both of you luck when you have to deal with SNN's demands suggestions. Remember, ST. Don't take now for an answer. When you ask for something, you get it. That is SNN's policy. I think. But...I'm ranting.
It's probably just me, but I don't like the BG here.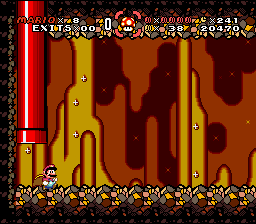 It really throws off the caves (At least in my eyes). Otherwise, it looks quite nice.

We totally need FirePhoenix eats Ice Cream or something. A fork to the story or something.
Psh. It's hosted on a computer. Think about IT! If the wall goes up in flame, so does SMWCentral. Otherwise, nice cabinet. Screw the computer. The cabinet is the real reason you took that picture. Kieran loves collecting wood furniture.
Try the hacks section, or the featured hacks section. The featured hacks are usually the best of the best.
Originally posted by Orin
A lot of the dead spells seem to be around the times that we had a slow run on the server, it seems. I guess most people found it more difficult, and even frustrating to post.

...or they were out doing something with their livHAHAHA.
What is this life you speak of? I have never heard of such a thing.
In all seriousness, this chart...it's awesome. I love watching it go up and down.
Also, why is YOUR CURRENT HP higher than SNN's? That right there, should be a signature rule violation. SNN's HP is 9 to the nth power.

Also...nice signature, I suppose. But still. Me. So is the person who reads that signature supposed to think that's them? =P
The only users I recognize are FirePhoenix and SNN. Both who are members on the Raocow forums. Although that was after I joined SMWC. I noticed SNN and FP on Raocow.
(restricted)
Originally posted by iamnotjason
I think SNN said that I might get banned because of bran, but I'm not sure that is what she meant.
...SNN is a guy. I can't help it if he suffers from identity crisis.
Nope. Never banned. Don't plan to be, either.
Originally posted by St. Paul Newspaper
A St. Charles man was upset that a visiting cat was eating birds in his yard and ruining his garden. So he decided to take the cat out with a bow and arrow.

The cat belonged to a young girl and now the cat killer, Ajalon Thomas Corcoran, 24, will spend 21 days in jail. He will also be on probation for four years for his animal mistreatment.

His defense attorney claims he didn't know the cat was a pet and the statute requires proof that he knew the cat was domesticated before he can be guilty.

The family who lost their cat will receive $193 in restitution for their loss.
http://blogs.citypages.com/blotter/2009/08/man_kills_girls.php
I sort of laughed at this. Yup. Blast those cats and their destruction of gardens everywhere. And $193...seriously. I've never seen so much money in one place. [/sarcasm]
But in all seriousness, that was low for the man. Call animal control, dude. Not taking a bow and arrow and going 12th century on the cat.
Have you tried adding the game controller via the control panel? Via game controllers?
I'm pretty sure the levels are already stored in the ROMs. Some people from Aclm. are working on this. They already have a .sav file with 99.5% of the US and Japanese levels availble for play. That last .5% is SMB 1-1. I don't think it will work, but all the other ones do.

If you mean the Lunar Magic tool submission, both me and Alcaro submitted it at the EXACT same time.
Originally posted by raocow
Aww man, and I don't know if I want to change it since it "flows" so well.
Guess I gotta face te facts

I am a kaizo hacker

*Pats Raocow*. It's okay. I'll still play your hack, and you can always create a non-Kaizo one as well.
Originally posted by News Article
keeping more than 4,600 scorpions as pets to atone for the years he spent cooking the arachnids to sell as snacks.

Scorpions, insects and worms are commonly eaten in Thailand, especially in the northern regions.

But after years of serving up scorpions, Suang Puangsri, a practicing Buddhist, felt it was time to befriend them instead.

"Although I was happy to have money, I felt suffering deep inside as they were being harmed by me," he told Reuters. "I felt scared that I was committing a sin."

The 38-year-old has given up the bottom floor of his two-storey home to the scorpions, who scuttle about a 6 meter by 5 meter (19 ft by 16 ft) enclosure decorated with branches and stone so that very little light and heat come in.

Suang buys up to one kg of live cicadas and other inspects daily to feed his pets, who have stung him so many times that he says he is immune to their venom.

He also spends at least an hour every day meditating inside the enclosure, often placing scorpions in his mouth.

Suang's pets have attracted a few tourists to his sleepy town of Fark Ta in the northern province of Uttaradit, and he now makes a living by selling figurines and stone carvings of ants, frogs, turtles and Buddhas.

Although the $570 he earns a month is a far cry from the $860 he made selling cooked scorpions, he and his family are content.

"I feel good about what is he doing. I didn't like it when he made the scorpions suffer. I'm not scared of those scorpions, but I don't dare touch them," said Suang's wife, Lampoon Pimtoom.

Suang is so determined to atone for his past sins that he even buys scorpions from other people who want to sell them to restaurants. When the arachnids become too many, he and his son release a few hundred back into the forest.

Suang's fixation with scorpions is unusual, but not totally unheard of in Thailand.

Earlier this year a Thai woman went into the record books for spending 33 days and nights with 5,000 live scorpions. She also held a 7-inch live scorpion in her mouth for 2 minutes and 3 seconds.
Yeah...I honestly have no comment on this, except...WTF?
Seriously. Atoning for your sins is one thing, but being stung is another. o.o
Source:
http://www.theprovince.com/life/Repentant+Thai+keeps+scorpions+pets/1975682/story.html
Originally posted by Supertails

Text Here
I know how it feels. Like, I've been shot down so many times, it doesn't affect me anymore, and good job on your calculus quiz score. I HATE math with a passion, so...yeah.