Posts by SuperLucarioSquig
General discussion thread about Super Paper Mario revived. Discuss what you want about the game: Help, items, pit of 100 trials, squigs, whatever...
Looks great, I see only one flaw in screenshot 2 with the red outlines.
Looks nice and fun. I see no problems except for minor overworld details (overworld looks excelent.) What do the green turn blocks do?
Is the 3-up moon supposed to replace the spotlight? I think it looks cool.
SUPER TETRIS WORLD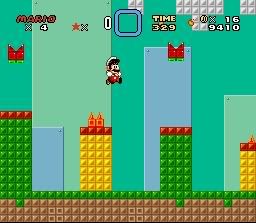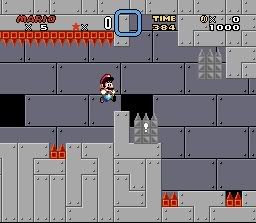 Didnt expect you all to like it so much!
Yeah, Super Tetris World, sorry but I'll be sticking with the original SMW music. And IMO the sprites should be easy enough to tell what they are by the way they move. I will always make a sprite that hurts you when you jump on it have spikes so you can tell.
Besides I already edited nearly every sprite. It would be a pain to change them back. Im sure it'll be fine.
The void looks cool. I loved chapter 6-2
http://i177.photobucket.com/albums/w233/SuperMarioHacker93/desktop.png
Way too easy! Make the level hilly, add some other sprites like banzai bills and rex and add a few ditches.
Screenshots look empty. Needs more enemies and non linear land. Mirage Road needs a better land pallete.

Story, custom music/blocks, EXGFX, and length of the hack is great. The water level rising level seems cool but looks a little flat.
Oh and that 3up moon trap is funny! I guess it wouldnt matter since you'd get 2 extra lives anyways. Make sure the moon isnt too easy to get or players would keep on going back to get the moon over and over again which means easy lives.
What! What a horrible trick! XD
Of course. Thats funny though. Good luck on this hack.
<< You all love squiglets deep inside...

You need to edit Marios graphics by using tools like YY-CHR.
(restricted)
Click on the latiku button on the overworld editor, find the Mario sprite, click on it and drag him somewhere.
(restricted)
You forgot squig <_<

Prince Peasly? Who?