Hey, all. Im babycovenant22. Im creating a hack =] Thats why Im here. lol. Anyhoo...
The name of my hack is A Plumber's Tale. Now at the moment, all I am limited to for the hacking is Lunar Magic. Dont expect anything new or spiffy in the coding o-o Just expect harder levels and a scrappy story. Really, it's for me to hack SMW so I can get a general idea of how to mod it completely, map and all, before I can move on to somwething big for its sequel (yea, I got it all planned, storywise).
The general story in the game is, Bowser is back on Yoshi's Island after having found out his father may be Behemoth. He hopes to resurrect his fatherly candidate by sacrificing Yoshi's seven unborn children and Peach herself. He has unearthed a long lost demon civilization many speculators believe was in existance long before the Yoshis came along as part of the plan. Realizing that Bowser at least has returned, Mario and Luigi quit their training and try to stop Bowser as soon as possible, trying to find out what his plan is (this time, he's not telling them), before the world is doomed.
Excuse, it may sound corny >.>
Anyhoo...
Here are a few screenshots I have taken during the making of this game... I understand if they dont make you want to play it, but again, Im not aiming for anything spiffy this hack until the second game.
This is one of the later levels, in the last world.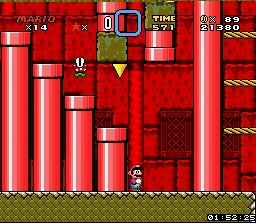 And its door lol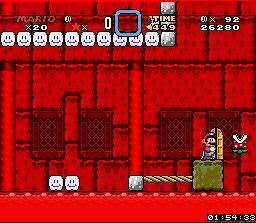 Here's a "Challenge Room" in the final castle.
Another "Challenge Room"
The Volcanoes of Vanilla Dome! =D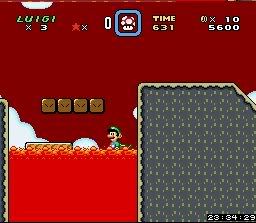 I'll show off some other screenshots soon. Hope I got ya guys remotely psyched =]
---
Muh