Posts by Kilik
| | |
| --- | --- |
| Pages: 1 2 3 | |
Do you mean via patching or?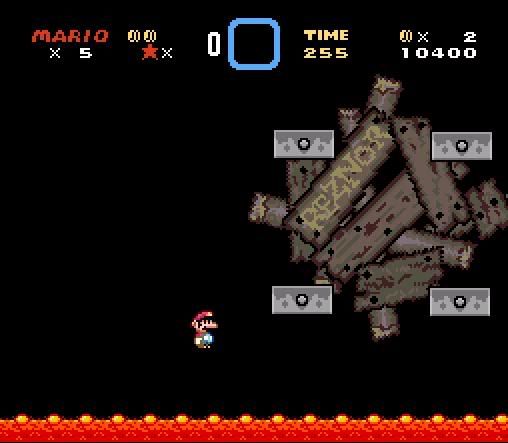 Here's the picture. Time stays stuck as it is, music loops, Reznor's platforms spin, Mario floats in mid-air, and no matter how long I fastfoward on ZSNES it stays that way.
Originally posted by Z. Raffle tikt
transhexlation, or patches can mess something completely up. Also try the clean rom verifier with the original one you used. Small errors can mess up the whole hack. Otherwise send me an ips (idk why, but i find solutions while viewing and playing...so...)
I've already verified that the original rom is indeed clean.
Anyway, knowing my luck one of the Xkas patches I used messed me up. If you want the IPS, I'll send it.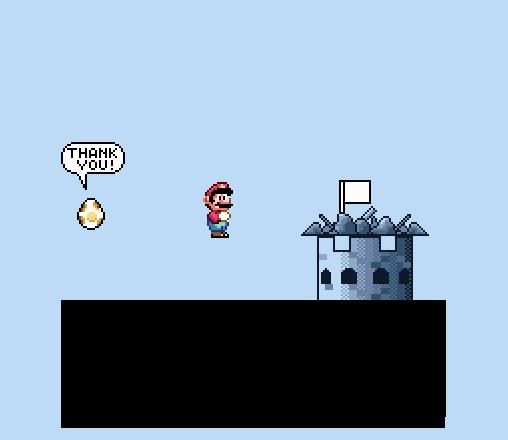 Anyone know how to fix this? I don't know why it turned like this. Do note that I do not have a custom pallete in the level before, or anything.
Bleh. It can't be the original rom, I've checked it, and it's completely clean. Besides, the sequence has worked before. I really hope I don't have to port the rom again, I just ported...
Yes. The rom is indeed editted with my levels and the like.
Originally posted by Z. Raffle tikt
if you use ZSNES press 6
Trust me, it's not a ZSNES problem.
Anyway, I just decided to remove the boss sequence all together.
Originally posted by Cadefulp
Everything must be layer 2 right? And i must use the Layer 2 Falls i suppose?
Elevator is made out layer 1.
Stuff that comes down is layer 2.
Use Layer 2 falls to give the illusion that the elevator (layer 1) is going upwards past all of the layer 2 objects.
Did you put the .dsc file that was generated by BlockTool in the same folder as your rom?
So, I downloaded the giant phanto from the sprites section of the site, (found here:
http://www.smwcentral.net/download.php?id=169&type=sprites
) and I'd like to edit it so that it chases Mario if he has a P-switch in hand instead of chasing him when he has a key. Is it possible to do that?
Kay, it worked. Thanks a ton.
Having some problems with events not showing up in-game on the overworld, but they show up fine in the overworld editor... I'm pretty sure I've set everything correctly, because all my other events work fine.
This is how it looks: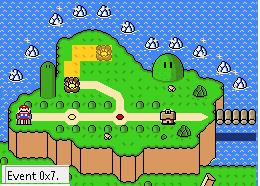 |
V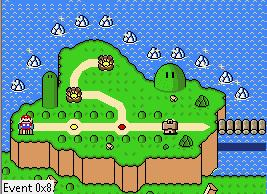 Shows up just fine on the editor, but...
In game, the path unlocks, but the events don't show: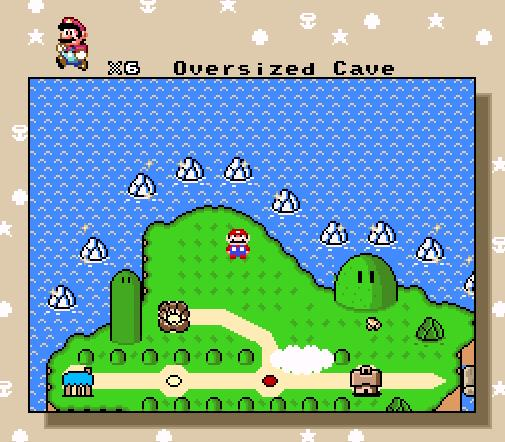 Originally posted by cyphermur9t
Does it think it's a secret exit which is the event +1? Because it did that to me before and I had no idea why. So I set the event to one number higher.
I set the event from event 7 to 8. Would that work?
Edit: Didn't work.
Originally posted by TheDutchLuigi
Originally posted by x-treme
Did you set the level to activate the event?
That, and did you start a new save file while testing your overworld?
Yes, and yes. And no, it ends with a normal exit goalpost sprite.
At a certain point in my cave level, random pieces of footballs flash in/out in random places. It only happens once I pass a certain point and keeps on doing that until I reach the end. How can I fix this? I can take pictures of it, but it's kind of hard since they're small and appear at random times.
Originally posted by Yanama
Are you by any chance, not using the correct headers and graphics pointers for those sprites in that level?

Is your Level vertical, horizantal, or use layer 2?

More info like this can help us.
Horizontal level, and I'm not sure about the headers and pointers.
You're making an elevator level, I presume?
If so, simply use level setting 8, layer 2 falls, and put mario on a layer 1 platform. Turn vertical scrolling off and set layer 2 scrolling rate to H-scroll: none, V-Scroll: none. Then just put all your layer 2 objects above the layer 1 platform.
Hey, if you still want to edit Reznor's platform's and remove his name just use the GFX27 edit tool (found here: http://www.smwcentral.net/download.php?id=2&type=tools).
I'm in the mood to play one of the Kirby games, but Idk which one. Any reccomendations? Please reccomend something that I'd be able to get the rom for.
So, what does the antiboo included with spritetool do? Is it a boo that when you look at it, it moves, but when you're facing the opposite direction it doesn't? Which gfx does it use? What's the difference between the boo and the generic boo within spritetool's "originals" folder? And finally, how would I go about making a normal boo that moves faster than it normally does, and has the gfx of the boo that sticks out it's tongue using that?

Originally posted by Ultimaximus
Yes, that is correct. I'm not sure, but I think it uses the original GFX file for ghosts. If it doesn't have a file in Tilemaps, it uses vanilla GFX. Next time, just test it, or look in the asm file.

I think genericboo is a disassembly, because I think the originals folder contains disassemblies.

You could use that very disassembly. Edit the GFX tile number it uses, and change it's speed.
Alright, thanks. But, wait. In the originals folder, there is the boo and the genericboo. What's the difference?
| | |
| --- | --- |
| Pages: 1 2 3 | |