Posts by Karatekid5
I don't think you'd have to restart. As long as you still have a .srm/save file up to that point, you should be fine. You just have to replace the old ROM with the fixed version and load the game from the title screen.

--------------------

1) Best in Show:
LMSW: An emulator inside Lunar Magic (56501)
2) Best C3 Attendee:
Chester (6700)
3) Best C3 Non-Attendee:
Raocow (2896)
4) Best Newcomer:
5) Vision of the Future:
LMSW: An emulator inside Lunar Magic (56501), Vilela's Random Work #1 - AM4 Player (56376)
6) Best Non-SMW Item:
Ludus Artwork and stuff (10 Drawings) (56404)
7) Biggest Surprise:
Nep-Enut's C3 Thread [GFXs release] (56552)
8) Short but Sweet:
9) Honorary Mention:
The Big Boo's Legion 2 (project title) (56397)
10) Best Use of Floating Munchers:
11) Best Finished Hack:
Super "Mario" World 2 Release (56516)
12) Best Demo Hack:
Hunter and Scorpion's Bet 2: The Twilight Gem - Scorpion's Hunt Demo 2 (56373), Choconilla Paradox (56368)
13) Best Joke Hack:
14) Best Screenshots:
Choconilla Paradox (56368), Something oldish (56504)
15) Best Trailer:
SMW Central Production 2 Teaser Trailer! (56502)
16) Best Level Design:
Super "Mario" World 2 Release (56516), The Big Boo's Legion 2 (project title) (56397)
17) Best Graphics:
Nep-Enut's C3 Thread [GFXs release] (56552), My ExGFX tileset rips C3 (56378), My handmade custom tilesets! =3 (56577)
18) Most Creative:
This is not exactly a SMW port... (56595)
19) Most Impressive:
20) Best Sprite:
'My C3 Thread' (dahnamics) (56375)
21) Best ASM Hack:
Random RAMpage v1.2 (56555)
22) Best Music:
Slash Man's music projects/ports/compositions (OMG no DKC!

) (56498)
Crocodilian Crossing:

Aside from a couple of small details, I haven't found any issues with the level. Besides Mario's palette, the only necessary modification is a change of the background for the two cave sublevels (they still use the original SMW Cave BG). Either way, besides that, the level is good to go!

--------------------

A little late, but here's the usual post-C3 recap!
For anyone who didn't attend, these are screenshots of the next two levels in World 3, along with a little preview of the 4th! :D
First, we've got a woodland level with plenty of flowing water: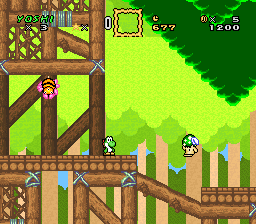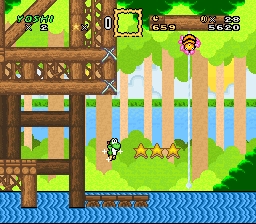 Warp Star transportation!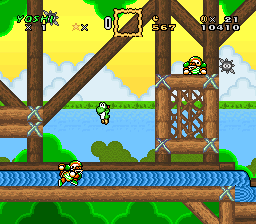 Next up, we have a Sand Canyon-styled level with plenty of cacti!
An Oasis level comes up next! (though, I'll have more progress on this one posted soon)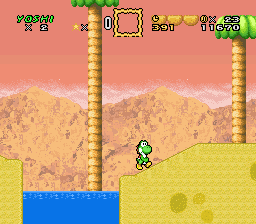 A rather silly bonus room that I made for the previous level :P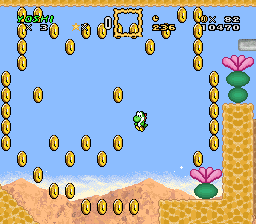 Questions/Comments?

--------------------
Originally posted by Karatekid5
Does anyone know what
this song
is? It was from the credits in The Devious Four Chronicles 3: The Crater, but I've heard it in a few other places as well.
Re-posting because of the new page.
Also, what is the music at 0:03 in
this video
? (the level is "Ant Antics" from Super "Mario" World 2).
--------------------
Having a little problem with my layout.
I'm trying to add an x-repeating image at the bottom of the layout, that goes in front of the background. The image appears, and the repeat is working, but it seems to have incorrect margins. I want the image to touch the edges of the layout, and have the background's margins, instead of the text box margins it seems to have now.
The layout code
.
The X-Repeating image
(since it's kinda hard to see on the layout it's self).
How do I get the image to touch the edges of the layout/have no margins?
--------------------
Excellent, it works now! Thank you very much!

@Austin: Changing the margin values for the x-repeating image didn't have an effect on it, so I don't know if negative margins would correct this kind of image.

--------------------

Originally posted by Sonikku
Oh wow, my friend has that EXACT same mask! xD I even have a
video
of it!
--------------------
The Pro controller kinda seems like a Classic controller and a GCN controller mixed together, but it's still got a nice design. Seems like it's got a nice grip as well.
Besides the Wii U, I'm also looking forward to Pikmin 3 (been waiting quite awhile for this one!), a new Super Smash Bros, a release date/more info on Animal Crossing 3DS, and (hopefully) some info on Dawnguard (Skyrim's first expansion).
Meanwhile, they should play
this
during the conference.
--------------------
Thank you very much, guys! :)
Originally posted by Hailstorm27
I really liked the way the water looks in the last picture you showed.
Thank you! Since this is an oasis, I waanted to make the water look a little more "contained", and Kirby-like, so I gave some of the water a bit of a water-rock transition effect.
By the way, this level is almost finished (just need to make some enemy GFX), so I'll post more screens soon!
--------------------
Haven't played the demo yet, but the screenshots look great! I really like your creative use of vanilla graphics, especially the usage of the cloud/star background tiles as trees, and even the fire flower as a decorative object. The palettes look great as well, especially the "pastel" feel of the palette in 2-2. I can't wait to see even more of this!

--------------------

Lunar Magic's restore system asked me to point it to a Clean ROM (it's set to make a restore point every 500 saves), but I want to re-point it to a copy of a Clean ROM I put in the same directory. I have Lunar Magic and the clean ROM on a Flash Drive, so being removable media might affect it. Is there a way to point Lunar Magic to a new clean ROM in a different location if you've already done it once?

--------------------

Today I noticed that my Flash Drive wouldn't light up-activate when it was plugged into one of the two front USB ports on my computer. So, I unplugged it and replugged it in. It activated...after about a 10-second delay. I also noticed that if it was moved (wiggled a tiny bit/tilted), that it would eject and reconnect it's self (probably has something to do with it's contacts; I did this to see if the position of the connecters was the problem). Once activated, the flash drive worked just fine, but once it's unplugged from the port/while it's being ejected, Windows will play the "device ejected" sound multiple times. The port next to it never had this problem after some testing, and I noticed that the problem port didn't hold the drive as tightly as the one next to it (probably because I use this one more often). I tested the ports with my Logitech gamepad and neither port had this problem.
As a note, I usually have to wiggle the flash drive a little bit while pulling it out in order to eject it. Would this damage it or the port? USB ports really seem to like to hang onto flash drives.

Basically, my flash drive suddenly has delayed activation when plugged into this port and Windows things I'm ejecting multiple things (judging by the sounds) whenever I eject the flash drive from this drive. Is my problem with the flash drive or the USB port? I just don't want to end up breaking either one from repeated use (Even though this computer is only 3 months old).

--------------------

Originally posted by TheRPGLPer
Try plugging it into another USB port. If it works fine with another, it's the USB port. If you plug it in to multiple ports and the same problem still persists, it's the flash drive.
I've already tried this, but the problem seems to be one specific device (the flash drive) in one specific port.
Also, don't worry, I've already backed up all of the data onto my main hard drive.
--------------------
Putting NSMB2 or Luigi's Mansion 2 on an SD card shouldn't be too hard, but I'll stick with buying them from the store anyway.
Other than that, I'm glad we got some more news on the next Super Smash Bros. Don't know what to say about teaming up with Namco Bandai, but I'm sure it will turn out great. Though, what I really wanted to see was a release date for the next Animal Crossing, or at least some more news.

--------------------

Is there a routine I can add to the SMB Blooper sprite (the one that comes with SpriteTool) that will make it interact with objects while it is moving? Unchecking "Don't interact with objects" in the CFG editor has no effect on the sprite's behavior.
Here's the sprite's code
.
--------------------
I placed that JSL you mentioned right under the "update x and y position" JSLs, and it works for the most part.

However, only the bottom of the sprite actually interacts with objects. The top and the sides still pass through objects completely, leading to the sprite getting stuck in walls.

--------------------

Pretty much finished up the oasis level (aside from competing sprite/enemy placement, which is why some screens have few or no enemies; I've been working on the next stage) and I've got some screens ready! Added a bit more decoration to the foreground for a bit of extra foliage.
Raisin Ruins 2
from Kirby's Return to Dreamland was my source of inspiration for this level!
Cheep Cheep > Blipper
Sidestepper > Kany . Pitchin' Charlies (Chucks) return in this level as more frequent obstacles. Also, the area frequently transitions between the grass-covered foliage areas and the sandy, more beach/desert-like areas. Though, both still have plenty of water!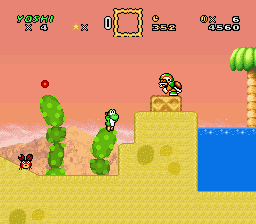 SMB Blooper > Squishy. Trying to get these to interact with objects xD. In the next screen, we have a little maze-like area with two ways to progress! The top will be the trickier one.
A small gimmick after the midpoint, those cactus enemies (graphical replacements for piranha plants) will frequently pop out of those small patches of longer grass! A message box will warn the player of this.
In the second screen, another small two-path area, this time being a choice of above or under the water! The bottom path is the more difficult one this time around, but it has a small bonus room as well!
Finally, a preview of the next stage! What's a Moai statue doing in a cave? o.o (if you know enough about enemies in the Kirby games, you'll probably be able to guess :P)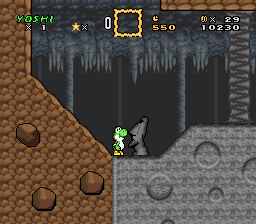 Questions/comments?

--------------------
Originally posted by Giant Shy Guy
It's by Ludus, and it would be a really neat replacement for the normal Jelectros.
If I recall correctly, those graphics were drawn for the Jelectro boss in World 4A.
Also, the graphic is 32x32, so it wouldn't work for the normal Jelectros. Though, if someone makes a 16x16 version, then that would work perfectly.
--------------------
A little preview screen of a Kirby-themed cavern stage that I'm working on. What's a Moai statue doing in a cave? o.o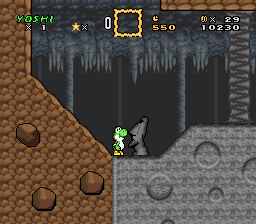 --------------------