Posts by Karatekid5
A fun series of history-based strategy games where you play as an existing civilization and try to meet one of four specified victory condition before 2050 AD. My friend recently introduced me to this series with Civilization V, and so far it's been a very enjoyable strategy game. Has anyone else here played any entries in this series?

--------------------

Originally posted by Hailcrash
Once again, great as usual. I especially liked the cave graphics for the level that you're working on.
Thank you very much! It's a very useful tileset, so I've used it multiple times. Still, each time I accompany it with another tileset to spice it up! :D
As for the rock decorations, here's some new anti-aliasing I gave them last month. Should I keep this or switch it back to the old outline?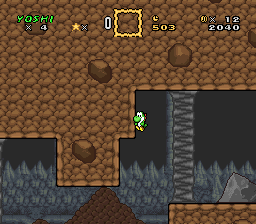 By the way, for anyone wondering about the lack of progress in awhile, I've been pretty busy with school and college applications, but I'll start this back up once everything is settled and winding down. Plus, I've got some new ideas for this once it continues!
--------------------
There are plenty of memes that really bother me:

- Memes related to MLP (though, no offense to anyone who likes the show)
- TF2 memes
- "The Cake is a Lie"
- Forever Alone
- Shoop-da-whoop (never understood this one.)
-"Get back in the kitchen"
- Touhou memes
and plenty of others.

--------------------

I'm okay at it, and I've drawn some graphics for my own hack, but I wouldn't say I'm on the same level of skill as most of the site's graphics artists. I'm normally better at working with and mixing graphics I already have, as opposed to drawing them from scratch.

--------------------

The reason I need the PlugLinks is because the router is two floors above my computer, so it's too far away from the router to wire an Ethernet cord straight to it. This room doesn't get a very good wireless signal.
Either way, thank you very much for the wireless tips!
I'll give the router a bit more elevation and see if I can get a better wireless signal for the basement. Though, the problem is the distance above the room the router is as opposed to horizontal distance.

--------------------

I've been doing plenty of these recently, so I haven't been as active because of them. Thankfully I haven't had to write very many essays, as my main essay fit the criteria of most of the prompts. Still, it gets kinda tedious to fill out the same information repeatedly, but it feels good when you're finished!

Did you start your application? Of course!
Did you finish your application? Most of them, but I still have a few left.
What do you want to major in? Either Video Game Design (I've applied to a few colleges that have that as a major) or Computer Science.
What is your top choice for college? Haven't really decided, but it would probably be Marist.

--------------------

Here are a couple more for the list:

Nintendo Network ID: Karatekid5
Steam ID: Karatekid1717

--------------------

I was able to insert most of my songs, but after using the tool, I've had a couple of odd issues with my overworld. The first issue is that the graphics for my overworld pipes have disappeared. They show up in lunar magic and they function properly, but their graphics don't show up. Next, most of my maps are now screwed up. Some of my submaps became a mess of glitched graphics (while the overworld paths stay intact), and the bottom half of my main overworld Layer 2 shows up as a repeat of the top half's Layer 2. Yet all of the maps show up just fine in Lunar Magic.

I've tried exporting and re-inserting the ExGFX, re-saving the overworld, and a few other things. Yet, these problems pop up when I run the ROM in an emulator (Snes9x). What could AddMusicK have overwritten?

Also, on a better note, all of the songs work!

--------------------

Haven't been posting much over the last few months, mainly due to school and a few other things (such as Civilization V). I'm going to try to spend some free time making some updates for my hack (along with catching up on some of the news around here), but I'll need some motivation/inspiration to help me get the ball rolling. Though, I'm sure plenty feel this way after a break from a project.
In the mean time, I recently got to play the main antagonist in a movie for my friend's college Film Production class. It's titled "The Pedlar", and is about a pedlar of Union Jacks and his rivalry with a vendor of Soviet flags. It took a lot of time to film each shot, but we wanted to make it professional and polished (we even had professional equipment! :P).
Originally posted by Archie
I'm going to travel to some nice place for 4 days tomorrow (there will be internet there, but it is very shitty, so I won't use it). However, I need to turn my computer off now because of some limit that my dad implemented to me, so, good-bye everyone!
Wherever you are going, I hope you have an enjoyable trip! :)
--------------------
Just have a simple ASM question. I'm trying to modify the Spear Guy sprite to make it turn around when it reaches a ledge (like a Red Koopa). What part of the code determines it's object interaction? The option to interact with ledges isn't in the CFG editor. Is there another sprite I can look at for reference?

--------------------

Despite my family paying for 50Mbps download speed, I only get an average of around 10 due to both Ethernet over Powerline and being two floors down from the router (the router is in Dad's office on the second floor and my PC is in the finished basement). However, after doing some speedtests lately, I've noticed that it's been fluctuating a lot between 8Mbps and 12Mbps. Also, If I turn on something else in the room (such as my Wii or Wii U), it somehow creates enough electrical "noise" to drop the speed to 7-4Mbps -.- .

At normal speeds, would you consider this decent internet? Also, is there any way to either speed up the HomePlug Ethernet over Powerline or at least get rid of the electrical "noise"? Is there a way to keep it at least at a smooth 12Mbps?

--------------------

Originally posted by Kieran Menor
How about getting some actual ethernet cables? :V
That's what I WANT to do, but I highly doubt my parents will let me open up a couple of walls just to run a cable down two floors.
Originally posted by Kieran Menor
To be honest, you would probably get better performance out of wifi.
I would've tried that, but the router's signal doesn't reach the basement.
Is there any easy way to run a cable down to the basement from two floors up?
--------------------
Seems like I've missed a lot over the past few months! xD

Nonetheless, these screenshots look incredible! For some reason, I'm especially fond of the lab tileset with the colored speckles in the floor.
Also, regarding Sonic, are you going to change his gameplay a bit (like adding a spindash or rolling) or are you going to keep it similar to Mario's? Nonetheless, I can't wait to see where these hacks go!

--------------------

Will you still be able to specify the Map16 tile that the block will be inserted to?

--------------------

What is the music at 15:38 in
This Video
?
--------------------
Back when AddmusicK was first released, I tried porting my ROM over to it. The music itself inserted and worked just fine, but it caused a side effect of graphical bugs on my overworld, including messed up tile layouts and glitched tiles in certain areas (the paths worked just fine, though). So far, I haven't been able to fix this problem.

Recently, I noticed the new version of AddmusicK and decided to run it on my ROM, hoping that the same problems wouldn't occur again. Unfortunately, the result was the ROM becoming completely mute (no sound/music), along with the same side effects as before.

The only ASM patch I have applied that relate music and the OW (aside from the N-SPC patch) is the SMWCP Multiple Main OW Songs patch. Does anyone have any idea what might be causing this, and has anyone else come across either of these issues? All of the songs were set up correctly.
I have a ZIP file with a pair of IPS files of my ROM if anyone wants to take a look at it (One of the ROM before running AddmusicK and one of the ROM after running it), so PM me if you'd like the link (since it is a beta).

--------------------

Originally posted by HackerOfTheLegend
There's your problem. You're not supposed to patch any sort of N-SPC patch to a ROM using AMK, as AMK supplies its own patches, and that multiple main OW songs patch is simply incompatible with AMK.
The N-SPC patch I have is leftover from the one AM4 inserts on its own. Will AddMusicK remove it on its own like Addmusic4 did with Romi's or do I have to remove it manually?
As for the Multiple OW Songs patch, it actually worked music-wise in the last version, but I can't test it out with the new version due to the ROM becoming silent before I can reach the overworld. Nevertheless, I'll try removing the patch and then re-running AddmusicK and see if anything changes.
--------------------
The N-SPC patch shouldn't be a problem, then, since AddmusicK's inserts its N-SPC patch on its own.
Originally posted by LadiesMan_217
Are those the only 2 patches in the rom you've used or only the ones you think may be causing problems because of what they edit? If you are using any others, please supply those as well because I feel like you may have patched the Layer3ExGFX patch before considering the OW messing up.
I have the Layer 3 ExGFX patch installed, but I've had it installed on this ROM for two years and I haven't seen it cause any bugs. I'll try removing the patch and see if that solves the graphical problems, and I'll try the fixes for the SMWCP music patch from the thread that tcdw linked to.
--------------------
Originally posted by Richard Nixon
7. Karatekid5: 10/72
I didn't know a lot of these songs, so I'm quite happy with how I placed! Congrats to the winners! :)
Though, wasn't I the only one who guessed #21?
--------------------