Posts by CK Crash
(restricted)
I guess this means no wolf link transform for link, but there is still the chance of a seperate char version. I'm thinking "CHALLENGER!" Wolf Link & Midna! That sounds cool.
Can I get this moved to Basic Hacking? Forgot, wrong forum...

This thread is for people to post general level design tips as a tutorial for new hackers. I know there is tip of the day, but this thread will focus only on design for those who haven't quite figured it out. If you have your own tip, feel free to list some or a screenshot if you want. If you disagree with one of mine, pm me and I will consider editing. THIS TUTORIAL ASSUMES YOU AT LEAST KNOW WHAT PROGRAM AND FILES YOU USE TO HACK. For that info, go to the site faq.

1. Aim to create not just a mario hack, but a mario game. If you only attempt to edit the original rather than create something new, you won't achieve anything fun.

2. ctrl+del everything before you start. Believe it or not, most of us can recognize a Yoshi Island 1 remake at first sight. It shows what little effort you put in.

3. Glitches aren't cool in any form. If you need to use a sprite, change the sprite settings (poison mushroom) until you find one with the proper graphics. Sometimes two sprites just can't work together; put it in a pipe area or something if necessary.

4. To change level colors at the most basic level, click the pallette button (rainbow star) and change the settings at the right side. DOn't change the left side unless you've turned on "Enable custom pallette". Make sure that the colors aren't eye-burning either.

---Now for real design tips...---

5. Give most levels a theme, but don't overdo it.

6. 1-ups are one per level. 3-ups are one per world, usually impossible the first time.

7. Put a midway point after the first major challenge of a level. Click the second door button and choose the screen the tape is on.

8. Remember to put variation in the land by changing the height, adding hill, or adding gaps. Keep it consistant though. If you have a hilly level, keep it that way throughout.

9. There is a sprite limit per screen. Keep this in mind when using sprite platforms or goal points.

10. Any level should be beatable the first time in the sense that players don't need to guess where to go and die if they choose the wrong way. This doesn't mean it should be easy however.

11. Make alternate pathes, but give each path an advantage the other doesn't have.

12. Keep capes rare, or make your levels cape-unfriendly. There are upside down ground tiles in the direct map 16 section of the object selecter if necessary.

13. Have a few coins and coin blocks per level. It may seem boring and unrewarding to have a few, but the player will appreciate the extra lives they earn over time.

14. Being swamped with enemies is annoying. It is better to have a few well placed enemies that make a level difficult to run through quickly.

15. If you play no other hack, at least play SMW: Return to Dinosaur Land. This hack has and will always have the best design I've ever seen in my opinion. Learn from it, and let it give you an idea of what to achieve.

16. Always save a little bit of your ideas for another level. Don't throw everything into the first level and leave nothing for the second one. Give the player a reason to keep playing!

17. Don't make all your levels linear. Make it so players are required to stop and think, like they need to take a different path to hit a vine block to make a path accessible above.

18. Make every level unique. A player should be able to recognize each level as a seperate one.

Some of these tips are more obvious than others. If you feel something should be added, pm me or just post your tips. See ya!
I know many of the tips are from there, but here you can put what you know about design and let newbies get an idea of good design. Also, tip of the day hasn't been updated in forever.
@Boingboingsplat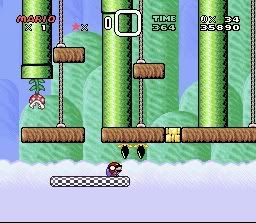 From my SMB3 LL hack. That block is a vine block. I already said some of these are obvious to the more experienced... Its just a coincidence you thought the same.
I am of the Bahai Faith and we believe in Jesus and Muhammad each as one of several prophets sent to us to teach us. Why are there so many seperate religions then? Because each prophet comes when humanity is ready to accept what they say. Basically, each one adds to the teachings of past ones. I mean, don't all religions tell you to be nice to others and respect God and everything? Of course, they also add diversity to the world and its people.

On the topic of evolution, I believe in intelligent evolution. He guided evolution until the first humans were born. It makes sense that he would give us a scientific reason for our creation rather then wave a magic wand or something, right? If that was true, then there would be definite proof of God and there would be no faith, just knowledge. There shouldn't be a way on Earth to prove his existence, beyond the fact that he has sent the prophets to tell us about God. I think this makes sense, considering that the most important belief of most religions is to have faith.

These are my beliefs on religion, and evolution/creation in general. Note that not all my beliefs are from the Bahai Faith, but what I myself believe. This thread is really turning into a debate instead of a discussion. I am interested in seeing the beliefs of others.
Your first level looks decent, but you might want to change the beginning with the multiple coin blocks. Make it one block instead of two, and force the player to bring a shell. Other than that, looks good despite similarities to 105. Just a reminder, don't use the same background twice in a row (even though I like the jagged mountain bg too =P).
Bigsmall shroom - makes mario turn to super mario and back again instantly...

Strawberry tofu shroom - Its a secret till someone gets the reference...
<object width="425" height="350"><param name="movie" value="http://www.youtube.com/v/VfP_d47V_jU"></param><param name="wmode" value="transparent"></param><embed src="http://www.youtube.com/v/VfP_d47V_jU" type="application/x-shockwave-flash" wmode="transparent" width="425" height="350"></embed></object>

Yay for Lucas! Just so you know, there are a few differences possible for Lucas. Since in the real game, Ness and Lucas are mostly healer/support characters, they could take this opportunity to make Lucas true to the game and leave Ness the same.

Lucas's Mother 3 movelist---
PK Lifeup
PK Healing (status effects)
PK Flash (random status/instant death to enemies)
PK Shield/PK Psi Shield
PK *Favorite Thing* (Signature move, named after favorite thing chosen at beginning of the game. Default name is "Love")

This wouldn't fit well for brawl, but they could make him have a defensive playstyle. Also, Mother 3 had a music combo system where you tapped the button to the beat of the music for upto 16 hits. This could be made into an A move or Final Smash. His dog Boney could also be a part of his attacks. He might not have the yo-yo as there was only one yo-yo item in Mother 3, but there were many equipable bats.

I recommend to anyone who has an imported Mother 3 to finish before Brawl comes out as there will most likely be huge spoilers to the story according to Starmen.net's inside source.

My dreams are to survive IB Diploma program, get a job as a game designer for Nintendo or maybe one of the big MMORPG companies, actually get noticed by someone.

As for games, Mother 3 in US would be awesome as well as Earthbound for Virtual Console. I already beat M3 in Japanese, but I would totally buy it again in english. Lucas in brawl might hint at a DS complilation for Mother 1-3.
Kind of a late post, but New Pork City owns! The design is almost exactly how it appears in Mother 3. Ultimate Chimera is kind of neat too and the one-hit KO effect is true to the game where one touch gets you a game over. The only negative part is that the ending of the game will be spoiled for those who haven't played Mother 3 yet. I'm at least glad that the US will get some Earthboundy goodness considering that NoA refuses a translation.
My catchiest songs...

http://www.youtube.com/watch?v=iO2NZypuLcI

---IF ANY OF YOUR ARE INTO MOTHER 3, THESE VIDEOS SPOIL THE GAME'S LAST CHAPTER---

http://www.youtube.com/watch?v=UgyPD118OIk
http://www.youtube.com/watch?v=_MgSF56lT7A

Finally beat this game! I love how the music combos make it more interesting.
(restricted)
Were you impressed by things like music hacking, Carol's custom bosses, and HDMA graphics when you first saw them?

Have you recently played someone else's hack? Which one? Or have you given up on finding one that is truely good?

Would you ever play a hack and like it just for the level design?
Is the fish from the last pic from Balloon Fight? It seems likely seeing as the melee ice climbers stage had the Balloon Fight theme for alternate music.

On a side note, this stage is most definitely better than the melee one. Unfortunately, we lost the DK stage to vertical scrolliness. I hope that's not the only DK stage we'll have in brawl.
(restricted)
This one is my favorite, just because of the randomness.

<object width="425" height="355"><param name="movie" value="http://www.youtube.com/v/bD1-abLvINE&rel=1"></param><param name="wmode" value="transparent"></param><embed src="http://www.youtube.com/v/bD1-abLvINE&rel=1" type="application/x-shockwave-flash" wmode="transparent" width="425" height="355"></embed></object>

Help! Gannon froze the dinner! I'm stuck!
Hmm... How can we help?
.....
Hmm...

http://www.foxnews.com/story/0,2933,307436,00.html

The best part is that I was reading this 5 minutes after I ate a whole pizza. My mom was reading the article, joking about it until she realized that the pizza I ate was the one being recalled. Good thing my dad's a doctor, so he can get me some medicine if it turns out I got infected.

Anyone else got an "Oh crap!" moment like this?
Well, I went to my first real party for Halloween. By party, I mean with more than 30 people. It's tough being around so many people. I'm not anti-social or anything, its just that the biggest social events I've ever been to were all birthday parties or something. I managed not to look dumb, so that's a plus. I went as Harry potter (already get called that name anyways) and got a few laughs with the line "This is so awkward, I've totally seen Harry Potter naked on a horse before".