Wow, I feel really stupid about the HTML link now... I should have known that. And as long as Lunar Magic doesn't cut off any buttons or menus I shouldn't have too much trouble if it cuts it off. Got 7 installed so I'm thinking about figuring out where I left the folder for my hack and starting work again.Although I'm thinking about changing the background back to the dark red from black, I preferred it that way. Still working on a name for it though. (I was thinking Mario in Hell or something but I'm pretty sure there's already a hack by that name and the Mario in Hell thing seems to have already been over-done.)
Edit: If anyone could check out my level one and help me, I'd appreciate it. On screen 07 there's an exit to level 1CB and I seem to be unable to get rid of it. (I'm probably doing it wrong, but then I haven't used Lunar Magic in 3 months.)
Edit2: I realized I had already had a new theme going. I still don't know for sure what to name the hack though. World 1 is the land of Schizophrenia and world 2 is the land of Phobia. (Haven't gotten far enough to worry about subsequent worlds.) And I also have a question. Does anyone know what happens if you add more than 7 castles?
Edit3: Will these questions ever stop coming? I'm trying to edit the overworld to at least get Yoshi's island changed for now and despite following the directions in the help file I have instead gotten the game stuck in an infinite loop at the intro. (The part where you get the message right before you move up to Yoshi's House) I have my Yoshi's house level in the same spot as the original, the only thing that has changed is the pathing around it. Any help would be highly appreciated. Here's a pic of what I have so far.
And yes, level 3 is flagged as Yoshi's House.
Update: Still having the infinite intro loop happening, I have looked at everything I can think of and still can't figure it out. I finished the first island though: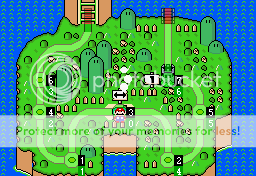 I have the path overlay active as well as level numbers and event numbers. Maybe someone will be able to figure out what I did wrong so they can tell me and I can feel stupid cause it was obvious.
Yet another edit: I think I figured out part of the problem but it still doesn't fix it: I was putting the Mario sprite in the wrong spot. Since you start the game below Yoshi's house I was trying to put it there at first but it actually goes a square above it.
Note for self: My request for help is
here