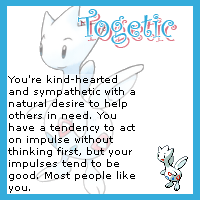 What Final Fantasy Character are You "Most" Like?

Your Result: Blonde Bombshell

Its hard to shut you up sometimes but you can make those around you laugh and entertained. That makes you the most like Rikku.

Not only do you have a bubbly attitude and can make any disaster into a success, you are also very good at fixing things. Whether it be mechanical, computerized or just trying to figure out how to use the tv remote. And you never need to read the directions.

You know who you are and you dont' let anyone tell you otherwise. And you are very loyal to your friends.But you know what its like to be an outcast, and you dont take kindly to disrespect. So watch out that your mouth doesn't get you into trouble.



Sporty
One who has lost everything
Red XIII
The Flower Girl
Squall LeonHeart
I'll be waiting for you so.. if you come there ..
File: Jenova: Top Ranking Soldier
What Final Fantasy Character are You "Most" Like?
Quiz Created on GoToQuiz
Friends List:
1. Tails_Doll_Fan666
2. Superderek
Yum, cookies.
quote - Tip: Don't be afraid to ask any questions on the forums.