You all know I'm a guy. I like a pink name better.
Last updated: 6-26-10
Userbars:
Personality Quizzes: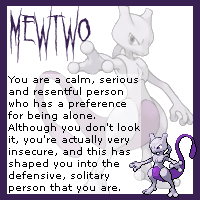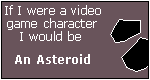 I am an Asteroid.


I am a drifter. I go where life leads, which makes me usually a very calm and content sort of person. That or thoroughly apathetic. Usually I keep on doing whatever I'm doing, and it takes something special to make me change my mind. What Video Game Character Are You?

IRC:
<ChaoticFox> if only my brain was the size of yours. It would equal an omlet smothered in pickle juice
<Wolverine> that sounds good O_O
<ChaoticFox> Good. Now on to my next lesson
<ChaoticFox> take one rubber and pass the basket to the person behind you

<ChaoticFox> Did you know?
<Megafonzie> Did you hear?
<Ladida> Did you see?
<ChaoticFox> Did I care?
<Megafonzie> Win

<Forty2> my back hurts for some reason
<Marvin> It's broken?
<ChaoticFox> that's gotta be it
<Forty2> if it was broken i'd be paralysed
<ChaoticFox> that's gotta be it

<Spade> ChaoticFox: That's strange. I seemed to have misplaced my legacy

* Weegee ([email protected]) has joined #smwc
* Weegee has quit (Quit: )
<ChaoticFox> well, he was fun

<Atma> want to write my science article summary for me?
<Ladida> science aaaaaaaaaaaaaaaaaaaaaaaaaaaaaaaaaaaaaaaaaaaaaaaaaaaaaaa
<Sonikku> bill nye the science guy is actually ladida in disguise
* Ladida slaps Sonikku with a transfibulator
<K3fka> Yeah
<ChaoticFox|ExGFX> Bill Nye's a pervert if he's into 16 year old girls dancing around.
<K3fka> I'm Bill Nye!
<Sonikku> hahahahaha
<K3fka> That was an unfortunate ninja

<Nekoh> 3 DAYS TILL CHRISTMAS MOFO
<ChaoticFox> YEAH
<Nekoh> AND ITS GUNA BE A WHITE ONE
<ChaoticFox> RACISM YEAH
<Nekoh> YEAH NO DARKIES ALLOWED
<Katrefka> Lmao

<Sonikku> caroline did say that jokes like that are annoying so its true
<ChaoticFox> shut up about California already
<Sonikku> !!
<Sonikku> :<
<Sonikku> I don't live in my girlfriend

<HuFlungDu> Your computer is 200ft away from your TV?
<imamelia> That's what I'd guess, about.
<imamelia> Hm...maybe 100, I don't know.
<imamelia> I kind of suck at estimating distance.
<imamelia> But the TV is almost two rooms away.
<HuFlungDu> Unless those are really large rooms I wouldn't think it would be 100ft...
<imamelia> Eh. Let's just go with two rooms and leave it at that.
<HuFlungDu> Fair enough
<HuFlungDu> You will need a two room long cord
<HuFlungDu> Is that an empirical or metric unit?
<imamelia> I think one of the rooms is empirical and the other is metric.
<HuFlungDu> Well that's gonna drive away some buyers if you want to sell the house. People don't really like things in two different units of measurement.