heyo. i'm failsandwich. not much else to say really :Þ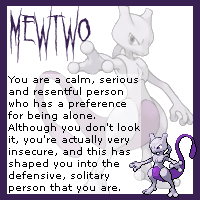 What Earthbound Character Are You
Your Result: You are Paula
Your the 2nd part member, Paula. You are very cute and innocent and your main choice for a weapon would probably be a frying pan. You also like Guys or Girls that are quite shy.
How Evil Are You?
Your Result: More or Less
You're a pretty even steven person. You can be a sweet as sugar sometimes, and others your can raise Caine in any situation. Maybe you've got some weirdo disease. A word to the wise. Stay on the good side.
How good are you at SMW hacking?
Your Result: Experienced Hacker
You are very good at SMW hacking. Your hacks have great level design, and you have enough experience to make good chocolate hacks. You have a lot of hacking knowledge, and you play-test your hacks so they have almost no errors at all. You can make very good and polished hacks.